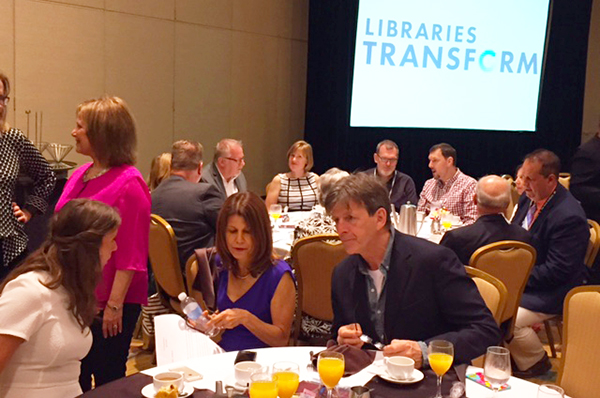 The ALA Inaugural Brunch, concluding the 2015 ALA Annual Conference and Exhibition, began with a grand march of new officers and division presidents. Amid cheers, whistles, and loud applause, ALA 2014–2015 President Courtney L. Young introduced new board members Loida Garcia-Febo, Julius C. Jefferson Jr., Mike L. Marlin, and division presidents Jeff A. Steely (LLAMA), Leslie Preddy (AASL), Ed McBride (United for Libraries), Vailey Oehlke (PLA), Norm Mederios (ALCTS), Rhonda K. Gould (ASCLA), Ann Campion Riley (ACRL), Andrew Medlar (ALSC), Candice Mack (YALSA), and Thomas Dowling (LITA), as well as President-Elect Julie B. Todaro, and ALA 2015–2016 President Sari Feldman.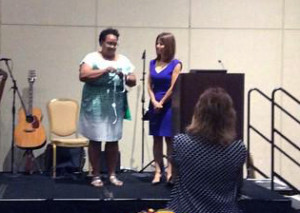 President Feldman thanked Past President Young, and presented her with a Tiffany bracelet on behalf of the Association as the audience gave Young a standing ovation.
Libraries Transform, a new public awareness campaign to elevate the ways libraries support individual opportunity and community progress, was the focus of new ALA President Sari Feldman's speech at the brunch.
The goals of the campaign are:
to increase support for libraries by showing the transformative nature of today's libraries;
elevate awareness of the critical role that libraries and library professionals play in the digital age;
update the image of libraries and library professionals;
attract the best and the brightest from all walks of life to grow and expand the profession; and
influence key decision makers at the national, state, and local levels to generate support for library funding and information policy positions.
"It's a big set of goals, but we think very achievable," Feldman noted.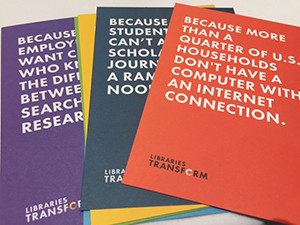 Feldman directed attendees to a new website, Libraries Transform, which was launched June 30 to help support this initiative. It includes a video for public awareness and a toolkit for libraries with web banners, posters, and postcards for downloading. Brunch attendees received a set of the colorful postcards with "Because" statements for different library types.
"As we say in Cleveland with our Cleveland Cavaliers, I'm all in for ALA," Feldman said. "I invite you to join me. Let's spark progress together. Let's show the world how libraries transform."
Sari Feldman on Goals of Libraries Transform:
Sari Feldman on Libraries Transform:
Sari Feldman on Library/Community Collaboration: