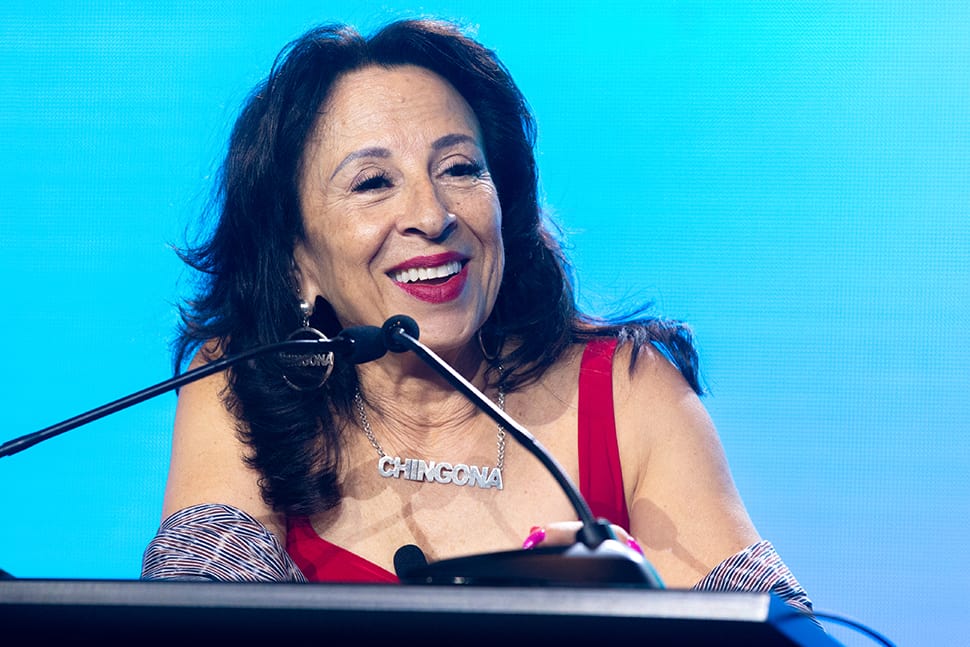 Broadcast journalist and author Maria Hinojosa will be the first to tell you that she sometimes gets too close to her stories. But her media company won a Pulitzer Prize this year for a podcast series about an incarcerated man she now counts as a close friend, so maybe she's onto something.
In a general session of the American Library Association's 2022 Annual Conference and Exhibition on June 25, Hinojosa drew parallels between journalism and librarianship and touched on the privileges and responsibilities that come with handling stories and information, especially during distressing times.
"What we all understand is that we have this privilege, and when we understand we have this privilege, especially as librarians or as journalists, it means we have a profound responsibility," she said. "That's what's motivated me in my entire life as a journalist, being the first Latina in all of the newsrooms where I've worked."
In her 30-year career, Hinojosa has reported for PBS, CBS, WNBC, CNN, and NPR, and in 2010 founded Futuro Media as a laboratory for multimedia content that highlights often overlooked perspectives. Her memoir Once I Was You (Simon & Schuster, 2020) has been adapted for young readers and comes out in August.
"To me the responsibility of writing Once I Was You: Finding My Voice and Passing the Mic was to say, now that I have this distance from my life, I realize there are seeds that are planted in our lives as we grow up," she said. "I want kids to understand and have awareness about those seeds and I want them to hold onto those seeds, because they will become the reasons we do what we do."
For Hinojosa, one of those seeds was the early trauma of the immigration experience. Her family came to the US from Mexico when she was 6 and she was nearly separated from her mother at customs—a trauma she saw play out over and over again during the Trump administration, she said. She commended Reforma, the National Association to Promote Library and Information Services to Latinos and the Spanish-speaking, for its Children in Crisis program, which delivers books to children in detention centers and group homes.
"The work [librarians are] doing with children has the capacity to help them process these memories," she said. "A book like Once I Was You allows them to understand that something has happened in their lives that has impacted them and that will impact them forever; and that, in the case of being a migrant or a refugee, those experiences have profound value for your life and your family's life and for our country. But these are not Latino stories; these are American stories, and they are all of our stories. That's the responsibility we share, is to get those stories out there."