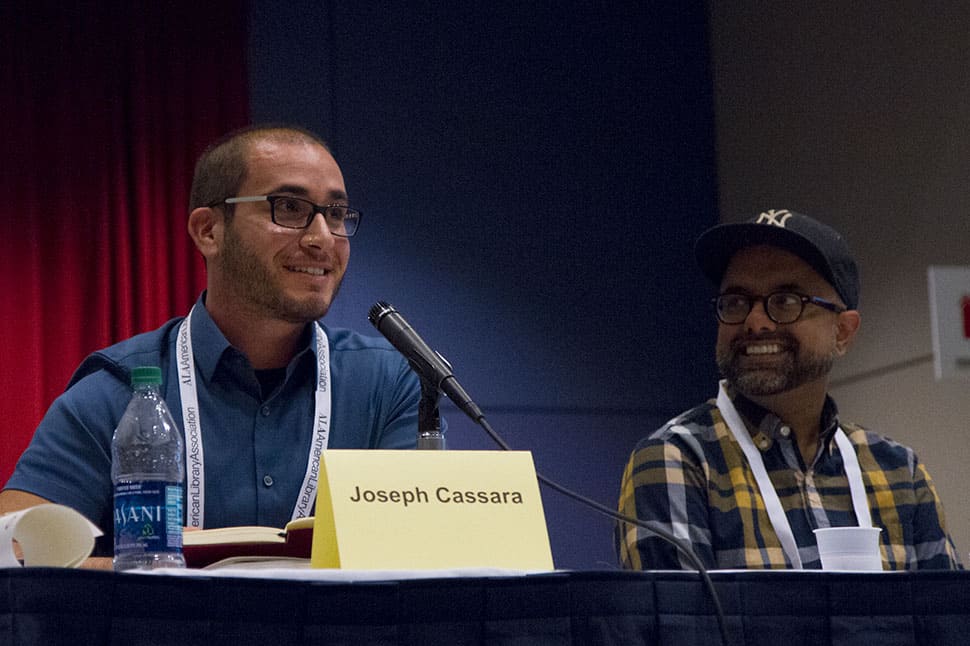 An impromptu musical performance took place at the "Out and Proud: LGBTQ Literature" program on June 24, prompting one panelist to declare the gathering an "extreme gay act." The program was a United for Libraries panel cosponsored with the Gay, Lesbian, Bisexual, and Transgender Round Table of the American Library Association.
During their talk at the 2017 Annual Conference and Exhibition in Chicago, the four authors on the panel—Joseph Cassara, Sophie Yanow, Rakesh Satyal, and Eileen Myles—talked about protest, AIDS during the 1980s, and culture.
In discussing family novels and his exploration of the topic in his new novel, The House of Impossible Beauties, Cassara said he wondered if "at the center of our culture wars in America is just a discussion of what our definition of family is or should be." He said he wanted to look at the people who leave their families for whatever reason and later find "their chosen family, and the struggles and the love that's involved."
Yanow, a graphic novelist, said a major influence in her work was the 2012 student protests in Montreal, during which an estimated 250,000 college students protested against a 30% tuition hike proposal. She said her new book, War of Streets and Houses, came out of that experience and trying to understand "home and space," especially as socioeconomic issues disproportionately affect LGBTQ people, she said.
Author Rakesh Satyal broke out into song at the end of his talk, singing "Goodnight, My Someone" from The Music Man (sung by the character Marian the Librarian, not coincidentally). Satyal, who regularly performs in cabaret acts in New York, recently published a second novel, No One Can Pronounce My Name. He told attendees that he volunteered at his local public library in the 6th grade. For many queer youth, Satyal said, the library is a place where they "find themselves and find validation of feelings they haven't quite expressed verbally until they've read it in a book."
Satyal's singing, Yanow's graphic novel, and Cassara's writing on AIDS made the final panelist, Myles, joke that the discussion was an "extreme gay act." In her forthcoming memoir, Afterglow (a dog memoir), Myles describes her bond with her dog Rosie and the grief of Rosie's death. "Taking care of a dying dog is a spiritual act," she said. Dog books tend to be about companionship, Myles said, which she equated to "the queerness of being childless" or even having many children but in the end wanting to walk the dog because it "ends up being your alone space."
As Satyal said, and the other panelists agreed, "Our culture needs librarians now more than ever."