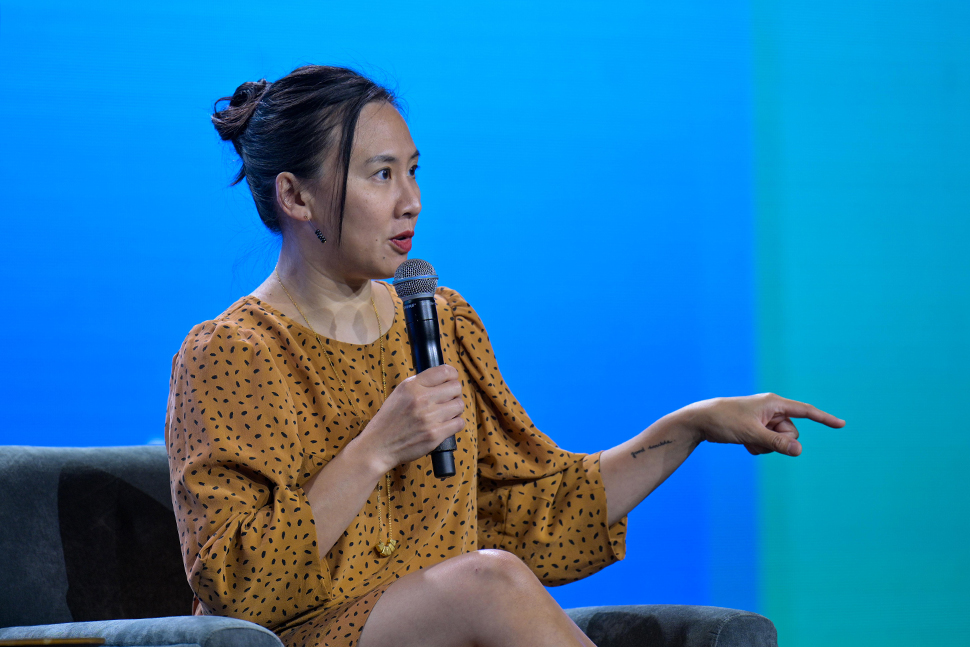 The protagonist of Celeste Ng's new novel is only 12 years old. An age, said Ng, when a person begins to have some agency in life but is still very much a child.
The critically acclaimed author spoke with librarian and author Nancy Pearl at the American Library Association's 2022 Annual Conference and Exhibition on Sunday, June 26, about the new novel, Our Missing Hearts.
In the story, anti–Asian American sentiments have taken over the country, and children of parents who are deemed un-American are removed from their families. While the book was shaped by the pandemic, Ng said, "it is not a pandemic novel. I wouldn't even say it's a novel about the Trump years." Instead, she said, it's about "the legacies we give to our children. How do we prepare our children for life in a world that feels … messed up?"
Ng recounted the nation's history of separating children from their families, from enslaved children to Native American children to, more recently, children at the border.
When Ng began writing the book in 2015, the world seemed just like our world, and then "of course the world changed." The anti-Asian attacks that began after the start of the pandemic became an important part of the book, she said, and "a lot of things started to click into place."
The 12-year-old protagonist, Bird, has a white father and a Chinese American mother. And this period of adolescence is among the biggest transitions anyone has in life, Ng said. It's a time when young people are "stepping up and … understanding you're part of something bigger."
Ng was among the first authors to speak out on social media against the violence directed at Asians, which she said did not come easily to her. "It's never easy to talk about harassment of any kind that you face," she said. Growing up in a Chinese American household, she was taught to keep a lid on problems and "put on a good face in front of everybody." It's similar to the approach many women, including her, she said, put forward: "Don't let anyone see you hurting." But because so many people didn't realize the hatred being hurled at Asians and Asian Americans, Ng said it was important for her to be vocal and say, "that's not okay."
During the hourlong conversation, Ng and Pearl talked about the writing process, what makes for a compelling character, their love of audiobooks that sound like theater, the beauty of poetry, genres that Ng read (and reread) during lockdown, and, of course, Ng's love of libraries.
"Libraries were a huge lifeline for us and for many other families as well," she said. When everything shut down in the early days of the pandemic, she and her family received bins of books from the local library, which "felt like you were being air-dropped survival packages."
Among the most amazing things librarians do, Ng said, is help people find answers. She observed this many times sitting near the reference desk at her library, watching staffers patiently help people from all walks of life. It's the reason librarians feature prominently in her new novel: connecting people, including her protagonist, with information.
Pearl asked about the purpose of art in a world that's struggling. To Ng, what helped her through the "dark days of the pandemic" was art. For anyone—whether it's through poetry, music, television, fiction, or film—art can "remind you of what you're fight for, not just what you're fighting against."