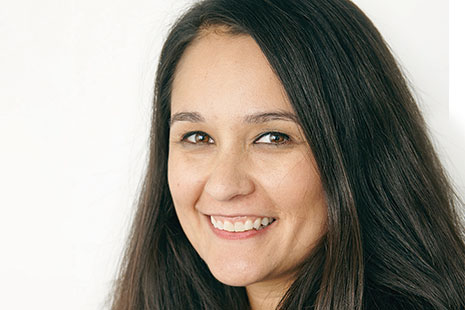 Lessa Kanani'opua Pelayo-Lozada, adult services assistant manager at Palos Verdes Library District in Rolling Hills Estates, California, has been elected 2021–2022 president-elect of the American Library Association (ALA).
Pelayo-Lozada received 4,056 votes, while her opponents, Ed Garcia, director of Cranston (R.I.) Public Library, received 2,598 votes, and Stacey A. Aldrich, state librarian of the Hawaii State Public Library System in Honolulu, received 2,186 votes.
Upon learning the outcome of the election, Pelayo-Lozada provided the following statement:
"I want to thank each and every member that voted, who made their voice heard in our Association, and helped make ALA stronger. I am honored and grateful for the opportunity to lead together for change with all of you as 2022–2023 ALA president. Mahalo nui loa to my colleagues Ed Garcia and Stacey Aldrich for standing for election with me during this unprecedented time.
"The commitment, passion, and vision of ALA's members bring light and hope to our collective future. Together, we will continue strengthening this organization, the profession, and all of its members, making it a model of organizational excellence and sustainability. We will work to transform ALA into a more inclusive and antiracist organization while committing to our core values. We will create our future together, celebrating the joys that make libraries meaningful to all of us while making space for difficult but honest conversations. I cannot wait to get started on this work, and I cannot wait to work with all of you. Thank you for your confidence and hope in me, in libraries, and in ALA."
Pelayo-Lozada recently completed a term as an ALA Executive Board member (2017–2020) and is currently a councilor-at-large (2012–2015, 2015–2018, 2020–2023). She is an active member of the 1876 Club; the Association for Library Service to Children (ALSC); Core: Leadership, Infrastructure, Futures; the Public Library Association; the Rainbow Round Table; the Social Responsibilities Round Table; and the Sustainability Round Table. She is also a member of several ALA professional affiliates, including the Asian/Pacific American Librarians Association (APALA), the Black Caucus of the American Library Association, the Chinese American Librarians Association, American Indian Library Association, and Reforma, the National Association to Promote Library and Information Services to Latinos and the Spanish-Speaking. She has held an ALA membership for more than 14 years.
Pelayo-Lozada has served and continues to serve on various ALA committees at both the ALA and division levels, including the Constitution and Bylaws Committee (2020–2022); the Budget Analysis and Review Committee (2019–2020); the Development Office Task Force (2017–2018); the Office for Diversity, Literacy, and Outreach Services (ODLOS) Advisory Committee (2016–2018), as APALA representative; the Equity, Diversity, and Inclusion Implementation Working Group (2016–2018); the Committee on Diversity (2012–2016); the Spectrum Advisory Committee (2013–2015); the Planning and Budget Assembly (2016–2018), as elected council representative; the ALSC Membership Committee (2014–2016); the National Organizations Serving Children and Youth Committee (2012–2014), as liaison; and the Library Leadership and Management Association's New Professionals Section Web Team (2014).
Additional leadership roles include chair of the Steering Committee on Organizational Effectiveness (2018–2020) and the ODLOS Advisory Committee (2016–2017). Pelayo-Lozada is executive director of APALA (2019–2022) and a past president (2016–2017). She is chair of the Palos Verdes Library District's BUILD Team, focusing on diversity and racial equity, and a board member of the Center for the Study of Multicultural Children's Literature (2012–present). She is also a 2011 ALA Emerging Leader.
Pelayo-Lozada holds an MLIS and a bachelor's in sociology from UCLA and an associate's in philosophy from El Camino College in Torrance, California.