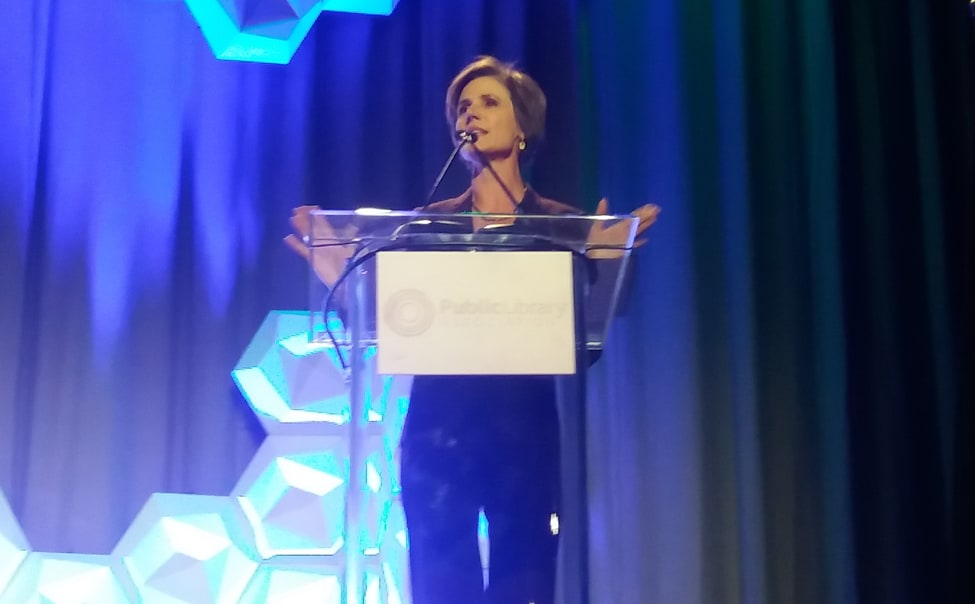 Before Sally Yates addressed a room full of librarians and library workers at the Public Library Association (PLA) Conference in Philadelphia, she did her usual Google research. She found quotes on libraries and librarians from Paula Poundstone ("Did you know you preside over a 'raucous clubhouse'?"), Neil Gaiman, and a favorite, rather risqué one from Frank Zappa that she did not repeat on stage. But it was something a librarian told her in a bar the night before that resonated: "One of your colleagues said: 'Well, librarians get it done.'"
Yates, former deputy attorney general in the US Department of Justice (DOJ) under the Obama administration and former acting attorney general, is perhaps best known for refusing to defend President Trump's ban on travel from six majority-Muslim countries and her testimony before the Judiciary Subcommittee on Crime and Terrorism about Russian interference in the 2016 US election. As the keynote speaker of the conference's Opening Session on March 21, she didn't shy away from discussing the country's current political climate and librarians' roles at this "inflection point."
"In our best moments we have put country before party and the common good before personal ambition," Yates said. "Will we remain faithful to our country's core values?" She noted that one has to look no further than the first 52 words of the Constitution to know what those values are.
To further those values, Yates urged for objective truth—a concept not foreign to information professionals.
"Truth is the very foundation of our democracy," she said. "Failing to tell the truth matters. We can't control whether our public servants lie to us, but we can control whether we hold them accountable for those lies.
"You all are the keepers of and the gateway to truth," Yates added. "You are thought leaders, you are doers, you are the holders of truth in our communities, and we need you today more than ever before." In the spirit of that objectivity, she remarked that it didn't surprise her that public libraries often serve as polling places in their communities.
Respectful, aisle-crossing discussion was another avenue Yates advocated for. "We have… vegans and carnivores, dog and cat people, and my daughter told me, Team Lauren and Team Becca people." Though she laughed that debate was off-limits at her own family's Thanksgiving dinner.
Yates stressed that civility and constitutionality are especially important during this catalyzing time in our nation's history.
"Decency and compassion matter," she said. "We can't normalize conduct that is not normal. We should never give a foreign adversary reason to question our solidarity, including a foreign adversary that attempts to interfere in our elections," Yates declared to rousing applause.
She also urged that we should commit to "fair and proportional alternatives to incarcerations" to rebuild public trust in law enforcement and keep from criminalizing poverty.
The program transitioned to an interview format, with PLA President Pam Sandlian Smith asking Yates about her early experiences with libraries (her mother was a voracious reader, not immune to the "trashy beach read"), perseverance, her unusually high-profile last 10 days as acting attorney general (said Yates: "The DOJ should never be involved in advancing a pretext"), and what gives her hope (currently, the activism from Parkland, Florida, students—"Those kids know how to ask a follow-up question").
Yates ended on a positive note. "We're going to get through this," she said. "Our country has been through some difficult times before."