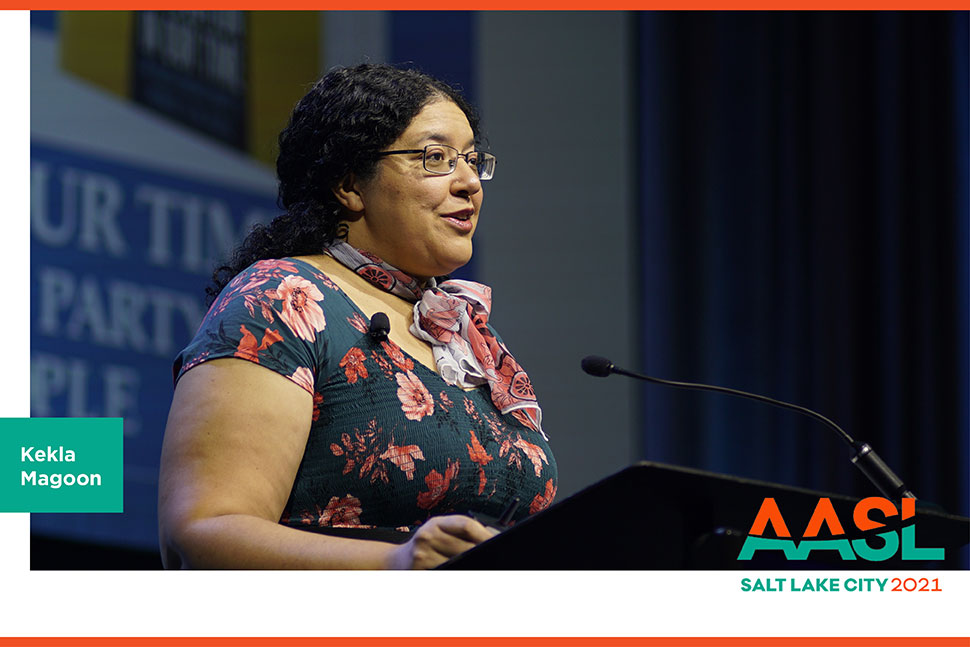 When most Americans think of the Black Panther Party, they think of violence—militant Black men and women in leather jackets holding guns. The reality was far different, said author Kekla Magoon at her general session talk Saturday, October 23, at the 2021 American Association of School Librarians National Conference in Salt Lake City. Magoon's forthcoming book, Revolution in Our Time: The Black Panther Party's Promise to the People (Candlewick Press, November), places the Panthers in the broader context of Black American history, from the first arrival of enslaved people up to the Black Lives Matter movement.
Magoon's interest in the Black Panthers came when she was working as a grant writer in New York City and stumbled upon an article about the organization's free breakfast program for school children. Unaware that the group conducted this sort of community outreach, Magoon continued her research and was "dazzled by all this new knowledge" about the Panthers' work creating food, education, housing, worker's rights, and safety programs for Black communities in the 1960s and 1970s, responding to a lack of programs at the local, state, and federal levels. Magoon later used the Panthers as the narrative backdrop for her YA fiction novels, The Rock and the River and Fire in the Streets, but learned that no comprehensive nonfiction book had been written for young readers about the Panthers and their groundbreaking humanitarian work. Revolution in Our Time corrects that deficit, Magoon said.
Magoon used archival photos throughout her talk to complement her explanations of 1960s Black America and the Panthers' work: images of the Watts uprising and the Bloody Sunday march in Selma, Alabama, both in 1965; a shot of a sickle cell anemia testing site established by the Panthers; portraits of Panthers leaders Stokely Carmichael and Bobby Steele. The images helped reinforce Magoon's message that the Panthers were not the violent terroristic organization portrayed by racist media, government, and law enforcement who sought to diminish their work in the eyes of average Americans. The Panthers' work was born out of love for the Black community, not a desire for violence, Magoon said.
Magoon's study of the Panthers in Revolution in Our Time connects the organization's legacy to present-day social justice movements, notably Black Lives Matter and protests against police violence toward Black Americans.
"The Panthers' story never stopped being relevant; we've never stopped struggling," she said. "But a new movement was emerged, one that stands to benefit knowing the struggles and successes of those that have come before."
Quoting Black Panthers member Huey P. Newton, Magoon said, "'The revolution is always in the hands of the young; the young always inherit the revolution.'"
Reflections and next steps
Joe Sanchez, associate professor at the Graduate School of Library and Information Studies at Queens (N.Y.) College, and Jennifer Moore, associate professor in the department of information science at University of North Texas, closed the conference with reflections on history and practical next steps.
"Libraries are a living institution, always moving forward," Moore said, charting the history of the profession from the clay tablets used for record keeping in Mesopotamia in 2600 B.C., to the establishment of the Library Company in Philadelphia in 1731 by Benjamin Franklin, to the increase in public libraries in the 1900s. Through it all, Moore said, libraries have been a vital force touching all aspects of human life, and institutions are still evolving.
Breaking into small groups for discussion, attendees were charged with answering a series of questions, posed by Sanchez, that reflect the changing state of school librarianship: In what ways can school libraries be used to support and amplify our new civil rights movement? In what ways can school libraries support the move to mobile and distance education? In what ways can libraries embrace global youth culture? Where do we go from here? Respondents expressed a desire to broaden staff representation; advocate for more EDI resources; create safe spaces for kids; work toward digital equity; and form student advisory teams to guide collection development.
Sanchez said that by addressing these concerns, school librarians can reach kids who may have become distanced from the library because they feel like they don't belong there.
"The library has become separated from the librarian," Sanchez said, noting that in recent studies, librarians have higher approval ratings than the libraries in which they work. "The physical space of the library is not as important as the person within it. … These kids want you to help them; they trust you."