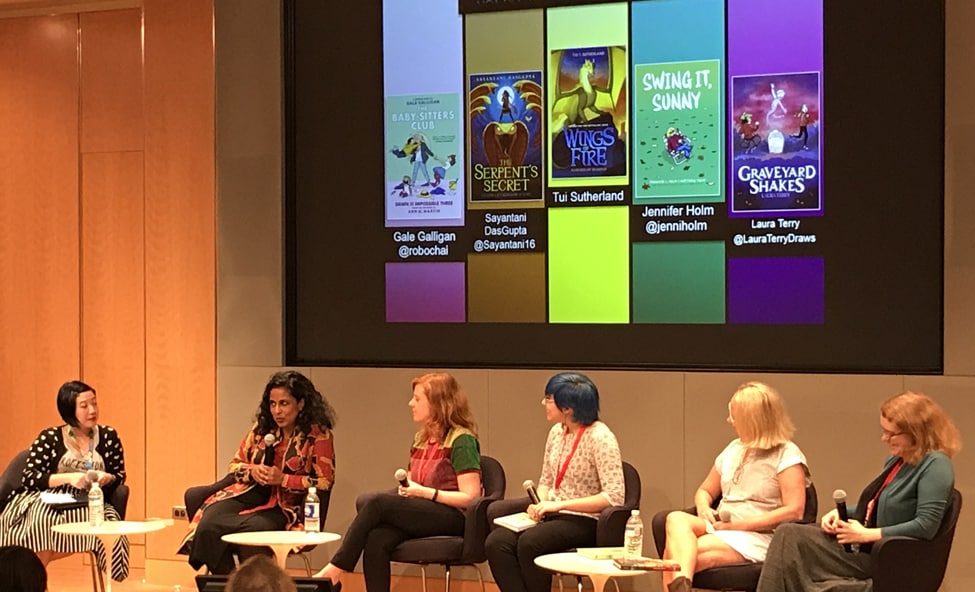 New York Comic Con (NYCC) and New York Public Library (NYPL) teamed up for the first time on October 5 to  enhance the convention's offerings to educators and librarians. Following in the footsteps of the collaboration between San Diego Comic-Con and San Diego Public Library, Professional Day's 24 sessions were held throughout the day in NYPL's historic Stephen A. Schwarzman Building.
A wide variety of panels and workshops offered practical advice on using comics in the classroom, getting involved and engaged as professionals, and getting the scoop on highly anticipated new titles. The day started with a conversation between Laurie Halse Anderson (Speak, Farrar, Straus, and Giroux, February 2018) and Ngozi Ukazu (Check Please!, First Second, Fall 2018) before a capacity crowd. From there, the day moved at a brisk pace, with publisher panels from BOOM! Studios, Image Comics, Valiant Entertainment, First Second, and Scholastic.
The Scholastic spotlight panel featured authors Sayantani DasGupta (The Serpent's Secret), Gale Galligan (The Baby-Sitters Club Graphic Novel: Dawn and the Impossible Three), Jennifer L. Holm (Swing It, Sunny), Tui T. Sutherland (Wings of Fire Graphic Novel: The Dragonet Prophecy), and Laura Terry (Graveyard Shakes), moderated by Candice Mack, senior librarian, young adult services, at Los Angeles Public Library. DasGupta spoke of the importance of getting books with more diverse stories and characters published and shared her personal experience: "I had some young readers in-house who really wanted to see characters who looked like them having adventures and being brave and being courageous. And so I started writing for my son and daughter."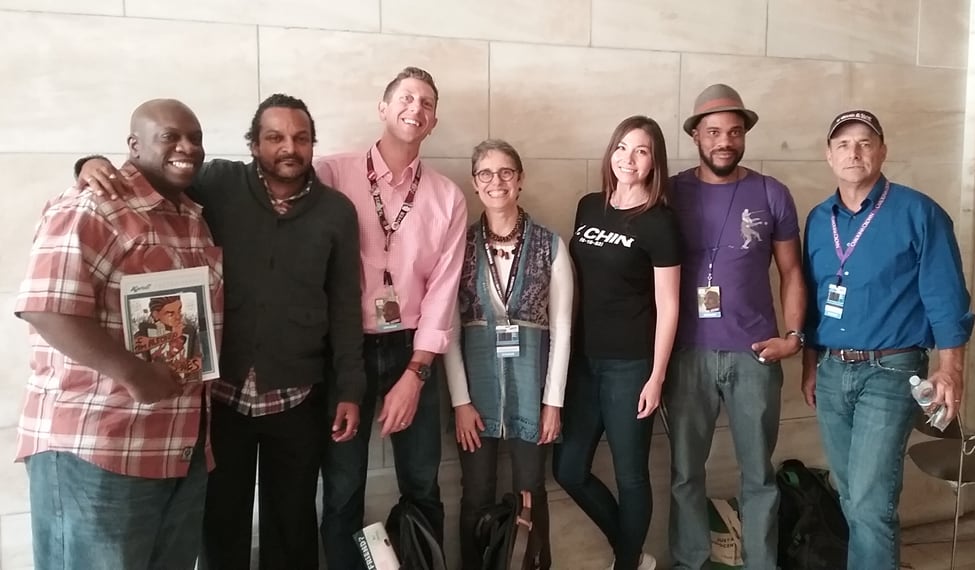 Networking sessions gave attendees a chance to connect and learn from industry professionals. A popular draw for the day was the fast-paced "Author Speed-Dating" session—20 authors and artists had four minutes to talk about their latest book to attendees and move to the next group when time was called.
Tools for change
The power of graphic novels as tools for change was a common thread throughout the day. Panelists addressed the need for social change ("Books as Flint: Using Graphic Novels to Inspire Political Activism") and for uncloaking the stigma of sex health education ("Graphic Sex: Comics, New Media, and the Queering of Sex Education").
Panelists offered support for educators and librarians in dealing with difficult situations and topics. The session "Handling Challenges and Bans" (organized by the Children's Book Council Graphic Novel Committee) addressed how graphic novels are often singled out because of the "power of the static image," according to moderator Charles Brownstein, executive director of the Comic Book Legal Defense Foundation. The reality of challenges and bans was addressed from many angles, including discussing suggested age ranges for specific books and talking through challenges with parents.
To enhance the experience of the attendees and panelists, NYPL offered five  building tours, including a stop in the new location of the Picture Collection, which has inspired many artists and creators since 1915, including Maus author Art Spiegelman. Two special tours were added for the "Visual History of Frankenstein" at the Pforzheimer Collection. Several research divisions also pulled items from their collections specifically for Professional Day. The Rare Books Division displayed about 20 titles from the Golden, Silver, and Bronze Age of Comics, and the General Research Division showcased Will Eisner's A Contract with God, among his other materials at the library.
Amie Wright, manager of school outreach at NYPL and principal organizer of Professional Day, said this event was "proof of concept that hundreds of librarians and educators want dedicated professional track programming at NYCC." At the start of the event she said she saw the line wrap around the building. "It exceeded our expectations, and we have already been planning for next year."
To close out the day, Darien (Conn.) Public Library sponsored a cocktail reception. C. Spike Trotman and Nick Dragotta of Creators for Creators (C4C) awarded their first $30,000 grant to M. Dean for I Am Young. Submissions are now being accepted for the C4C 2018 grant.