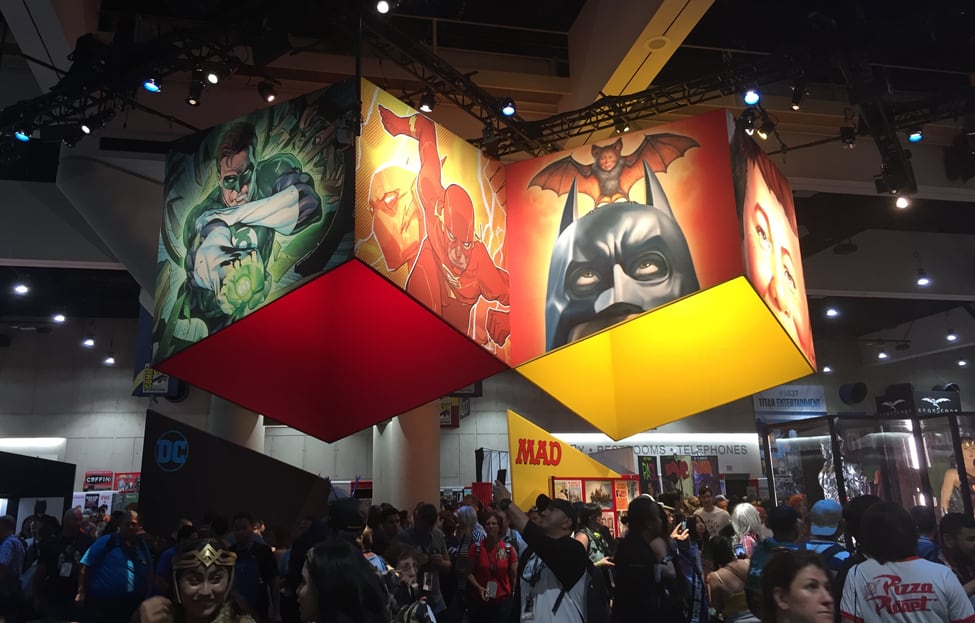 For the second year, San Diego Comic-Con (SDCC) has hosted the Comic Conference for Educators and Librarians (#SDCCEL), a partnership with San Diego Public Library, complete with commemorative library cards. The aim of the conference, held July 19–23, is to "promote the adoption of comics in the classroom and participate in a lively discourse on the latest in teaching pedagogy." The event is open to all SDCC participants plus librarians and educators.
One prominent theme at this year's SDCCEL was how to "level up" comics readership and support in schools and libraries. How do we move beyond excellent but well-known titles like Persepolis and Maus to include more diverse titles and ensure systematic buy-in with key stakeholders like principals and school board members?
The July 20 session "Picture Books for Grown Ups: Why Graphic Novels Matter to Adults" (in which I was a panelist) targeted this issue in two proactive ways: Cultivate adult comics readership with strong readers advisory, and establish a strong collection development policy that supports comics collection.
Teachers, librarians, and principals can better appreciate and advocate for comics if they read comics. To this end, panel participants recommended some new and surprising titles to pique interest, including Kabi Nagata's My Lesbian Experience with Loneliness (Seven Seas Entertainment, 2017), Thi Bui's The Best We Could Do (Abrams Comicarts, 2017), and the political webcomic site The Nib. Equally important is a collection development policy that proactively defends against challenges—graphic novels continue to be among the most challenged titles in schools and libraries, according to the American Library Association's Office for Intellectual Freedom. Panelist Candice Mack, senior librarian for young adult services at Los Angeles Public Library (LAPL), shared LAPL's collection development policy and urged all participants to have a similarly robust document.
On July 22, the Comic Book Legal Defense Fund (CBLDF) hosted several comics creators for the proactive session "Equipping Teachers to Defend Comics." The authors and moderator Betsy Gomez, CBLDF's editorial director, walked educators through resources on the CBLDF website.
One of the best ways to level up with comics? Diversity in all aspects, according to several panels during the conference. An executive with Marvel recently lamented that diversity doesn't sell in comics, but panelists and participants here disagreed. Recommending the forthcoming comic Pashmina by Nidhi Chanani (First Second, October), Lalitha Nataraj, literacy services/community college librarian at Escondido (Calif.) Public Library, spoke of the importance of "seeing on the page my own experiences of growing up between cultures." This mirroring aspect is a vital cornerstone of author and National Ambassador for Young People's Literature Gene Luen Yang's Reading Without Walls Challenge. Further, reading—and reading comics in particular—has been shown to foster empathy. In some social studies classrooms, for example, students are using Ms. Marvel and March to learn about civic engagement and history. Finally, graphic medicine—the use of graphic novels to teach empathy and diagnosis to medical students—has been expanding on an international scale.
One challenge expressed during several panel discussions was the lack of a unified measure for assessment to show the impact of comics in the classrooms. At Ramona (Calif.) High School, students are using Gareth Hinds's adaptation of The Odyssey (Candlewick, 2010) to learn the classics in a new, invigorated way. The school not only revised its curriculum to include The Odyssey, it also invited key stakeholders, including the principals and school board members, to participate in the process. Its resources and curriculum guides are posted at tinyurl.com/RHS-comic-con
"As educators, our number one goal is not to simply teach but more importantly to ensure all of our students actually learn," said Ramona's librarian Cori McDonald. "Utilizing the graphic novel as well as multiple forms of The Odyssey, we were able to engage more students in learning. When we can get all students engaged in learning in our classrooms, then we have met our goal."