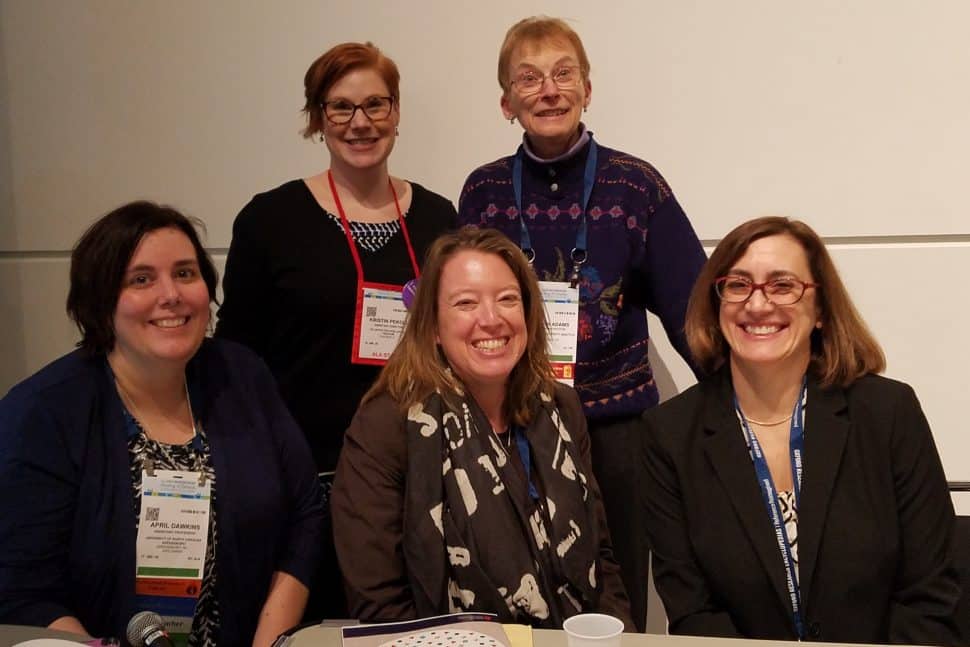 The American Library Association's (ALA) Office for Intellectual Freedom (OIF) introduced its new Selection and Reconsideration Policy Toolkit for Public, School, and Academic Libraries at the Midwinter Meeting & Exhibits in Denver on February 10. The session was part of the Symposium on the Future of Libraries.
The toolkit fully revises and updates a previous workbook and now includes information for public and academic libraries in addition to school libraries. It is divided into four sections: an overview of why libraries need a selection policy; the basic components of a policy; reconsideration procedures and processes; and an appendix with a bibliography, core intellectual freedom documents, and information on challenge support and reporting censorship.
Each section includes sample documents, but Intellectual Freedom Committee Chair Helen Adams advised against cutting and pasting them. The forms are intended to spark local discussions about what is appropriate in each library and each community.
Kristin Pekoll, a former public librarian and current assistant director of OIF, said one of the first questions she asks when librarians call her office to report a challenge is what the library's selections policies are. Those policies are important to have and to have access to. Pekoll also advised tackling any policy revisions or updates cyclically, rather than in the middle of a challenge. The small-town Wisconsin library where she worked went through a challenge in 2008, and its policy hadn't been updated since 1985. However, the library staff waited until the challenge was resolved before revising their rules.
Pekoll noted in particular the section on challenge support and reporting censorship and urged librarians to call OIF during challenges to materials. "Reporting challenges is a professional responsibility," she said.
Lisa Errico, associate professor at Nassau Community College in Garden City, New York, discussed how academic libraries have different issues with challenges and censorship because of their organizational structure. She noted that academic libraries may be managed by a chair, a dean, or a director, and it's important for librarians to know the designated path for reporting issues.
Academic libraries may have more independence and may be able to harness campus support to develop their selection policies. Students and classroom faculty play a role in selecting resources; however, the library should clarify that it has final say in both selection and weeding.
Valerie Nye, library director at the Institute of American Indian Arts in Santa Fe, New Mexico, explained that academic libraries might also face complaints about what isn't in a collection or how the collection is organized. Policies have to go beyond procedures, she said.
Academic libraries often collect in controversial areas to benefit scholars who have to study multiple sides of an issue—what is art to some might be considered porn to others, for example. She mentioned the American Association of University Professors as a good resource for academic libraries because of its stated mission that "Academic freedom is indispensible."
April M. Dawkins, assistant professor in the department of library and information studies at the University of North Carolina at Greensboro, explained that school libraries have seen an uptick in challenges to classroom collections. In compiling the toolkit, the authors had to consider many possible variations on who could file a complaint. A new Florida law, for example, allows any citizen (not just parents of students) to challenge what gets taught in a school.
Print copies of the toolkit were distributed to session attendees and will be available through the ALA store in the near future. The full toolkit is now available online.