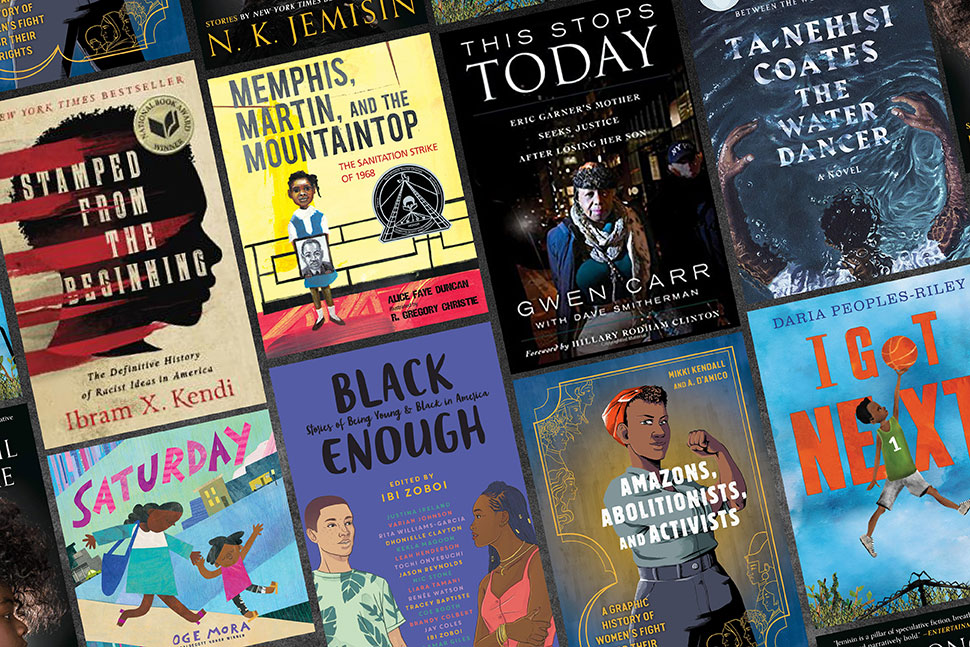 Booklist recently compiled a list of antiracist books and other resources for librarians and readers. The full list is reprinted below. 
Since the May 25 murder of George Floyd at the hands of the Minneapolis Police Department, the world has seen several straight days of protest, of resistance, of demands for change, of work—hard work. And this work can look like many things: enduring the tear gas and rubber bullets of police at rallies; running supplies to communities where they are currently unavailable; researching and donating to bail funds and community aid organizations; amplifying black voices, organizations, and businesses; having uncomfortable conversations with loved ones and colleagues.
It can, of course, also mean reading. We've seen the antiracist reading lists; there's New York magazine's roundup, Betsy Bird's comprehensive piece for Fuse8, the Stacks' collection of nonfiction, the list goes on. There's also impactful analysis of these reading lists. As Lauren Michele Jackson asserts in "What Is an Anti-Racist Reading List For?" "were one to actually read many of these books, one might reach the conclusion that there is no antiracist stasis within reach of a lifetime."
And she's right. The events of the past several days are fresh, but these books—and these systemic problems: white supremacy, police brutality, centuries of violence against black people, carried out time and again by white people—have been here. And we'd be naive to believe that by reading books alone we might somehow upend that reality. We cannot rely on the books to do the work for us, but in the hopes they might serve as catalysts for the self-reflection and group discussion that often preface effective antiracist action, we have developed a list of our own. For those committed to this journey, the reading and the subsequent action, below is a start.
Adult Books
Nonfiction
1919, by Eve L. Ewing
Between the World and Me, by Ta-Nehisi Coates
Breathe: A Letter to My Sons, by Imani Perry
Citizen: An American Lyric, by Claudia Rankine
Democracy in Black: How Race Still Enslaves the American Soul, by Eddie S. Glaude
Excessive Use of Force: One Mother's Struggle against Police Brutality and Misconduct, by Loretta A. Prater
How to Be an Antiracist, by Ibram X. Kendi
How We Fight White Supremacy, edited by Akiba Solomon and Kenrya Rankin
Me and White Supremacy: Combat Racism, Change the World, and Become a Good Ancestor, by Layla F. Saad
Monument: Poems, New and Selected, by Natasha Trethewey
Our Black Sons Matter: Mothers Talk about Fears, Sorrows, and Hopes, edited by George Yancy and others
Rest in Power: The Enduring Life of Trayvon Martin, by Sybrina Fulton and Tracy Martin
Stamped from the Beginning: The Definitive History of Racist Ideas in America, by Ibram X. Kendi
This Stops Today: Eric Garner's Mother Seeks Justice after Losing Her Son, by Gwen Carr and Dave Smitherman
The Toni Morrison Book Club, by Juda Bennett and others
Unapologetic: A Black, Queer, and Feminist Mandate for Radical Movements, by Charlene A. Carruthers
Wandering in Strange Lands: A Daughter of the Great Migration Reclaims Her Roots, by Morgan Jerkins
The Warmth of Other Suns: The Epic Story of America's Great Migration, by Isabel Wilkerson
We Were Eight Years in Power: An American Tragedy, by Ta-Nehisi Coates
When They Call You a Terrorist: A Black Lives Matter Memoir, by Patrisse Khan-Cullors and asha bandele
Writings on the Wall: Searching for a New Equality beyond Black and White, by Kareem Abdul-Jabbar and Raymond Obstfeld
Fiction
The Deep, by Rivers Solomon and others
Home, by Toni Morrison
Hitting a Straight Lick with a Crooked Stick: Stories from the Harlem Renaissance, by Zora Neale Hurston
How Long 'Til Black Future Month? by N. K. Jemisin
The Impeachment of Abraham Lincoln, by Stephen L. Carter
The Nickel Boys, by Colson Whitehead
The Seven League Boots, by Albert Murray
Sing, Unburied, Sing, by Jesmyn Ward
Some Sing, Some Cry, by Ntozake Shange and Ifa Bayeza
Speaking of Summer, by Kalisha Buckhanon
Song of the Shank, by Jeffery Renard Allen
An Unconditional Freedom, by Alyssa Cole
The Water Dancer, by Ta-Nehisi Coates
We Cast a Shadow, by Maurice Carlos Ruffin
Books for Youth
Older Readers
All the Days Past, All the Days to Come, by Mildred D. Taylor
Amazons, Abolitionists, and Activists: A Graphic History of Women's Fight for Their Rights, by Mikki Kendall and illustrated by A. D'Amico
Black Enough: Stories of Being Young & Black in America, edited by Ibi Zoboi
Felix Ever After, by Kacen Callender
The Impact of Slavery in America, by Duchess Harris
Just Mercy (Adapted for Young People), by Bryan Stevenson
Light It Up, by Kekla Magoon
Pet, by Akwaeke Emezi
A Phoenix First Must Burn, edited by Patrice Caldwell
Stamped: Racism, Antiracism, and You, by Jason Reynolds and Ibram X. Kendi
This Book Is Anti-Racist: 20 Lessons on How to Wake Up, Take Action, and Do the Work, by Tiffany Jewell
Tyler Johnson Was Here, by Jay Coles
The Voting Booth, by Brandy Colbert
Middle Grade
Black Brother, Black Brother, by Jewell Parker Rhodes
Blended, by Sharon M. Draper
Can I Touch Your Hair? Poems of Race, Mistakes, and Friendships, by Irene Latham and Charles Waters, illustrated by Sean Qualls
For Black Girls Like Me, by Mariama J. Lockington
From the Desk of Zoe Washington, by Janae Marks
Genesis Begins Again, by Alicia D. Williams
A Good Kind of Trouble, by Lise Moore Ramée
Lifting as We Climb: Black Women's Battle for the Ballot Box, by Evette Dionne
Memphis, Martin, and the Mountaintop, by Alice Faye Duncan and illustrated by R. Gregory Christie
The Only Black Girls in Town, by Brandy Colbert
Woke: A Young Poet's Call to Justice, by Mahogany L. Browne, Elizabeth Acevedo, and Olivia Gatwood
Young Readers
Bedtime Bonnet, by Nancy Redd and illustrated by Nneka Myers
Boonoonoonous Hair, by Olive Senior and illustrated by Laura James
Cool Cuts, by Mechal Renee Roe and illustrated by the author
Hair Love, by Matthew A. Cherry and illustrated by Vashti Harrison
I Got Next, by Daria People-Riley and illustrated by the author
IntersectionAllies: We Make Room for All, by Chelsea Johnson, LaToya Council, and Carolyn Choi, and illustrated by Ashley Seil Smith
My Mommy Medicine, by Edwidge Danticat and illustrated by Shannon Wright
Saturday, by Oge Mora and illustrated by the author
Sing a Song: How "Lift Every Voice and Sing" Inspired Generations, by Kelly Starling Lyons, illustrated by Keith Mallett
Sulwe, by Lupita Nyong'o and illustrated by Vashti Harrison
Thank You, Omu! by Oge Mora and illustrated by the author
The Undefeated, by Kwame Alexander and illustrated by Kadir Nelson
What Is Given from the Heart, by Patricia C. McKissack and illustrated by April Harrison
Who Will You Be? by Andrea Pippins and illustrated by the author
You Matter, by Christian Robinson and illustrated by the author
Booklist and Book Links Features
Adult Books
Writers & Readers: Breaking Boundaries, by Crystal Hana Kim
Writers & Readers: What Are You Anyway? by John Vercher
Books for Youth
Classroom Connections: #OwnVoices Anthologies
Classroom Connections: Collaboration and Resilience
Classroom Connections: Speak Up, Speak Out, March On
Inside Series Nonfiction: Teaching Race
Inside Series Nonfiction: Pocket Change Collective
Writers & Readers: Puzzling It Out, by Lamar Giles
Writers & Readers: Lifting as We Climb, by Evette Dionne
Writers & Readers: The Vitality of the Arts, by Brandy Colbert
Writers & Readers: A Word for the Reluctant, by Nic Stone