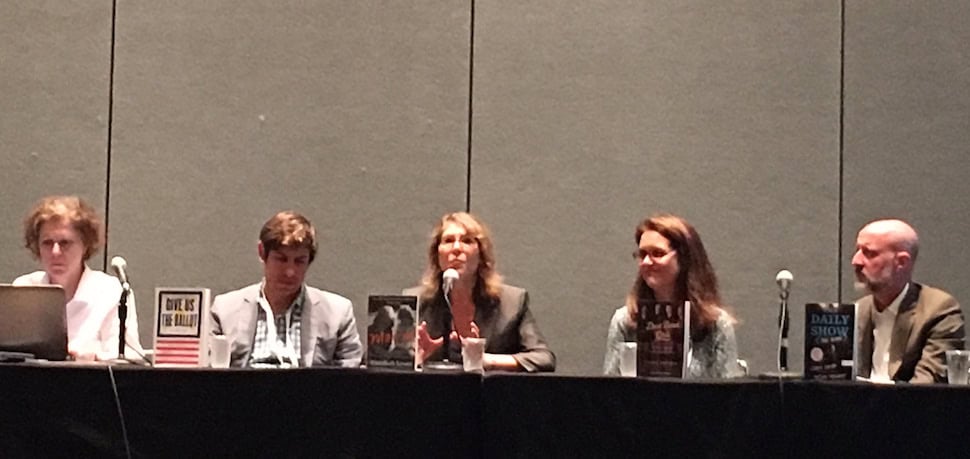 Voting rights. A bone marrow transplant. Women's basketball in the great depression. Jon Stewart.
At United For Libraries' Reads Like Fiction, Nonfiction You Can't Put Down session, this random collection of words summarized tales from four talented writers telling compelling stories about real life events, moderated by Barbara Hoffert, editor of Library Journal's Prepub Alert.
Ari Berman opened the event discussing with passionate intensity his book Give Us the Ballot about what happened after the dramatic passage of the Voting Rights Act in 1965 and the turbulent forces it unleashed.
"I wanted to have the tension of the two Johns—[Supreme Court Chief Justice] John Roberts and [U.S. Representative] John Lewis—showing the two sides of the story," he said, further explaining how the book takes the reader from the demonstrations of the civil rights era to the halls of Congress to the chambers of the Supreme Court.
Up next, Elizabeth Lesser explained her two-sided sister story, Marrow, which was inspired by her being the bone marrow match for her sister and makes her begin to question what it really means to love—honestly, generously, and authentically.
"Much like how cells can be rejected or attacked in the body, that was the history of my relationship with my sister," Lesser explained. So they began a 'soul marrow transplant' with each other, having difficult discussions, exploring their past, and finally coming to forgiveness.
Honoring family was what made Lydia Reeder begin to write Dust Bowl Girls in the first place. A yellow folder handed down from her grandmother months before her death encouraged Reeder to contact a librarian to uncover the story of her great uncle Sam Babb's time as a women's basketball coach during the depression.
"My grandmother was so determined to bring attention to her brother's achievement with the Cardinals that she saved every clipping she could find with the hopes that I might want to tell the story one day," Reeder said.
Finally, the story of The Daily Show, or as writer Chris Smith explains it, "the story of a television show, which took a great deal of planning but also a lot of dumb luck."
With The Daily Show (The Book): An Oral History, Smith covers the sixteen year history of the show and explains how when Jon Stewart took over in 1999, the show became about more than about just being funny.
"Jon always wanted it to be a comedy show but he also cared about politics," Smith said. "He wanted to punch it up and it somewhat began when Steve Carrell talked his way into John McCain's campaign bus." That bit established the show's credibility and gave it its entry into the world of politics.
And because this is nonfiction, we already know it worked.