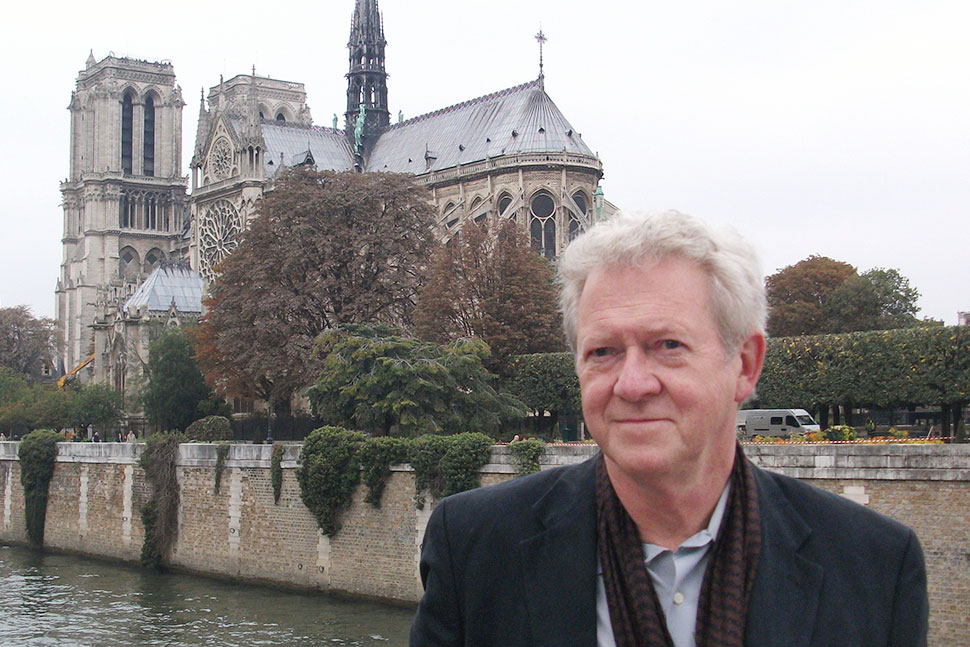 Leonard Kniffel, former editor and publisher of American Libraries, died March 19 of pancreatic cancer. He was 73.
Kniffel was a librarian, journalist, and author. Before joining the staff of the American Library Association (ALA) in 1988, he worked at Detroit Public Library for 18 years, during which time he earned his master's degrees in English and library science at Wayne State University. He joined the staff of American Libraries in 1988, becoming managing editor a year later and then editor in chief from 1996 to 2011. During his leadership, the magazine established JobLIST, an online library career resource, as well as American Libraries Direct, a weekly e-newsletter.
He wrote for the magazine on issues ranging from censorship to public service. He also took many photographs, including the then-controversial 1992 cover photo of members of ALA's Gay and Lesbian Task Force marching in the San Francisco Pride parade. Kniffel also traveled extensively as a journalist, reporting on the annual conferences of the International Federation of Library Associations and Institutions (IFLA). In 2014, he became executive director of the Polish American Librarians Association and a board member of the Polish Museum of America.
Many of his former colleagues at ALA, where he worked until 2012, share their memories below.
---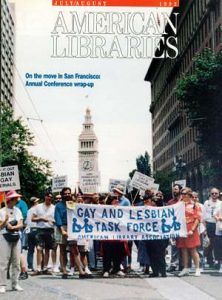 When Leonard Kniffel retired from American Libraries, he told me he was moving on. He wasn't going to be writing regularly for the magazine anymore. Though I managed to convince him to write a few IFLA reports, he meant what he said. He wanted to give the staff and me space to start a new chapter for the magazine, though he was always available to answer my questions. He went on to a successful post-ALA career, writing his memoir Busia: School Days on the Farm with My Polish Grandmother, and blogging on A Polish Son. I'll always appreciate his kindness to the American Libraries team.
—Laurie D. Borman, former editor and publisher of American Libraries
Leonard was a supportive manager who was quite open to new ideas about doing things in creative and different ways. He bears a large share of the credit for launching American Libraries Direct when it looked like others would be dropping the ball. "Let's just go ahead and do it," he told me.
—George M. Eberhart, former senior editor at American Libraries
When I started writing a column for American Libraries under Leonard, he made me feel like I was becoming a member of a family. Leonard was so welcoming and encouraging to me, and he really made an effort to include the columnists in discussions about the magazine and the focus of future issues. I still can't understand why he gave the chance to write a column to someone as green as I was, but I'm so grateful for it and that it gave me the opportunity to get to know such a warm and wonderful human being.
—Meredith Farkas, American Libraries columnist and faculty librarian at Portland (Oreg.) Community College
One of the greatest pleasures of my time at ALA was the opportunity to work with Leonard, and to become a close friend over the years—a friendship that grew from time spent in locations as exotic as Bali and the Zambezi River, or as unexotic as working on the next deadline. He was truly the best and greatest. He loved and cared about libraries, librarians, and the Association, and it showed in everything he did. We will miss him terribly.
—Keith Michael Fiels, former executive director of ALA
I so admired Leonard. His passion and curiosity for the field were boundless. He was a librarian as much as he was an editor in chief, always wanting to use the magazine to push library practice forward. I remember in 2007, Leonard invited me to write frankly about race and racism in the LIS field. I took him up on that and wrote from my lived personal and professional experience. I had no idea that it would be the cover story for American Libraries. Though there was much support for the ideas the article raised, there were those who thought calling out racism was controversial or taboo. But Leonard stood firm. He not only supported me but insisted that time would show that AL was right to center the subject. Leonard's stand in that moment was illustrative of his character, integrity, and willingness to interrogate library history. He was right. That article is now much cited and taught in library school. That desire to be on the right side of history is also the legacy Leonard leaves ALA and the profession.
—Tracie D. Hall, ALA executive director
I met Leonard one day in the early 1980s while searching in the modern poetry collection at Detroit Public Library (DPL). He appeared at my side with several books that turned out to be just what I was looking for, and he became a great friend, first in Detroit and later in Chicago. I learned that Leonard was the librarian credited with enriching DPL's modern poetry collection. He was a publisher of poetry himself, at his Fallen Angel Press. As a founder of the Poetry Resource Center of Michigan, he encouraged poets at all levels by organizing readings and socializing with poets over food and drink, often in his kitchen. Leonard loved libraries, literature, film, and writing, and he wrote constantly—books about his family and about musicals, a blog about all things Polish, insightful and entertaining film reviews for a movie database. And warm, funny, ironic emails that kept us connected, wherever work or life took us. I can't find adequate words for this loss.
—Louise Kertesz, longtime friend and former freelance proofreader for American Libraries
Leonard hired me in August 2006, and I ended up staying at ALA for 12 years. After he retired, we kept in touch and periodically met for lunch. It's hard to think such things when you're an employee, but now I can say it without hesitation: I loved the guy. When I think of Leonard, I think of one of the gentlest people I ever met. And yet, he was also one the bravest, whether that manifested intellectually or physically. This combination made him possibly my first true mentor—not so much in the nuts and bolts of what he taught me in the job, but in what kind of person I wanted to be. Soft-spoken but firm when it mattered. Empathetic to the end but with an unimpeachable moral compass. I'll never get there; Leonard Kniffels don't come around very often. Up until the last time I saw him, he talked about how proud he'd been to hire me, and I wish I'd told him how proud that made me feel. He was a rabid supporter of my writing and, although it's a small thing, and self-centered in its own way, I'm sad he didn't get to know that I named the hero of my new book after him. I miss him terribly already.
—Daniel Kraus, author and former Booklist editor
There is perhaps no better way to describe Leonard than to use his own words about an equally beloved and talented former publisher of American Libraries, Art Plotnik: "Through good times and bad … he never lost his delightful sense of humor and mischievous good nature. He also left behind a great body of writing, a gift to the world from his beautiful mind." Leonard was a kind, generous, and interested colleague and friend, a poet and writer, an astute journalist, and a great exemplar of the notion of joie de vivre with his unforgettable smile, gravelly laugh, and love of cheerful gatherings. He was serious, though, about his library-related work and advocacy, his personal writing, and his Polish heritage (his blog, A Polish Son, "documented the Polish-American experience"), and he enjoyed nothing more than when those three intersected. One of his last pieces for American Libraries was about the centennial of the American Library in Paris, a city he reveled in, and it brought to mind his story about having tea at the Paris home of movie legend Olivia de Havilland when she was in her late 90s. It's hard to know which of them might have had the better time. Thanks for all the collegiality, fine work, and great stories; how we'll miss you, Leonard.
—Mary Mackay, associate executive director of ALA Publishing
In 1997 the constituents of OLOS (ALA's Office for Literacy and Outreach Services) mandated ALA's attention to the issues of marginalized library communities. From my first day, Leonard was always accessible for advice, especially requests for attention to issues and events of the marginalized library communities my office represented. His outlook on services to librarians and the communities they served will always be memorable. So thankful to have known and worked with him. He was a librarian's librarian.
—Satia Marshall Orange, former director of OLOS
Writer, librarian, publisher. That is how Leonard Kniffel described himself. Colleague, mentor, father-figure, and beloved friend are the descriptions I would choose. My dinners, drinks, and visits with him were always the highlight of my frequent trips to Chicago. When we talked late last fall, we spoke of seeing each other again soon once this dreaded pandemic had released us from its grip. So I was so saddened to learn of his sudden cancer diagnosis and devastated when news of his passing Friday morning reached me late Saturday night. I had actually been thinking about him all day and finally sent him a text in the afternoon to let him know he was in my thoughts. Little did I know he was already gone. My heart goes out to Carl and all of Leonard's family and many friends. The many happy memories are working hard to defeat the tears. My thoughts today are devoted to the funniest, sweetest, kindest, most genuine person I have ever known.
Back in 2006, it was Leonard who talked me into writing a blog to accompany my Technically Speaking column in AL. He also came up with its name, Hectic Pace, a way to describe me on the vendor floor at ALA conferences. I didn't want to blog and I've never liked my name in puns, but Leonard was gently convincing on both points. And he was right. I will be forever grateful for the boost he gave to my career.
Leonard had a great vision for libraries and for ALA. He was humble (maybe too humble) in his approach, but he could be a real change agent. He knew that there was no honor in just being right. Yes, Leonard was kind, smart, funny, and sweet. But he was also the most charmingly irreverent person I've ever known. That wry sense of humor and Dick Cavett voice of his. You could sit and talk with him for hours on end. Like any good mentor, he would share in my glories and boast about my accomplishments. But he could also admonish with gentleness and reassure with charm and wit. I've never known anyone like him, and I don't think I ever will again.
—Andrew Pace, executive director for technical research, OCLC
Leonard expressed his zeal for and commitment to literature and libraries with equal measures of expertise and mischief. A consummate professional focused on nurturing and promoting the power of books to awaken empathy and forge connections; a journalist who interviewed writers and librarians with insight and warmth; a writer passionate about truth, craft, representation, and telling illuminating stories, he was also bracingly forthright and possessed a sharp wit and keen sense of the absurd. He loved to converse and to make others laugh. Leonard was ardent in his support for his colleagues and other writers; he was always full of creative ideas, generous in thought and deed. I have always admired and will very much miss Leonard's incisiveness, energy, caring, sense of justice, and embrace of life.
—Donna Seaman, editor, adult books, Booklist
Leonard and I began at ALA around the same time back in the 1980s. I knew him casually for many years before finally getting to work with him when my team briefly took on the production of American Libraries. A year before retirement, he took an office near Booklist and joined us for our coffee breaks. That's when I truly got to know him much better. In addition to being knowledgeable, passionate, thoughtful, and sweet, Leonard would wow us with great stories, be it his harrowing escape from Iran (really!), his visits to libraries in remote lands, or his interviews with celebrities Olivia de Havilland and Julie Andrews.
—Ben Segedin, Booklist production director
Leonard was a consummate storyteller and an unwitting mentor. While our time at American Libraries never crossed, he and I kept in touch often, first in an editor–writer relationship as he wrote articles for the magazine, then later when I turned to him for advice as editor and publisher. He was always gracious, kind, witty, and no-nonsense. He once shared with me his favorite credo of journalism: "News is the answer to the question 'What happened?'" Leonard sought out truth and understood the significance of publishing stories that made some people uncomfortable. His activism and fearlessness are what made him a great journalist; his wisdom and kindness are what made him a dear friend.
—Sanhita SinhaRoy, American Libraries editor and publisher