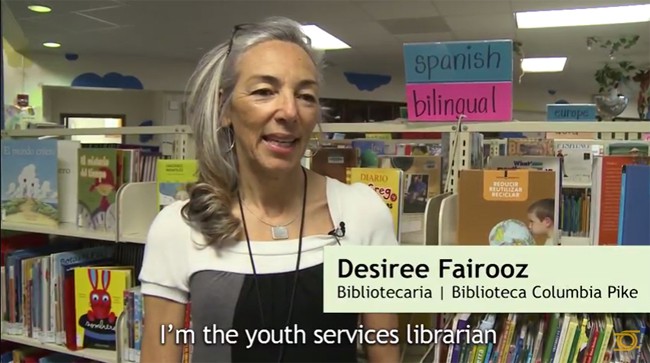 A retrial has been ordered in the case of former children's librarian Desirée Fairooz, the activist who faced up to a year in jail and $2,000 in fines after being arrested at Attorney General Jeff Sessions's confirmation hearing.
Chief Judge Robert Morin of the District of Columbia Superior Court was set to sentence Fairooz, an antiwar activist with the group Code Pink, on Friday, July 14, but instead declared a mistrial.
Fairooz, who has worked as a librarian in Arlington, Virginia, and Fort Worth, Texas, confirmed the judge's ruling in an email response to questions and noted that her retrial is scheduled to begin in September. She declined to comment further.
She made national headlines in January during the Senate confirmation hearing, when she was removed from the hearing room and subsequently arrested after laughing out loud at a comment by Sen. Richard Shelby (R-Ala.) stating that Sessions would equally represent all Americans.
Prosecutors argued that she was arrested not for laughing but for her disruption while exiting the hearing room. Fairooz yelled, among other things, that Sessions was "evil" as she was being dragged from the hearing.
Fairooz told American Libraries in May that she believes she was, in fact, arrested for the laugh.
"Jurors have said that I shouldn't have been arrested for laughing, so then shouldn't that exonerate me from what happened because I was arrested for laughing?" she said. "I'm hoping the court will see that this was erroneous. … They're convicting me of disrupting Congress, although I don't think I disrupted Congress. The proceeding continued."
Lenny Bianchi, who is Fairooz's domestic partner, and Tighe Barry—both of whom are Code Pink activists and had dressed as Ku Klux Klan members for the hearing—were arrested prior to Fairooz for causing a disruption as Sessions entered the room. Both were sentenced July 14 to pay a $100 fine and serve 10 days in jail, but the judge allowed them to avoid incarceration by completing six months of probation, according to media reports.
Although she declined to comment, Fairooz was quoted in a blog post on the Code Pink website, stating: "I would have never spoken out at the hearing if I hadn't been arrested for laughing, and now I am going to be tried again. It's absurd. This is a waste of everyone's time and a waste of tens of thousands of dollars in taxpayers' money. The only thing more ridiculous than being tried for laughing is being tried twice for laughing."
Code Pink cofounder Medea Benjamin also wrote on the website that the call for a retrial and the sentencing of Barry and Bianchi were "shameful" and "designed to discourage dissent and prevent activists from engaging in the daily protests that that are taking place during this tumultuous time."
Fairooz told American Libraries in late June that she was working to secure character references in an effort to have the case thrown out. "Congressman [John] Conyers (D-Mich.) is writing a letter for me, and we each have a number of letters for character references. We'd really like to have this over with, but if there's even a tiny chance we'll have our convictions overturned, it's worth the wait," she wrote.