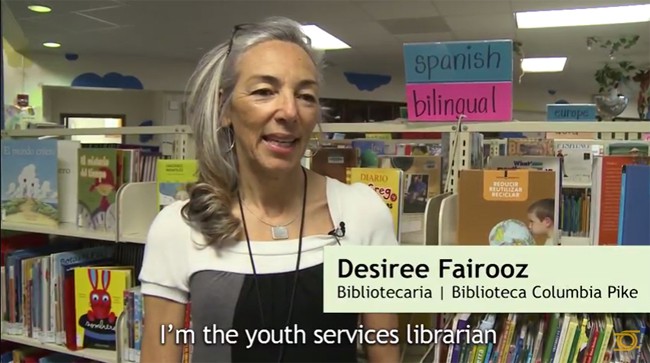 Activist and former librarian Desirée Fairooz made national headlines last week with the news of her conviction for disruption of Congress, which could land her a year in jail and $2,000 in fines.
The reason for her arrest: laughing during the Jan. 10 Senate confirmation hearing of now Attorney General Jeff Sessions. She was found guilty on May 3 of charges of disorderly and disruptive conduct, and obstructing and impeding passage on US Capitol grounds.
"I was listening when Sen. (Richard) Shelby [R-Ala.] made the comment that he thought all Americans would be equally represented or protected by an Attorney General Sessions. I couldn't help but chortle or let out a reflexive response," she tells American Libraries.
After the laugh, Fairooz was forcibly removed from the committee hearing by Capitol police officers. Prosecutors maintain that officers "attempted to quietly escort" Fairooz from the room, according to the April court filing from the US attorney for the District of Columbia.
"When I laughed, someone came over a few moments after. She made her way down the row and said, 'Ma'am come with me,' and I asked why. She called some other officers over. I said I was going to be quiet, and I'd like to stay. And they just physically removed me or dragged me from my seat. I was trying to hold on to my chair. We've attended many congressional hearings in the past, and we were not ejected for something so minor, much less arrested."
As she was being dragged from the hearing room, she yelled out, "Now you're going to have me arrested? For what? For what?" and declared that Sessions's voting record was "evil," she says.
Her fellow activists Lenny Bianchi, who is Fairooz's domestic partner, and Tighe Barry also face a year in jail for similar actions at the hearing. All three are now filing motions to have the verdicts reversed. They return to court on June 21 for sentencing. According to The New York Times, prosecutors maintain the three intended to "impede or disrupt" the hearing and that Fairooz was arrested for her conduct while being removed from the room, not for laughing.
Defenders of free speech
Though news articles have primarily identified Fairooz as an activist with the antiwar protest group Code Pink, little has been written about her history as a public librarian in Arlington, Virginia, and Fort Worth, Texas.
Fairooz says that it was only after she began working as a children's services librarian at Fort Worth Public Library in 2001 that she began to see librarians as defenders of the First Amendment.
"Honestly, I didn't realize it until I became a librarian that, yes, librarians and the American Library Association, in particular, fight and speak out for our constitutional rights, especially our freedom of speech, so I'm very proud to be associated with the American Library Association," she says.
Fairooz, who earned her MLIS from the University of North Texas, worked as a children's librarian in Fort Worth until 2006. She moved to Washington, D.C., in 2007 and began organizing for Code Pink full-time. Antiwar activism declined after Barack Obama was elected president in 2008, and Fairooz found herself back at a public library—this time as a youth services librarian in nearby Arlington.
"As a children's librarian, our role is more than just connecting kids with good books. It's also an opportunity to share with them in an indirect way the importance of information and how it opens up worlds to you," she says. "It opens up possibilities and opportunities."
She says proposed cuts to libraries under the current administration pose a "threat to our democracy. It's very scary. It's just one more attack on our liberties."
Fairooz says libraries are more important than ever in our current political climate, given the national conversation "on what is fact and what is not, what is news and what is fake.
"Those public institutions, where people can come and do research on their own, free of charge, are so important," she says. "Those who guide, especially our young people, to find the correct information are just as important now, if not more so, because there's so much false information out there.
"Media is not trustworthy anymore, and so you're left to your own means to do research and find the facts. And I think the public library is an important part of that, whether it's virtually or in the building itself, the public library as an institution of freedom to access to information is paramount."
James LaRue, director of ALA's Office for Intellectual Freedom and Freedom to Read Foundation, says the case is "very much a freedom of speech issue," calling Fairooz's arrest a "heavy-handed response."
"Freedom of speech is the brand of libraries," LaRue says. "The idea of peaceable assembly is what she was doing."
Updated 11:38 a.m. to add link to court documents and video.
Correction: Fairooz moved to Washington, D.C., in 2007, not 2006.