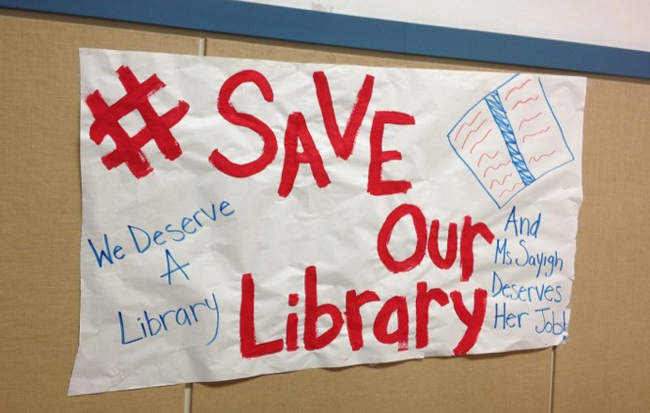 One week after Chicago Public Schools (CPS) told librarian Sara Sayigh her job was being cut—a decision that prompted a student protest—the school system has announced that her position will be reinstated due to an anonymous donation.
Sayigh, a 13-year veteran in the school system, is the sole librarian at the former DuSable High School building, which now houses two majority African-American public schools and a charter school. She tells American Libraries that she is one of the few remaining librarians at a majority African-American high school in the city.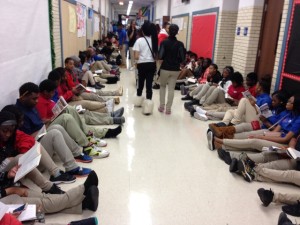 Students of the three schools organized a "read-in" after it was learned that her position would be eliminated. Students left their classrooms en masse and lined the hallways of the schools and the library and read books in protest of the decision.
The coordinated effort gained national attention after it was reported in the Chicago Sun-Times newspaper and later the Washington Post.
"The kids were talking to each other and became outraged, and a small group of them came up with the plan for the read-in," Sayigh said in a telephone interview.
But the public pressure campaign didn't stop there, Sayigh said. Tech-savvy students also turned to social media sites like Facebook and Twitter to spread the word about Sayigh's termination, she said. The hashtag #saveourlibrary became the online rally cry for her reinstatement.
Parents also got involved, launching an online petition through Change.org that, as of Friday, had nearly 3,000 signatures. The petition has gained international attention with signatures from England, Japan, Australia, and elsewhere, Sayigh said.
Petition signers also have left messages of support for Sayigh and condemning CPS and Mayor Rahm Emanuel for not making school librarians a priority. "This school needs a librarian, especially one as distinguished as Sara Sayigh. She has accomplished wonders for the school and its students. Libraries are a right for all schools—even more important for schools in disadvantaged neighborhoods. It's a great injustice to close these kids' library," one petition signer writes.
CPS released a statement on Wednesday, noting that the "generous anonymous gift" is what saved Sayigh's job. But the amount of the donation is still unclear, and it also is was not revealed how long the donation will fund the position.
"While we are glad that this will restore a valued position that supports students across these schools, we remain concerned that the current financial realities will continue to put our schools in a challenging position as they try to prevent classroom cuts," according to an email statement from CPS spokeswoman Emily Bittner. "This is why we will continue to work with our state leaders to fix an unfair funding system that gives Chicago only 15 percent of state funding despite having 20 percent of the enrollment—a disparity that forces schools to make tough choices."