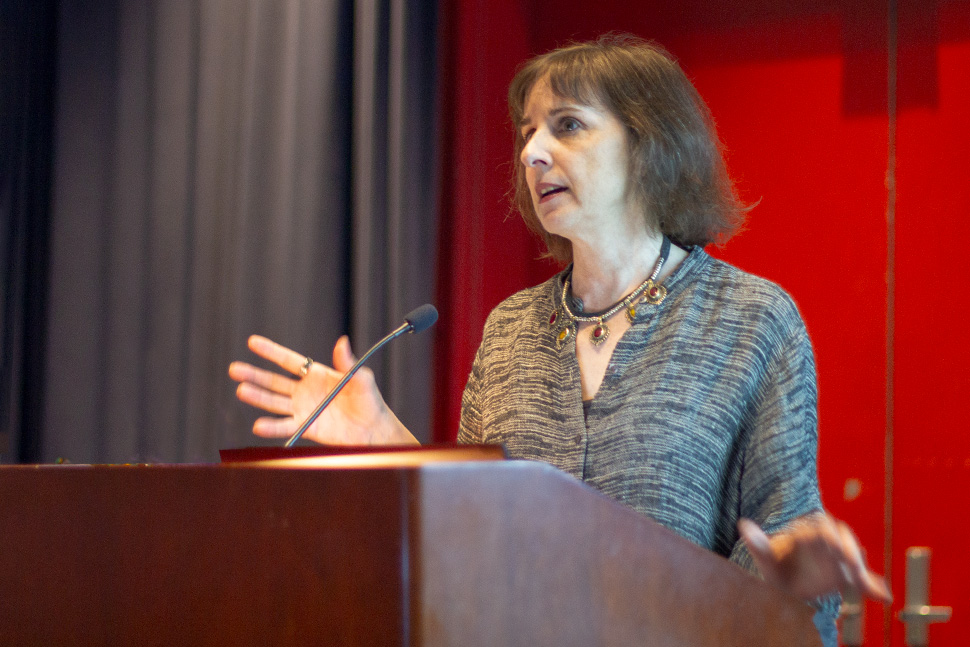 Before it was digitized, the University of Illinois at Chicago (UIC)'s microfilm collection of historical Chicago building permits was so popular it was falling apart.
"We'd find shards of microfilm on the floor," said Tracy Seneca, UIC's head of digital program services. The collection was scanned in 2018, but the scans were no easier to search than the microfilm—you still needed to know the exact address, she said.
Seneca is now helping UIC make searchable, online digital records of its historic building permits, opening up new research opportunities and chances to share the materials more widely. She and other panelists at "Revealing Chicago's Planning Past Digitally: Chicago Government Information Transformed for Access" discussed projects from grant-funded, multi-institution efforts and productive diversions during the COVID-19 pandemic.
Seneca's work began as an extension of a pandemic project. She set out to answer a "fake research question:" What was the impact of the Great Depression compared to that of the 2008 financial crisis on Chicago building permits. Modern permits are available through the city's data portal, but the historic permits are only available as scanned microfilm. She began by transcribing the permits herself, and UIC is now continuing the project. The Great Depression era spans seven ledger books, and five have been completed. Seneca has considered crowdsourcing for the project, but platform limitations have kept it in-house. She does plan to test AI-based transcription services—with human backup—for the remaining two ledger books.
"This is an incredibly scrappy little project," she says.
Benjamin Aldred, assistant professor and reference librarian at UIC, spent part of the pandemic on his own small project: recreating historic Chicago ward maps as digital shapefiles that can be imported into mapping tools like ArcGIS. Modern ward maps are available online, but not many made before the mid 1980s. "Chicago's ward history is a very significant part of Chicago history," they said. Wards change regularly, and "not always for logical purposes," being redrawn or disappearing completely due to political power shifts.
Aldred digitized the map information by hand-drawing ward boundaries into Google Earth's map editor, then exporting the files into a format that can be read by programs like ArcGIS. "While a lot of digital transformations can be done using high-tech processes, you can in fact do this by hand," they said.
Students quickly started utilizing Aldred's maps. "Within a few weeks of posting these online I was getting contacts from students up at Northwestern who were looking for historic ward maps," they said.
At the University of Chicago (UofC), some of the most popular items in its map collection were also those from historical Chicago, said Cecilia Smith, director of digital scholarship at UofC. Maps in the collection were not in a format that was easy to integrate into digital scholarship. Smith helped to secure a grant for Mapping Chicago, a project that is now digitizing 4,000 maps from the Chicago History Museum, Newberry Library, and UofC. The maps will be scanned, cataloged, and georeferenced (matching map coordinates to geographic coordinates), making it easier for researchers to search the data and cross-reference various sources.
Not all institutions have the capacity to run their own digitization projects, said Ellen Keith, director of research and access and chief librarian at Chicago History Museum. She says she feels like a buzzkill when people ask why everything isn't online. "We don't have the money, infrastructure, or staffing," she said. It's through partnerships that the museum is able to tackle large-scale digitization. Its map collection is not currently cataloged, and the Mapping Chicago project's records will help fix that.
Digitization projects can also provide staff with new perspectives into collections. In the process of preparing the maps to be scanned, "we've found framed maps, very delicate maps, very sturdy maps…" Keith says. "It has been eye-opening. You think you know a collection and then you get to look at every single piece again."