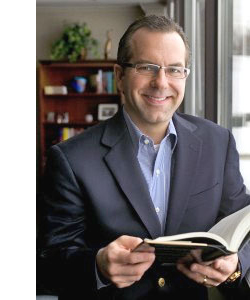 Skip Prichard has been named the next president and CEO of OCLC effective July 1, the firm announced May 16. He will succeed Jay Jordan, who will retire on June 30 after 15 years at the helm of OCLC.
Prichard was formerly president and CEO of Ingram Content Group and has held leadership positions at ProQuest and LexisNexis over the past decade.
"OCLC has a long tradition of strong leadership and vision, and I consider myself fortunate to have the opportunity to lead the cooperative into what promises to be an exciting and challenging future," said Prichard. "OCLC and member libraries are using the newest technologies available to move library services to the cloud where they continue to collaboratively build resources and infrastructure to share. I look forward to working with the talented OCLC staff and membership to ensure that we build on that momentum, and provide the resources necessary for libraries and librarians around the world to meet and exceed the increasing expectations of their users."
"Skip has the leadership skills, the experience, commitment and energy to guide the cooperative during this particularly exciting time for libraries," said OCLC Board of Trustees President Sandy Yee, LIS dean at Wayne State University in Detroit. Noting that "he has guided global organizations through eras of significant innovation and growth," Yee continued, "These experiences and his commitment to libraries will help us continue our work to move library services forward—in the cloud, on mobile devices, and through the collaborative work of libraries and partners around the world."
Prichard will transition to the OCLC presidency by joining Jordan at the cooperative's Dublin, Ohio, headquarters as president-elect beginning June 3.
In making the announcement, Yee expressed gratitude to Jordan for his "leadership and dedication" to OCLC and librarianship over the years, as well as his "continued leadership" since last summer, when he set aside plans to retire in mid-2012 so the OCLC board could reopen a search for his successor.
Prichard is expected to attend the 2013 ALA Annual Conference in Chicago, to be held June 28–July 2, and the 2013 International Federation of Library Associations and Institutions conference in mid-August.