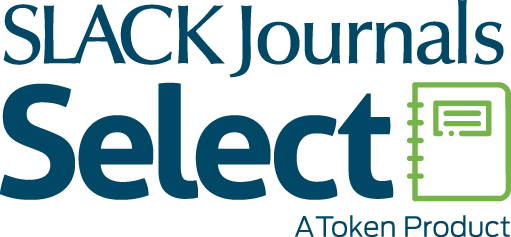 SLACK Journals Select is the latest iteration in content creation from SLACK Journals, publisher of specialty journals with impact since 1962. With this program, SLACK is excited to offer token bundles for purchase, allowing customers to access high-quality, peer-reviewed original articles in specific focus areas such as nursing, ophthalmology, or general medicine. Rather than purchasing a subscription to just one of our leading medical journals, customers can use SLACK Journals Select to enjoy diverse content, article by article, across multiple publications.
NURSING
Our nursing token bundle offers access to articles in Journal of Gerontological Nursing, Journal of Nursing Education, Journal of Psychosocial Nursing and Mental Health Services, Research in Gerontological Nursing, and The Journal of Continuing Education in Nursing. SLACK's nursing journals are a premier source of practical, useful, and timely information directed toward today's nursing professionals. Each MEDLINE-indexed journal provides peer-reviewed, original articles as well as clinical research information in a continuum of nursing fields. This content offers nursing professionals everything from clinical pearls to enhancing the teaching-learning process to achieving maximum success in their positions.
OPHTHALMOLOGY
Our ophthalmology token bundle offers access to articles in Journal of Pediatric Ophthalmology & Strabismus; Journal of Refractive Surgery, the official journal of the International Society of Refractive Surgery; and Ophthalmic Surgery, Lasers and Imaging Retina, the official journal of Retina World Congress. SLACK's ophthalmology journals feature MEDLINE-indexed, peer-reviewed, practical, clinically valuable articles that provide readers with the most up-to-date information regarding eye disorders, refractive surgery, retinal diseases, and more. From cutting-edge techniques and treatments to informative business and practice management tips, each journal is an excellent source of ophthalmology expertise.
GENERAL MEDICINE
Our general medicine token bundle offers access to articles in Orthopedics, Pediatric Annals, and Psychiatric Annals, where decades of research, data, and insights await readers. Each journal features vital information for medical professionals regarding the diagnosis and treatment of diseases and disorders in the fields of orthopedics, pediatrics, and psychiatry. The latest original developments found in these journals provide trusted resources for high-impact specialty knowledge.
Learn more at journals.healio.com/slack-journals-select.