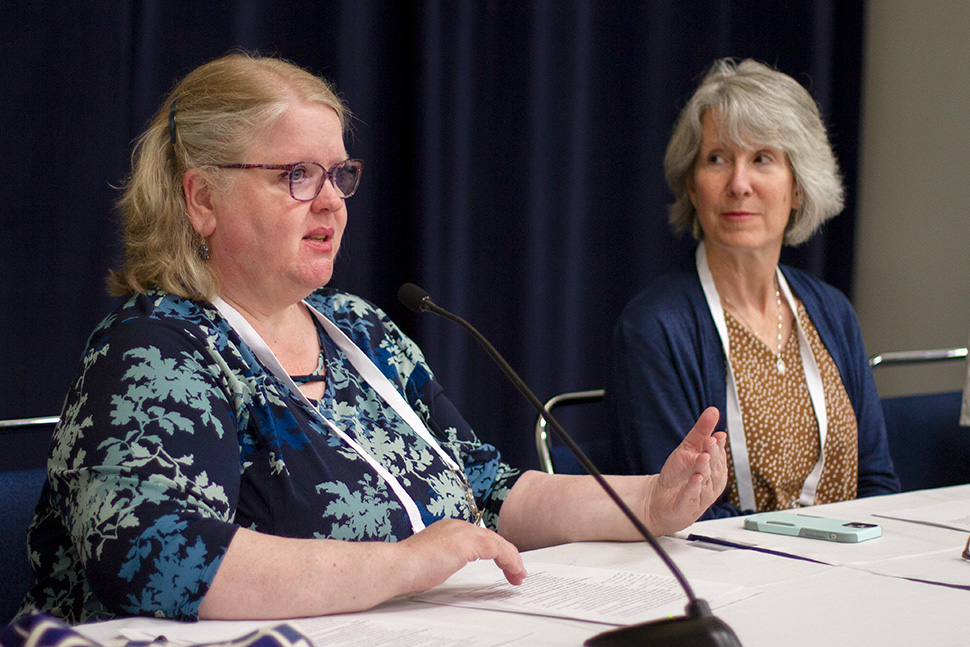 Whether you're a potter, a greeting card maker, or a dog biscuit baker, Baltimore County (Md.) Public Library (BCPL) wants to help you grow your small business.
Since 2019, the library's Pop-Up Shops program has provided a marketplace where local entrepreneurs can connect with customers on Small Business Saturday, routinely held the Saturday after Thanksgiving.
"The Pop-Up Shops is essentially a vendor event," said Karly Feinberg, small business consultant for BCPL. "Since [vendors are] not paying to participate, this can be seen as a low-risk opportunity to do market research."
Feinberg was a presenter at "Creating Opportunities to Shop Small: Two Approaches for Public Libraries," a June 25 session at the American Library Association's 2023 Annual Conference and Exhibition in Chicago. The session offered case studies from BCPL and Spokane County (Wash.) Library District, as well as ideas for libraries interested in hosting initiatives that encourage small business patronage in their communities.
For its first Pop-Up Shops event, BCPL assembled 59 vendors—including candle makers, jewelry designers, tutors, and photographers—across three branches. "We took into account the foot traffic a branch usually sees," said Feinberg, who reported that the marketplace has since expanded to five branches and typically attracts sellers who have graduated from BCPL's Entrepreneur Academy. "Because of the popularity, we now have an application process," she said.
To set vendors up for success, Feinberg and Lori Hench, adult and community engagement specialist at BCPL, have conducted pop-up preparation classes that focus on how to organize a vendor table, develop a sales story, and create visually appealing merchandise displays, signage, and packaging.
"After Karly and I started this workshop, we noticed a definite improvement in table setups and vendor transactions," Hench said.
Those who want to run a program similar to the Pop-Up Shops at their library should start planning four or more months in advance, Hench advised. Recruiting, notifying, and confirming vendors is a lengthy process—as is marketing the event to the public.
"Inevitably, you'll have dropouts and cancellations," Hench said. "You know how airlines overbook? You should too."
Before you commit to a pop-up, be sure to consult library policy and local laws surrounding sales transactions in your buildings, Hench cautioned. BCPL checked with its county's counsel before proceeding.
Spokane County Library District (SCLD) had a different approach to promoting small business: Push patrons to visit brick-and-mortar stores in the community, have them to complete some type of activity in the store, and get them to return to the library for a prize.
SCLD started its Become a Neighborhood Champion for Small Business Saturday program in 2016 with a scavenger hunt, using a template from Small Business Saturday founder American Express. The activity has evolved over the years, from a town map to a bingo sheet to a passport, with designs made by the library's own communications department.
"Interest was growing every year; it was very exciting," said Stacey Goddard, public services manager at SCLD. "The prize can be as simple or as complex as you make it," she added, noting that tote bags are a common giveaway.
To put on a successful event, Goddard said SCLD works with the chambers of commerce in her system to recruit business participation. "Having a clear timeline for your planning is crucial," she said. "Getting businesses to commit is a time-intensive part of the program. You have to herd cats a little bit."
Goddard likes to nail down the activity early so she can communicate the concept to business owners and their staffers and avoid any confusion the day-of. "The simpler, the better," she stressed. The year SCLD did a color-by-numbers activity was a miss, she admitted. "Parents got frustrated with how long it was taking."
The program hasn't worked in every branch community, either: "Smaller towns with Main Streets were much more successful," Goddard said.
But overall, Feinberg said that finding any reason to support small business is a big win for your institution. "Your library can be involved in economic development in your community," she said, "and help keep your library relevant."