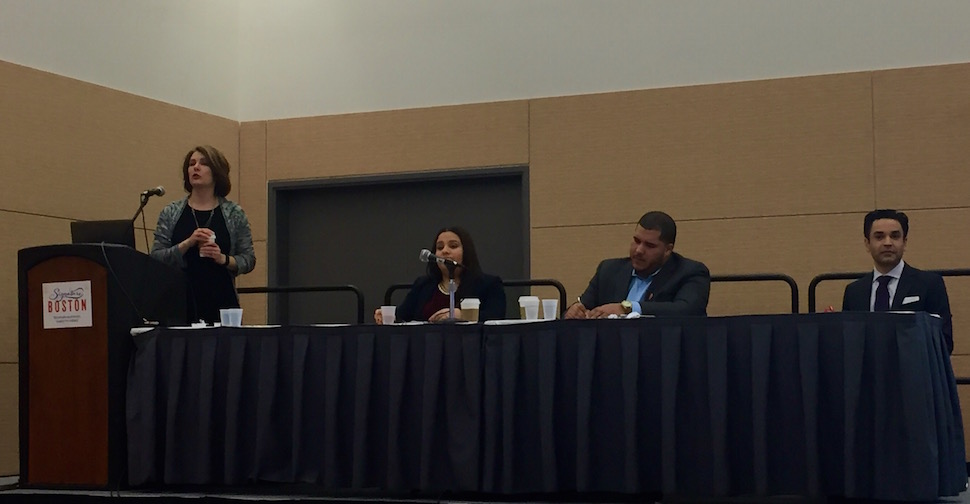 I had the opportunity to catch Tiziana Dearing's talk, "What is Social Innovation?" during the second day of the Libraries Transform—Civic and Social and Innovation series of presentations co-sponsored by ALA Office for Diversity, Literacy, and Outreach Services and the Center for the Future of Libraries. Dearing was joined by social innovators Chrismaldi Vasquez of the Family Independence Initiative and Vetto Casado of Small Can Be Big.
Dearing, Boston College professor of social work and codirector of the Center for Social Innovation, focused her talk on defining the differences between social innovation, social entrepreneurship, and social enterprise; illustrating cases of social innovation; and creating connections with social innovation and the work of libraries. She also invited audience members to participate in the session by providing descriptions of their communities and social issues. The presentation was designed to provoke concept innovation by revealing cases of successful social innovation for the audience to translate and apply into library contexts. The three experts also gave ideas and suggestions, and posed questions to audience members.
According to Dearing and the Center for Social Innovation, social innovators are people who are responding to social problems—old problems that have been tough to solve—with a new service, organization, product, structure, paradigm, or approach to resource development. In order for this to be considered social innovation, it should have the potential to transform the problem, the possibility of being sustainable, and the promise of enhancing social justice. From my perspective, they seem to be natural collaborators for librarians.
Moreover, Dearing identified a key characteristic which makes libraries ideal institutional partners for social innovators: libraries offer unbiased access to resources. Libraries have information, physical space, and professional resources that social innovators need when looking to solve problems. Casado chimed in to say, "Social innovators should never, ever work in silos." By their nature, they are working in new areas, tackling difficult problems, and they are happy to have collaborators.
Citing Bob Johansen's book, Leaders Make the Future: Ten New Leadership Skills for an Uncertain World, Dearing identified five skills libraries can help leaders develop: maker instinct, immersive learning, rapid prototyping, smart-mob organizing, and commons creating. In addition, libraries provide social innovators the opportunity of "deep, personal engagement with the target community"—one common element of social innovation.
As director of the Center for the Future of Libraries, Miguel Figueroa observed when opening the session, "Social innovators are really nice, helpful, collaborative people." He also encouraged librarians in the audience to make contact with local social innovators to create change in their communities.