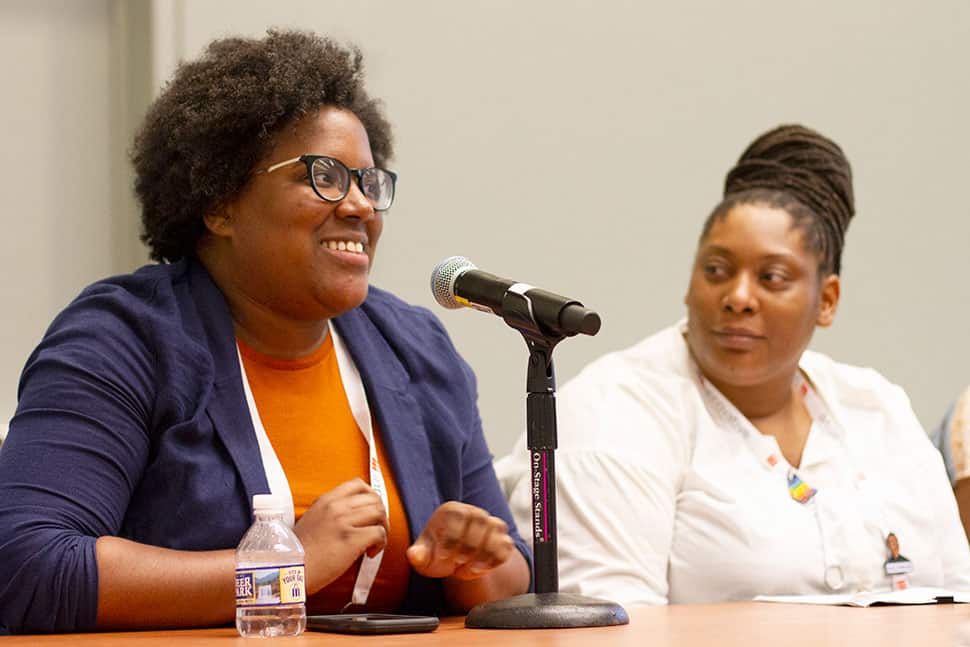 How do librarians address social justice and social unrest in their daily work? That was the focus of the Ethnic and Multicultural Information Exchange Round Table (EMIERT) Chair's Program, moderated by incoming EMIERT Chair Tinamarie Vella, library manager at Craig Newmark Graduate School of Journalism at CUNY.
Diana Moronta, instruction and technology librarian at New York Institute of Technology, said that she often reminds herself to step back as an instructor and elevate the voices of her students. "I believe they are experts in their own lives," she said.
Tracy Drake, an archivist with Chicago Public Library, said she tries to let patrons lead conversations about race, police brutality, and torture. She also brings diverse voices to the library to explore these issues, such as representatives from Black Lives Matter and the Black Panthers, people working on health and housing issues in the community, and middle-school students.
Ana Ndumu, associate professor at University of Maryland College Park iSchool, said that language is important in social justice work. Be specific in your rhetoric—how exactly are you "decolonizing your praxis"? Otherwise they're just buzzwords.
The panelists discussed the need to democratize, globalize, and humanize library services as well. Drake pointed out the need to meet patrons where they are instead of using library jargon. Ndumu noted that she weaves equity, diversity, and inclusion ideals into all of her courses, such as telling STEM students that Steve Jobs was of Syrian descent and making sure people understand migration, what prompts it, and why people choose to relocate.
Another important aspect of social justice work is accountability, which can lead to uncomfortable conversations or even public disputes. For Alyssa Brissett, social work librarian at University of Southern California, much of the problem is that disagreements, particularly by people of color, are often seen as aggressive. Brissett said speaking up can be a struggle in an academic environment, where she has to deal with the potential impact of making waves as one of a few people of color.
"This is where allyship comes in," Moronta offered. Drake countered by saying she doesn't like the word ally. "I want an accomplice," she said. "I want you to be in the trenches. I want you to be the first to speak up sometimes. If it's unsettling to you in the moment, something is wrong there." But she noted that everyone makes mistakes, and we should approach accountability and dialogue in that spirit.
Vella asked panelists to describe unexplored areas for improving diversity in LIS.
Brissett mentioned that many diversity initiatives and task forces are composed of the same people or hand-selected teams. "If you're really interested in making a difference, think about who you're putting on these groups," she said. Drake suggested introducing high school students to archiving and library science.
Ndumu advised attendees to stop thinking about immigrants as just patrons and not potential colleagues. Many immigrants are highly skilled and have professional degrees. She also suggested connecting with minority-serving institutions, such as HBCUs and tribal libraries, to develop the pipeline for librarianship.
"Sometimes we miss the obvious," she said.