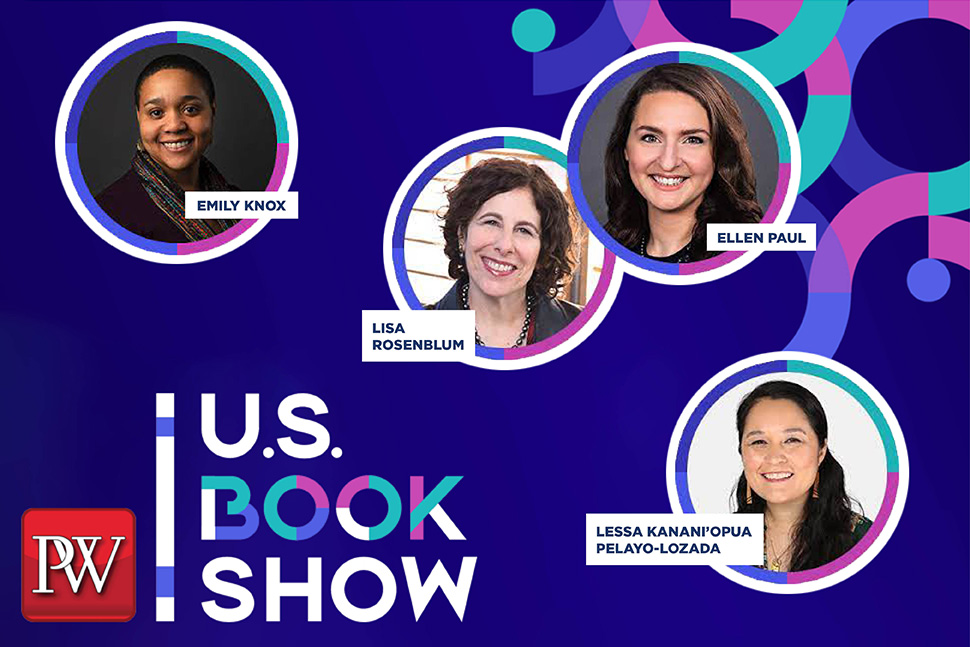 The 2023 US Book Show kicked off May 22 with a slate of livestreamed programs addressing the surge of book bans across the US and emerging trends in digital media collections.
The four-day hybrid conference, now in its third year, is designed by and for authors, publishers, booksellers, and librarians. The first day of programming covered two curated tracks: "Libraries Are Essential" and "Asian American and Pacific Islander Communities in Conversation." The tracks addressed several common themes, including how librarians are experiencing burnout as a result of censorship attempts and the COVID-19 pandemic.
Book bans abound
"Are librarians today facing a dystopian new normal few could have imagined?"
This was the question asked by Publishers Weekly Senior Writer Andrew Richard Albanese at the outset of "Book Banning in America: What's Driving the Nationwide Surge in Book Bans—and How Freedom-to-Read Advocates Can Win" on May 22. Albanese moderated a panel that included speakers John Chrastka (founder and director of EveryLibrary), Kelly Jensen (writer and editor for Book Riot), school librarian Amanda Jones, Emily Knox (associate professor at University of Illinois Urbana-Champaign's School of Information Sciences), and Raegan Miller (director of development and finance for the Florida Freedom to Read Project).
Knox called the recent surge in book bans "unprecedented," explaining that book banners are much more organized now than in previous years, when challenges more commonly stemmed from a parent questioning something they didn't want their child to read—such as books with bathroom humor.
Now, coordinated bans target books covering more wide-ranging topics from diverse communities, Knox said, such as their history and marginalization. "We are trying to see who we are going to be as we get out of the pandemic and through this time of racial reckoning," she said.
Knox also noted that social media has become an easy way for people to share lists of commonly challenged materials, which allows anyone to bring challenges against these titles—regardless of whether their library actually holds the materials. Because of this, Knox said that it's necessary for libraries to have policies in place that can head off potential challenges. She also emphasized the importance of advocacy at the local level: "Anyone can show up at a library board meeting."
Jones alleges that she faced online harassment after speaking out against censorship in 2022. "[Book banners] find these people that they can target," she said, "so that everyone else will be silent."
Examining digital lending
Speakers discussed the relationship between public libraries and publishers over the thorny issue of digital content at the May 22 panel "Digital Trends: Three Years After the Pandemic Shutdowns Began, What Does the New Normal Look Like for Public Libraries?"
Ellen Paul, executive director of the Connecticut Library Consortium, said that digital lending had increased at the onset of the pandemic and most libraries shifted their collection budgets to focus more on digital offerings. However, it's unclear whether the resultant increase in digital lending has come from patron demand or from the boost in dedicated e-content funds.
King County (Wash.) Library System (KCLS) has doubled its digital circulation, said KCLS Director Lisa Rosenblum, but the pandemic has shown that patrons like having choices.
"[They] haven't turned their back on print," Rosenblum said. She also noted that KCPL is still purchasing physical media, such as books on CD, and her library's collection development is tied to the evolution of audio features in cars.
Panelists also discussed the ongoing challenges of ebook pricing and contract terms. "Libraries are being pressed, and publishers should come up with different price points," Rosenblum said. "We are good partners, but we need flexibility."
Paul noted that libraries were the beta testers for publishers for many years, contributing to the success of digital content by creating demand and pushing for better apps. "We created the customers," she said. "They can't exist without us; we can't exist without them."
Edward Melton, executive director of Harris County (Tex.) Public Library (HCPL), had a message to publishers: Let libraries be part of the decision making and come up with solutions to problems alongside them. "We are trusted partners in this market," he said.
Addressing diversity
In the welcome address for the show's track highlighting Asian American and Pacific Islander (AAPI) voices, books, cultures, and experiences, American Library Association (ALA) President Lessa Kanani'opua Pelayo-Lozada stressed that representation matters—especially in the context of book bans.
"I hope that those doing the work of promoting and advancing diverse works of literature know and hear the impact that work makes on people around the world," Pelayo-Lozada said. "Thank you for that work."
Pelayo-Lozada noted that in 2022, for the second year in a row, ALA tracked the highest number of book challenges since it began compiling data about censorship in libraries more than 20 years ago. She called the statistics "shocking," but also observed that challenges are still likely underreported. Book banners are a vocal minority, she said, as more than 70% of voters oppose book challenges.
What can be done to oppose book challenges and bans? Pelayo-Lozada suggested writing letters of support to school and library boards, submitting op-eds and letters to the editor, and running for library boards. "We cannot do it alone," she said. "We need every voice to stand in solidarity with us."