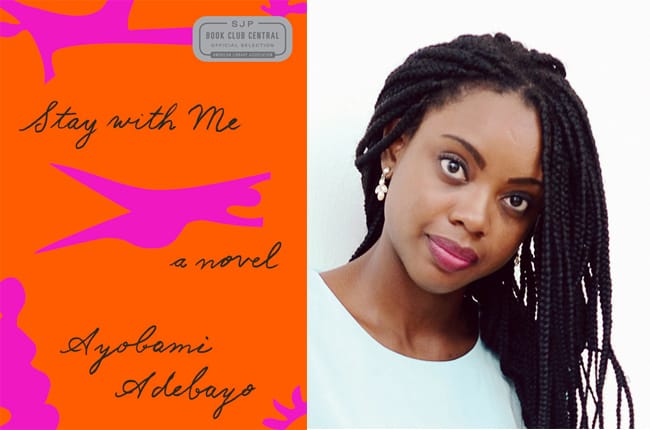 The latest American Library Association (ALA) Book Club Central SJP pick, chosen by Honorary Book Club Central Chair Sarah Jessica Parker, is Stay with Me by Ayobami Adebayo (Knopf, 2017). Shortlisted for the 2017 Baileys Women's Prize for Fiction and named a Notable Book by The New York Times, Stay with Me is Adebayo's debut novel.
Set in Nigeria, Stay with Me gives voice to both husband and wife as they tell the story of their marriage and the forces that threaten to tear it apart. The New York Times called Stay with Me "[A] stunning debut novel…. At once, a gothic parable about pride and betrayal; a thoroughly contemporary—and deeply moving—portrait of a marriage…. a powerfully magnetic and heartbreaking book." In a starred review, Booklist stated, "Adebayo describes parenthood and love with heartbreaking prose. She deftly reveals secrets and the decisions that set life-altering events in motion. The story's fast pace brings surprising twists to Akin, Yejide, and their families' lives."
Adebayo's stories have appeared in a number of magazines and anthologies. She holds bachelor's and master's degrees in literature in English from Obafemi Awolowo University, Ife, and has worked as an editor for Saraba Magazine since 2009. She also has a master of arts in creative writing from the University of East Anglia, where she was awarded an international bursary for creative writing.
"Libraries have always been places of comfort and discovery for me, so I'm especially delighted that Stay with Me is Sarah Jessica Parker's pick for this American Library Association initiative," says Adebayo.
"Stay with Me is a wise and deeply humane debut novel that unpeels the layers of politics in a marriage from the inside," says Ms. Parker. "Ayobami Adebayo tells the story of Akin, Yejide, and their families—a powerfully affecting tale of love, loyalty, and betrayal—with both savagery and heart. I can't wait for readers everywhere to read and enjoy this novel as our third selection for Book Club Central."
Book Club Central debuted in June as a resource for book clubs and readers everywhere. Parker's previous picks have been No One is Coming to Save Us by Stephanie Powell Watts and Exit West by Mohsin Hamid.