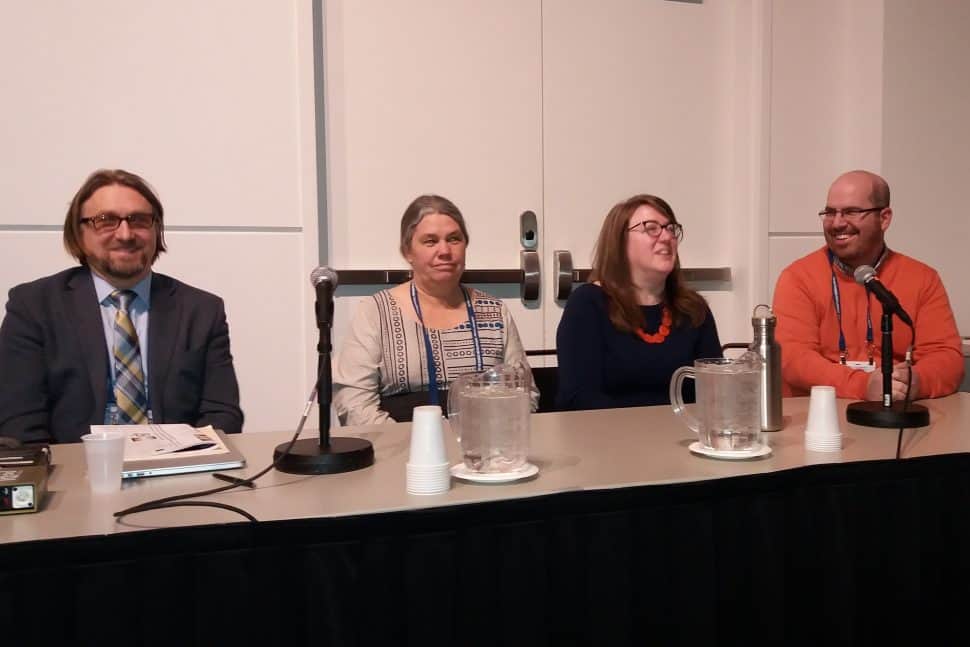 "It's a multifaceted picture." "I think there's room for improvement here." "I think the library has a role to play."
Joe Mocnik, dean of libraries at North Dakota State University in Fargo (NDSU), was talking about his school's relationship to renewable energy on a campus mainly heated by coal power—in a state about 75% reliant on coal—but the challenges and opportunities he described sounded familiar to librarians looking to make sustainable development ingresses at their own institutions.
Mocnik was one of four panelists sharing experiences and best practices at "Sustainability Strategies for Libraries and Communities," part of the Symposium on the Future of Libraries series at the American Library Association's 2018 Midwinter Meeting & Exhibits in Denver on Monday. The session was sponsored by the Sustainability Round Table (SustainRT).
NDSU is ideal for solar energy manufacturing, Mocnik said, because of its higher latitude and meteorological conditions. Though the faculty and administration "are intrigued" by solar power, he said, "really it comes down to money." Still, Mocnik maintained that there have been successes that the library "has somewhat participated in or promoted on campus," including energy upgrades, LED walkway lighting, recycling, water bottle filling stations, energy program grants from the state, and a bike share program. Mocnik hopes NDSU can continue its efforts toward a sustainability plan, capacity building, materials management, and education.
Amy Brunvand, librarian at the University of Utah in Salt Lake City, is taking a different approach at her academic library: teaching civics literacy to students as a means to cultivate an interest in sustainability.
"We're now two minutes away from midnight," Brunvand said, referring to the Bulletin of Atomic Scientists' doomsday clock. She attributed the Bulletin's belief that nuclear war is more imminent than ever to "abuse of technology and false information campaigns."
To counteract false information, Brunvand developed her own "fast-acting, all-purpose lecture plan for civic engagement and sustainability" that includes instruction on the different branches and levels of government, a research strategy for civics literacy, and place-based knowledge conveyed by websites and library resources. Brunvand ended her presentation with questions for attendees to consider: "If you want to do this civic engagement, how does this change your collection strategy? How does this change your information literacy strategy?"
Also coming at sustainability from the academic angle, Ben Rawlins, library director at the State University of New York (SUNY) at Geneseo, described SUNY's system-wide open educational resources (OER) program. Adopted to "to help defray the prohibitive cost of textbooks," Rawlins elaborated on the professional development, community building, and technical integration necessary for a program that in 2017 saw 56,211 students enrolled in an OER course for a total textbook cost savings of $6.5 million.
Rebekkah Smith Aldrich, coordinator for library sustainability at the Mid-Hudson (N.Y.) Library System and SustainRT cofounder, talked about the Sustainable Library Certification Program that she helped develop for the New York Library Association. "We're trying to change the conversation," said Aldrich. "We're very committed to systemic change to help libraries become leaders on sustainability in New York."
The certification program aims to raise the library's profile as community leader, inspire investment, change the mindset of the organization, and help make the world a better place. In developing the tools, expertise, and examples for this program, Aldrich says the association followed the triple bottom line sustainability framework, meaning the program focuses on solutions that are environmentally sound, socially equitable, and economically feasible.
"We need to think bigger than the buildings when it comes to sustainability," Aldrich said. "We need a paradigm shift."