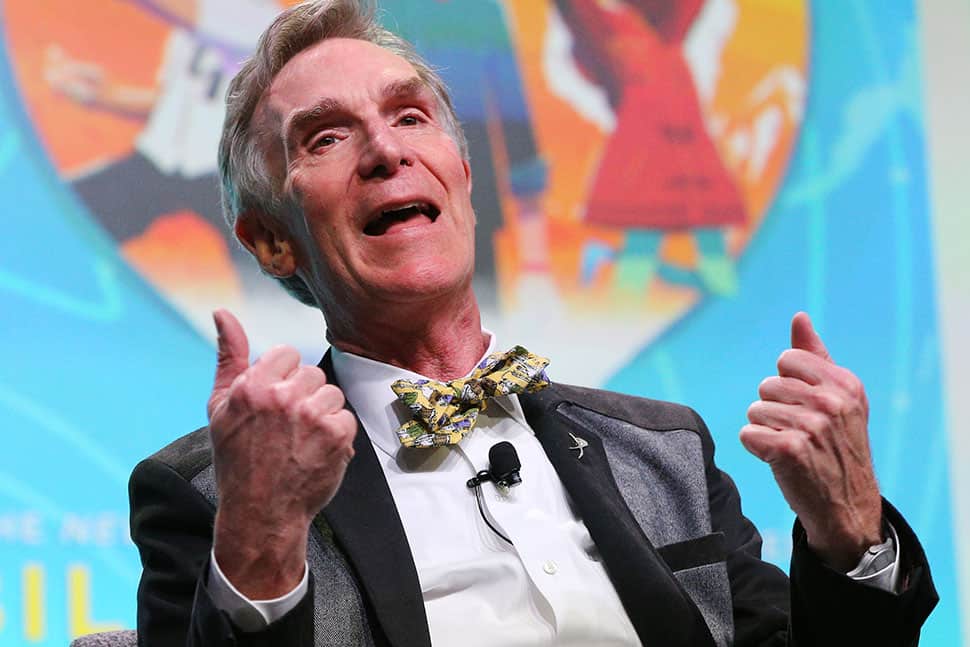 Educator, entertainer, and engineer Bill Nye wants to share his love of curiosity, discovery, and the natural world with a new audience: middle-grade fiction readers.
"There is nothing like reading. I don't want to shock you here at the library thing," Nye announced to the laughter of librarians at the American Library Association's 2018 Midwinter Meeting & Exhibits in Denver on Monday.
"When you learn science, it's empowering. You are not as afraid of things. You're willing to take risks," said Nye. "Your life is just better, for crying out loud!"
Nye and journalist Gregory Mone, who coauthored the bestselling Jack and the Geniuses series, were the conference's Closing Session speakers. The two friends had easy on-stage rapport and ripped through a variety of topics—from how they met to inspiration for their books to scientific hypotheticals and fact-checks—before taking questions from the audience.
Nye and Mone's book probably wouldn't have happened if the two hadn't serendipitously met at a coffee shop while Mone was in California working on a Popular Science article. Mone introduced himself to Nye as a science writer and what he said next seemed just as improbable: "Hey, I already made plans to go surf with a friend of mine tomorrow morning; want to join us?"
Sure enough, Nye showed up on the beach in Malibu. "I noticed that Bill was talking more about the science of the waves and how the waves formed way out in the ocean and why they changed shape," said Mone. "I thought, this guy's awesome."
It's this attention to scientific processes and the physical world that Nye and Mone hoped to bring to their fiction. Though the series is greatly influenced by Nye's love for the Tom Swift Jr. books—flying labs, repelatrons, and all—it was important to Nye and Mone that the science was factual and their characters were rooted in the real-life accomplishments and inquiry of kids featured in the news—such as the 16-year-old who built a functional submarine, or the 8th grader who learned mechanical engineering to build a robotic arm.
"In any science fiction you set up rules. That's what makes it satisfactory," said Nye. "The rules are, they can't violate the rules of physics."
"You had a real insistence on realism. 'Greg, no jet packs!'" said Mone. "Unless they go for 30 seconds," Nye interrupted.
Nye and Mone are quick to point out that the books—and science—are accessible to everyone. "You don't need to be a genius to solve mysteries and explore and be a scientist," said Mone. "You just need curiosity and that drive to hunt down questions and find answers."
Nye tackles world (and outer-worldly) issues, takes questions from the audience
Nye wants three things for everyone in the world: clean water; reliable, renewable electricity; and free internet.
He wants us to look for life on Mars and Europa, a moon of Jupiter that has had sea water for 4.5 billion years, because he believes such a discovery would mean "everybody would feel differently about being a living thing."
And he thinks librarians play an important role in information literacy and stemming the tide of erroneous sources.
"When I was growing up, a librarian helped you learn to think. That was an important skill," said Nye. "The big skill we need from you now is how to sort out the bad information. You know there is no shortage of information now."
Nye also expressed frustration at poor library funding. "California's economy is bigger than France, and yet the school libraries are not properly funded. Grrr!" he said, to applause.
When asked about the current hostility toward science and facts that shouldn't be controversial, Nye said, "I don't think anti-science is sustainable because of the economy. I don't think any country can remain competitive without investment in basic research."
When asked about why people are actively rejecting vaccines, Nye didn't mince words: "I think vaccines are associated with the man. But vaccines work! You have to get vaccinated. I'm on my soap chair." He added, "As a big organism, your problem is not lions and tigers and bears. Your problem is germs and parasites."
And when asked what, of the myriad issues, we should be focusing on, Nye advocated for informed civic engagement. "You have to vote. The last two presidential elections came down to very, very small margins," he said. "Voting is the most critical thing. That's how we effect change."
Nye added, "And education at any level. We want people to learn to think, to think critically, to be confident in their ability to reason."