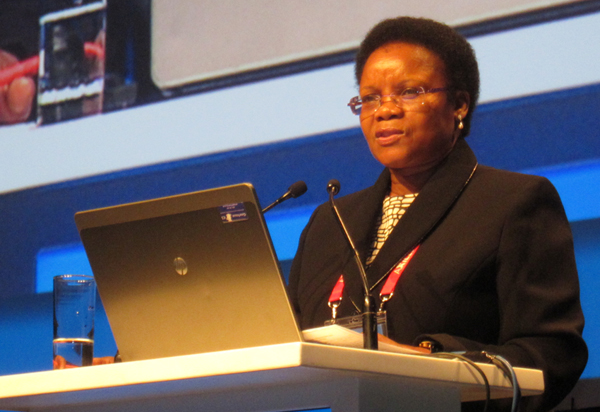 All seven of the speakers at the IFLA President's Program at the World Library and Information Congress in Cape Town, South Africa, on August 17 emphasized the potent links between libraries, information access, literacy, and national economic development. The session title, "Strong Libraries, Strong Societies: Access, Development, Transformation," highlighted IFLA President Sinikka Sipilä's own theme of libraries as essential players in the empowerment of individuals to create sustainable societies.
Former IFLA President Ellen Tise noted that on August 2 the member states of the United Nations reached a consensus on an intensely negotiated and ambitious 2030 Agenda for Sustainable Development that spells out the steps governments must take to eradicate poverty, take action on climate change, achieve universal literacy, safeguard cultural heritage, and expand access to useful technologies. Target 16.10 of the 2030 Agenda, Tise said, ensures "public access to information and protect fundamental freedoms"—a clear opportunity for libraries to help fulfill their country's national development plans through access to information, as outlined in IFLA's 2014 Lyon Declaration. The UN will adopt the 2030 Agenda during its summit in New York on September 25‒27.
The next speaker, Rejoice Mabudafhasi, South African deputy minister for arts and culture as well as a former librarian at the University of the North, said that people in her country are "looking forward to the changes" that the UN agenda promises. Many of them are embodied in the multinational African Union's Agenda 2063, a global strategy to optimize African resources for the benefit of all Africans ("The future we want for Africa" is its tagline). Mabudafhasi said her goals were to put as many libraries as possible in rural areas and "encourage youth" to become librarians, a "worthy profession like any other one."
Libraries as a force for development
Getachew Engida, deputy director-general of UNESCO, reminded delegates about the IFLA/UNESCO Manifesto of 1994, a document that "hasn't aged a day" and which proclaims the "public library as a living force for education, culture, and information." Today more than ever, "public libraries are becoming core actors in providing lifelong opportunities," Engida said, and "by 2030, some 70% of the world's population will live in cities. Public libraries will then be hubs for talent, support, and collective action" that will drive economic growth. "President Nelson Mandela said that education is the most powerful weapon you can use to change the world. I say that libraries are the most powerful weapons in that arsenal that can attain that goal."
Stanley Simataa, Namibia's deputy minister of information and communication technology, spoke eloquently about libraries and information as a "better way to extricate people from the deep depression of poverty and income inequality." His country also has a development plan, Vision 2030, that recognizes the role played by libraries in helping Namibia become an industrialized and knowledge-based society, but admits the overwhelming challenges they face in achieving this goal. "One thing that frustrates our efforts," he said, "is the pervasive lack of appreciation of the significance of reading. If you put $1 million in a library book and reshelved it, no one would find it."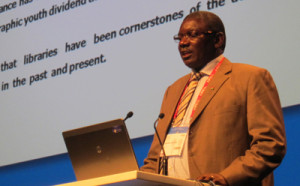 Simataa also lamented the "pervasively high illiteracy rates" in Africa. "Governments must snap out of their meditative stance on libraries and information hubs," he said. "They are not an afterthought; they are vital cogs in our national transformation and development. Information is the oxygen that ventilates the developmental hopes and aspirations of all peoples."
Hopes for Marrakesh
Anne Leer, deputy director for copyright and related rights for the World Intellectual Property Organization, was enthusiastic about the 2013 Marrakesh VIP Treaty, which promises to formulate copyright exceptions that will help create accessible versions of electronic books for visually handicapped persons. "There are an estimated 300 million visually handicapped persons around the world," Leer said, "and 90% of them are in the developing world. When textbooks only exist in print, these people can have no education" and are condemned to poverty. Ten countries have ratified the treaty as of mid-August; 10 others must do so by 2016 in order for it to go into effect globally. Leer ended by calling for an "end to the book famine."
South Africa's National Library
National Librarian of South Africa Rocky Ralebipi-Simela wound up the President's Program with an overview of the National Library of South Africa and its predecessor institutions. "The history of the national library mirrors the development of the country itself," Ralebipi-Simela said. "It reflects the changing leadership, thinking, and needs of the nation over time."
In 1818, the South African Public Library was established in Cape Town by the governor of the Cape Colony and was soon enhanced by a collection of some 4,500 volumes brought to the continent by settler J. N. van Dessin. Its purpose was to "educate young people and promote religious education," Ralebipi-Simela said. A state library was established in Pretoria in 1882 (then in the separate country of Transvaal) that became a depository library in 1898. These two libraries later formed the basis for the creation in November 1999 of the National Library as it is today.
Ralebipi-Simela emphasized that the role of these libraries prior to democracy in 1994 was Eurocentric: "Ninety percent of the collections of some 5 million items said little or nothing about indigenous peoples. They reflected the lives and experiences of essentially foreign cultures." She added that the Bantu Education Act of 1953 enforced racially segregated educational facilities and shut down 5,000 mission schools and their libraries because they offered "too much emphasis on the English language and dangerous liberal ideas. Libraries created people who could think independently and become dangerous to the government" in power at that time.
Today in democratic South Africa, the National Library is under the umbrella of the Department of Arts and Culture, which has "social cohesion and nation building" as a national strategy. Ralebipi-Simela said that the library's major programming objectives are to "promote an awareness and appreciation of the country's national documentary heritage and to promote information awareness and information literacy." A new focus on home-grown literature has included the reprinting of 100 popular books in indigenous languages for use in local public libraries. "The democratic role of the National Library of South Africa," she said, "is to contribute to socioeconomic development" and "provide access to the nation's information resources."
Ralebipi-Simela summed up the entire session: "Strong nations have strong libraries, weak nations have weak libraries."