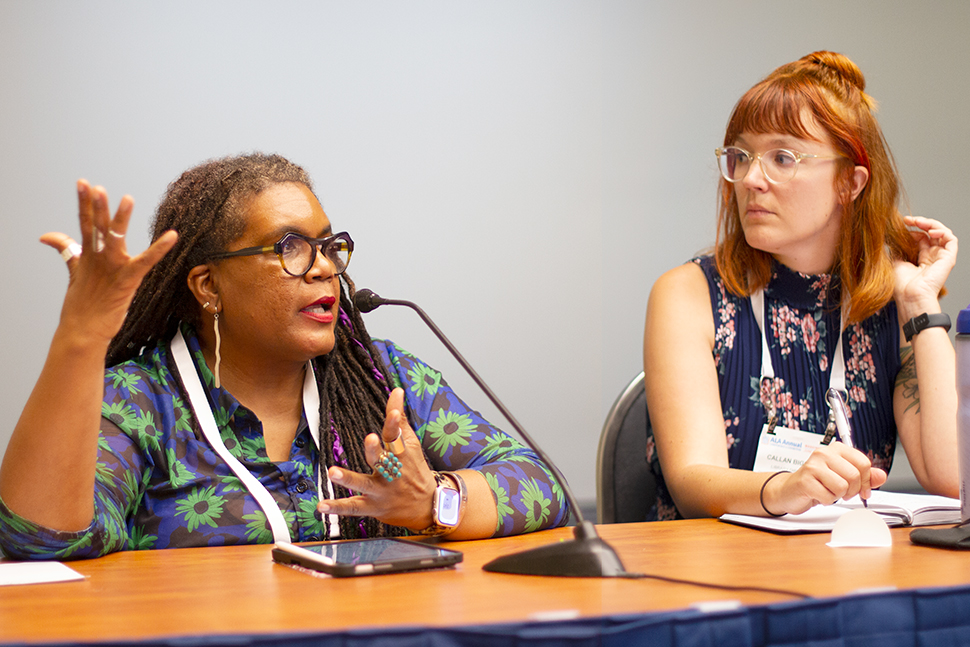 The Top Technology Trends panel, a longstanding feature of the American Library Association Annual Conference and Exhibition, provided a freewheeling discussion with the theme of "Silver Linings."
Despite that positive theme, perhaps the most fervent response came when the discussion turned to the controversy of Hoopla's recent platforming of content advancing white supremacy, COVID misinformation, and conversion therapy.
"At a recent meeting in Massachusetts, they relied on the Library Bill of Rights" to justify providing access to these materials, observed Callan Bignoli, director of Olin College Library in Needham, Massachusetts. But that approach contradicts the collection development policies and diversity statements of most libraries, reducing the agency that libraries have in collection development. "That cannot stand," Bignoli said. "We can't give away one of our most community functions to any vendor."
Veronda Pitchford, assistant director of Califa, offered Pinterest's recent new feature allowing searching by hair texture as an example of improved technology inclusiveness. More important than any individual feature, however, is the notion of inclusive coding. "Co-creation is important to me—moving from designing for to designing with," she said, allowing users to shape the products they use by identifying the features they need.
That raised questions about the nature of the relationship between libraries and vendors—which ideally should be partnerships, but can be more like an unbalanced parent-child relationship where one party sets the rules for the other to follow.
"We may need to rethink our relationships with vendors," declared Evviva Weinraub Lajoie, vice provost for university libraries at the University at Buffalo, New York. "We can change how we talk about supporting infrastructure as a profession in a long-term, different way. But if we don't try to ask for it, we will never get the relationships we want, and we will never get the services we want." She also recommended that libraries and the library field investigate partnerships with not-for-profit membership organizations to develop technology infrastructure.
The panel also encouraged libraries to become more comfortable with failure and ambiguity as a way to experiment and iterate. "The key to failing fast is using other people's money," said Anastasia Diamond-Ortiz, director of Lorain (Ohio) Public Library System. "There's lots of federal money out there, and most public libraries aren't seeking it." Foundations who are looking to fund digital inclusion efforts are also potential sources of funding for technology projects.
Additional silver linings identified by the panel include the rise of telemedicine and how the practice can be accessible to many public libraries that have a space that can be adapted to a telehealth kiosk, and the "moral entrepreneurism" movement in technology.
The panel was livestreamed as part of the Annual Conference Digital Experience. It was moderated by Margaret Heller, digital services librarian at Loyola University Chicago.