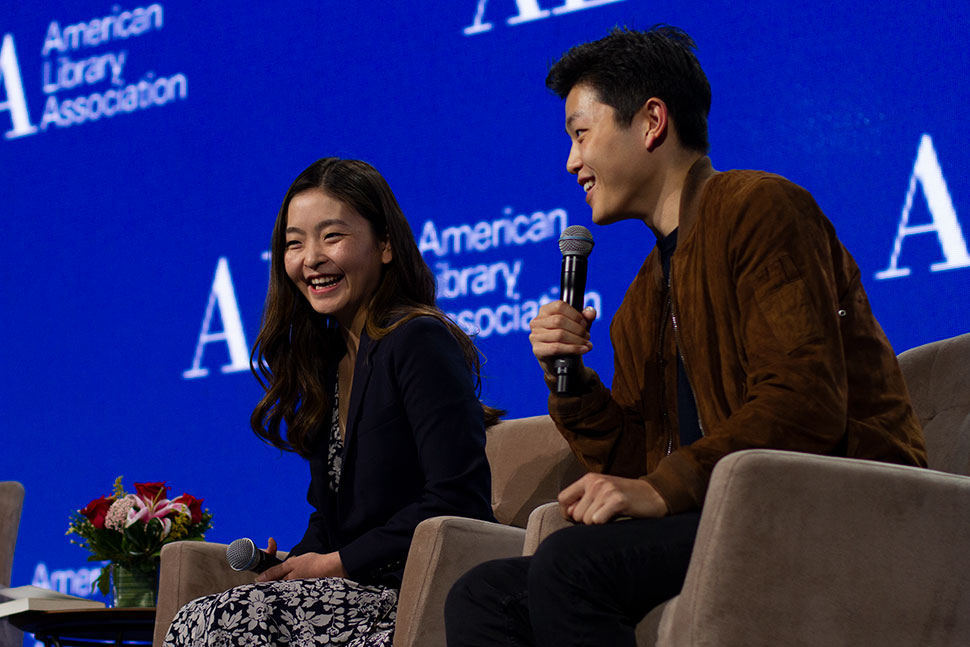 Maia and Alex Shibutani don't have a typical sibling dynamic. With Olympic medals and hundreds of thousands of followers on social media, how could they? They've competed together in ice dancing—figure skating with a ballroom twist—at the highest level, winning bronze medals twice at the 2018 Winter Olympics. Now they're turning their formidable partnership on a new challenge: writing fiction.
The "ShibSibs"—recently announced as honorary co-chairs of National Library Week—spoke about their collaboration, their inspirations, and their shared love of storytelling in a January 26 Auditorium Speaker Series session at ALA's Midwinter Meeting.
Their novel Kudo Kids: The Mystery of the Masked Medalist (forthcoming in May), the first in a series of mysteries for middle-grade readers, follows a brother-sister pair of Olympic superfans visiting Tokyo for the Summer 2020 games.
"It's an event that brings the whole world together," Maia says of the setting. "You're exposed to so many different cultures, you see people's dreams come true, you see people's challenges. If we can take readers on that same journey through our book, that's what we want to do."
Though they aren't ice dancers, the Kudo Kids (Mika and Andy) share elements of the Shibutanis' biography. In addition to their Japanese-American backgrounds and love of sports, Alex says, they reflect the Shibutanis' curiosity about the world. "That's an important aspect of a lot of the stories that Maia and I have grown up reading and loving," Alex says. "The ability to grow with a character and see the world through that character's eyes is what makes the magic or reading and learning so much fun."
The ShibSibs see the book as an extension of the storytelling they've always done.
"You're creating a story on the ice," Alex says. "Narrative is about having an understanding of how characters evolve, whether its Mika and Andy or something we're portraying on the ice."
"We were really able to draw on our personal life experiences, but also the dynamic of being able to collaborate really well," Maia says. "With the storytelling on the ice the main goal is that we both believe what we're doing, and that's been equally important with the book."