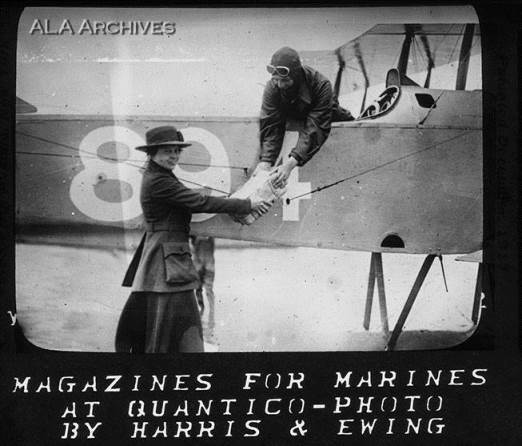 The ALA Archives is the Association's official repository, housed at the University of Illinois at Urbana-Champaign since 1973. The archives maintains official records, correspondence, personal papers, ephemera, and other materials that document ALA and the history of librarianship, from the first U.S. library conference in 1853 to the 2015 Midwinter Meeting.
On Monday afternoon, two of the ALA archivists were on hand to explain the process. Visiting Archival Operations and Reference Specialist Cara S. Bertram and Digital Archives Assistant Denise Rayman said that researchers from as far away as Sweden and Japan have come in person to use the collection and examine ALA history. One scholar, Molly Guptill Manning, used the papers of ALA President Althea B. Warren (1943-1944) to research her book When Books Went to War: The Stories That Helped Us Win World War II (Houghton Mifflin Harcourt, 2014).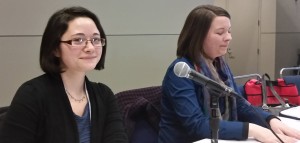 Bertram said that the archives currently has about 4,000 cubic feet of materials, which is about half its full capacity. She added that archivists are on top of the backlog right now, but with only 1.5 FTE staff they might fall a bit behind if a large amount of records come in.
One of its richest collection areas is ALA's Library War Services campaign during World War I, which established libraries for servicemen and women both in the U.S. and the Western Front. "It was ALA's first big project," Bertram said, so many of the posters, pamphlets, photos, and other materials were well preserved.
Rayman said that the archives also accepts digital materials on CD, DVD, flash drive, email, Dropbox, and even legacy floppy disks and cassette tapes. The ALA website also is regularly scraped for its content.
One part of the archives is the ALA Institutional Repository (ALAIR), an open access facility that collects, permanently stores, and offers digital access to certain ALA publications and other intellectual works.
Bertram reminded the audience that "ALA owns all the material, and the archives cares for it." ALA's contract with the archives is supported by the ALA general budget.