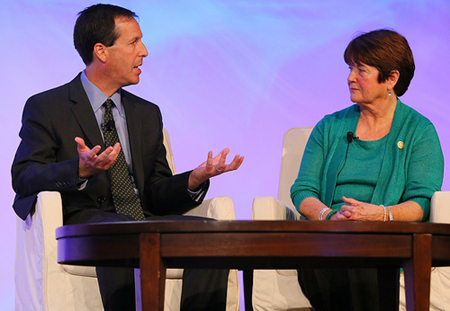 The keynote speaker at the ALA President's Program on Sunday afternoon was Dan Cohen, founding executive director of the Digital Public Library of America (DPLA), an enterprise that, as he sees it, is "less a technical project than a social project." Conceived in 2010 by Harvard University's Berkman Center for Internet and Society, DPLA officially launched in April 2013 as an attempt to make the holdings of US research libraries, archives, and museums available to all Americans online and free of charge.
Cohen, a historian with years of experience leading the Ray Rosenzweig Center for History and New Media at George Mason University, launched into an enthusiastic description of this ambitious digital project. He said that DPLA has basically three major purposes: as a portal, as a platform, and as a public option.
As a portal, DPLA aggregates the contents from multiple hubs (Smithsonian, Harvard, ArtStor, HathiTrust, New York Public Library, and many others) and standardizes the metadata, making the full collection searchable by timeline, map, format, and subject. These large digital libraries are being supplemented by local, state, and regional libraries that have made their materials available. For example, a partnership with the Minnesota Digital Library has brought in links to many rich and unique materials, such as those owned by the Goodhue County (Minn.) Historical Society.
Cohen easily imagines a future where DPLA staff and volunteers will travel the around the country to local historical societies in a Scannebago, a mobile scanning facility with special equipment for digitizing unique materials on-site.
As a platform, DPLA offers its data freely and shares its application program interface (API) with others who want to build upon it. Cohen said, "You do not need a secret court order to download our data." Some of the apps that will be developed from this arrangement include one by GeoNames, which will retrieve all items related to a numeric code associated with place names in its database (4901594 for McCormick Place, for example); Culture Collage, which fetches results from a DPLA keyword search and displays a Pinterest-like stream of images; and StackLife, which searches ebooks in HathiTrust and Open Library and presents them as a stack of books whose thickness represents their actual length.
As a strong public option, Cohen said that DPLA's primary purpose is to make content freely available to all through public libraries, and he is exploring solutions that would ease copyright restrictions under some circumstances. One example is the Berkman Center's Library License, an agreement with authors and publishers to offer digital rights on a book to DPLA after the point where it stops selling.
Cohen emphasized that DPLA is in the startup phase now and has to grow slowly so that its database will not be suddenly overwhelmed. "Enhancing the existing metadata" is one area the project plans to investigate closely, he said. Although the content has focused on text and images in the humanities, DPLA is also looking for audiovisual material and topics in science and other subject areas.