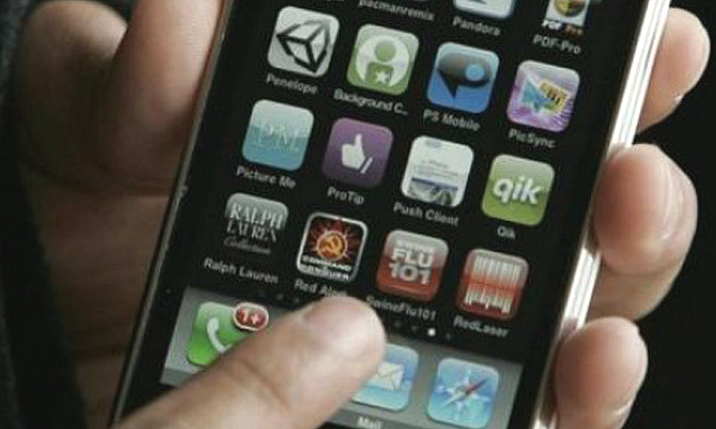 The desire to learn about useful mobile apps is widespread among librarians, judging by the overflow crowd at Sunday's Conversation Starter, billed to deliver "40 Great Apps for Mobile Reference and Outreach."
More than 200 conference-goers packed the small room booked for the session, with many peering through the doorway and sitting on the floor. During their presentation, branch manager Richard Le and adult services librarian Mel Gooch, both from San Francisco Public Library, shared what they have found to be dozens of apps that provide innovative services, useful mobile content, and opportunities for outreach.
Here's the full list of the 40 apps they discussed, as well as some suggestions Le and Gooch provided for ways in which librarians can explore and integrate them into their library's mobile strategy. They range from the more obvious (Amazon, Google Maps, and Dropbox) to the more obscure (EasyBib, SitOrSquat, and SportsTap). Most are compatible with both Android and iOS (Apple) devices, and all are free unless otherwise noted:
Aapi SMS Scheduler: (Android only) Personal reminder application. Use it to push information to patrons efficiently, such as an event reminder, service promotion, or a new book list.
AccessMyLibrary: Uses your global position to locate libraries within a 10-mile radius, and then gives you access to online resources using Gale's databases.
Allrecipes.com: Search recipes by ingredient, cooking time, and dish type.
Amazon Mobile
Article Search Pro: Find articles on Google Scholar and Microsoft Academic.
Bloomberg
BNA Tax Reference: Find current tax rates for individuals and corporations, standard deductions, exemptions, mileage rates, and other financial information.
Bump: Transfer and share your contacts, photos, files, and apps by touching your device with another device. Good for outreach (share book lists, library info, public events, etc.).
CamScanner: Turn a device into a fax machine, photocopier, and scanner. Take a photo of a document and turn it into a PDF.
City Guides Catalog: A GPS-based tool for directions and maps; can use offline.
Dropbox
EasyBib: Will create citations for you when you scan the ISBN of a book. Good for inventory keeping, book lists for a book club. (This app received oohs and aahs from the crowd.)
Edmunds Car Reviews
First Aid: Via the American Red Cross. Better for questions than for immediate assistance. Can use offline.
Free Books: Provides access to classic and public-domain books. Users have the ability to add notes, highlight information, bookmark pages, and look up words. Ideal for book clubs, students, and reading programs.
Free Wi-Fi Finder: Good for bookmobiles and other outreach events where users need to instantly find free Wi-Fi hotspots.
Global Business Law: (iOS only) For business information. Free with buy-as-you-go option.
Google Maps
Google Translate
Health Hotlines: (iOS only) Find health-related organizations and their toll-free numbers. Contains more than 9,000 resources in the area of AIDS, cancer, aging, substance abuse, disabilities, and mental health.
IMDb: Contains records of more than 2 million movie and TV titles.
Indeed Jobs Search
Khan Academy: Has more than 3,500 videos, mainly in the areas of math and science. Good for students.
Lawyers.com: Find attorneys by name, practice area, and location. Get ratings, law firm profiles, contact information, and directions.
Mango Languages: Language-learning app with more than 30 foreign language courses. Library subscription required.
Merck PTE HD: (Android only) Gives concise periodic table of elements, including data, classifications, groups, and subsets. Good for high school and college students.
Merriam-Webster
MyCongress: (Android only) Receive notifications of new bills and laws; find your representatives; and find lawmakers and their voting record.
Nolo's Plain English Law Dictionary: Contains more than 4,000 legal terms and definitions.
Printer Pro: (iOS only) Send documents to remote Wi-Fi printers.
SitOrSquat: Maps area bathrooms. Can filter for open bathrooms, ones that are accessible for people with disabilities, ones with changing tables, etc.
Skype
SportsTap: Find scores, news, and team info for major sports teams, including game schedules, scoreboard highlights, and team standings.
Urban Dictionary: Includes slang terms.
WebMD
Wikipedia
WolframAlpha: ($4.99) Great for math and science questions, especially in the areas of statistics, chemistry, astronomy, weather, and more.
World FactBook 2013: (99 cents)(iOS only) Find information about countries, including geography, people, government, economy, communications, etc.
World Newspapers: (Android only) Read newspaper publications from around the world. Browse by country, subject, and publication. Receive feeds.
Yp: Yellow Page information, with more than 18 million listings for local businesses and events.
Le and Gooch's slide presentation can be found online, along with handouts and an opportunity to share your favorite apps with the presenters.