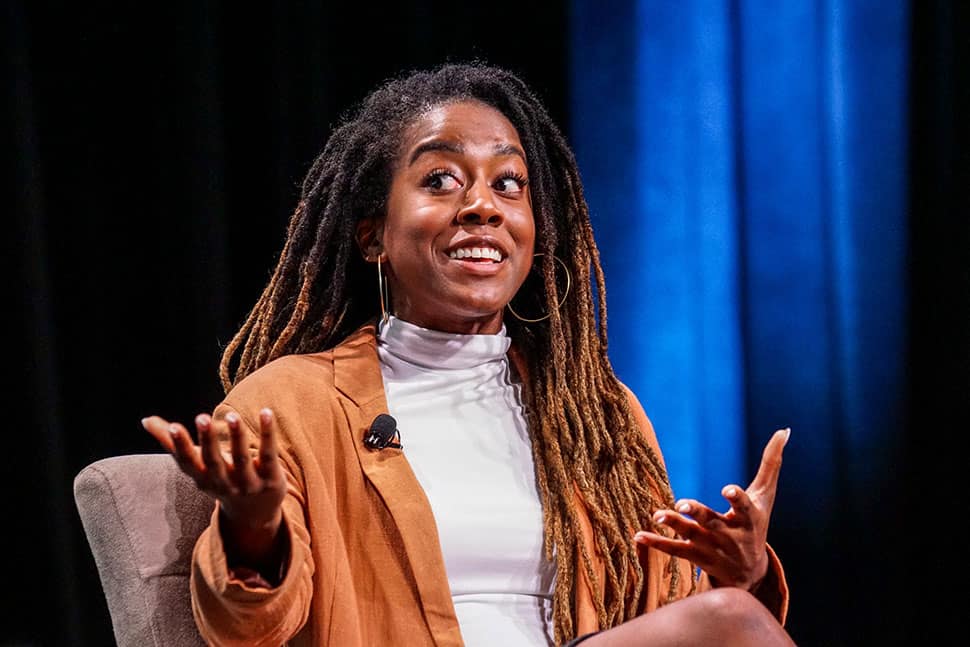 During Monday's Auditorium Speaker Series at American Library Association's 2019 Annual Conference and Exhibition in Washington, D.C, New York Times bestselling YA author Tomi Adeyemi engaged in a witty, thought-provoking conversation with  Rose Brock, author and professor of children's and young adult literature and library science at Sam Houston State University.
Adeyemi's novel, Children of Blood and Bone (CBB), is situated in a fantasy world that incorporates themes of racism, oppression, and the abuse of power. CBB was inspired by Adeyemi's adoration of Avatar: The Last Airbender, as well as a visit to a gift shop in Brazil.
It was while she was in that gift shop that the young author encountered a Black work of art and realized that there could indeed be Black gods and goddesses. This revelation was pivotal to CBB being created. After that chance encounter, Adeyemi began to stir up the gifts and imagination within her. She began to understand that true inspiration—her inspiration—came from her, her culture, and her heritage.
After conversing with a friend, Adeyemi saw that her idea for two books—a book about police brutality and another one about Black fantasy—didn't need to be separate books. Instead, they could be thoughtfully interwoven into the fabric of one fantasy novel. CBB came out in March 2018, and it was 2019 William C. Morris YA Debut Award finalist and won the 2019 Waterstones Children's Book Prize in the Older Fiction category.
During her 2019 ALA talk with Brock, Adeyemi noted that "all stories of fantasy … dystopia are about oppression, but without people who go through [those] oppressions." As such, Adeyemi writes to tell stories that matter. She yearns for her readers to see characters that look like them in stories. Moreover, she writes so that "readers can fall in love with characters" or people that do not look like them.
Through CBB, Adeyemi created a story and setting that allowed her to be "the god of her own universe," which was deeply empowering. This was especially poignant since earlier she "had determined that she could not be in her own imagination because she was Black."
Adeyemi wrote CBB (and continues to write) stories about Black people out of self-love and so that everyone can love Black people. CBB is the first book in a trilogy. Book 2, Children of Virtue and Vengeance, comes out in December 2019. A film adaption of Children of Blood and Bone by Fox 2000 is also in the works, which will be directed by Rick Famuyiwa.