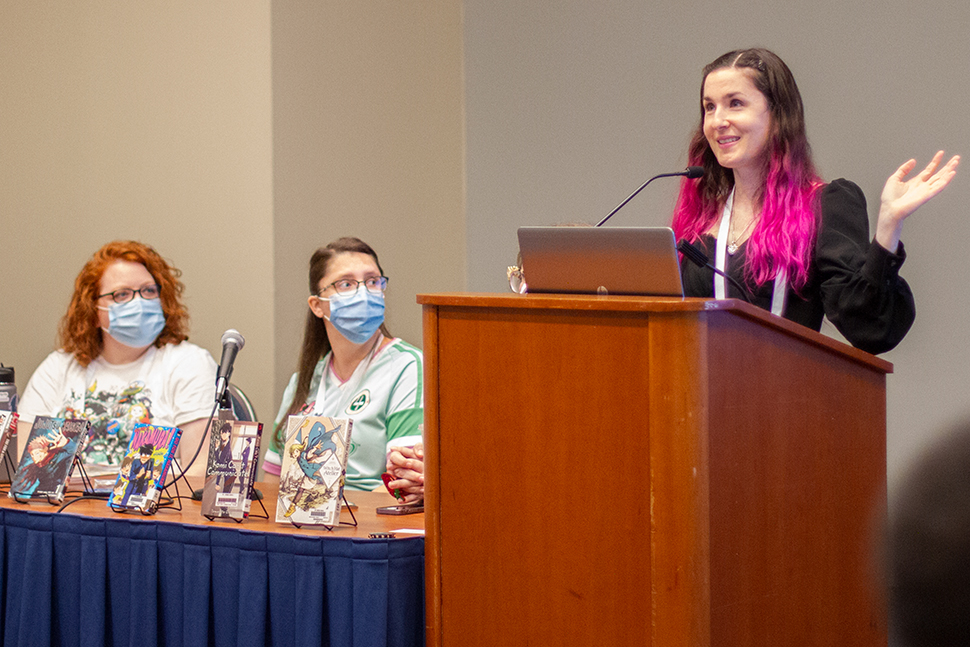 Emily Ratica, teacher librarian at San Bernardino Unified School District in California, kicked off the session "The Value of Manga in School Libraries" with an important choice of words. "Manga is not 'backwards,'" she said, adding that the word gives off a negative connotation. "It's 'flipped' or 'reversed.' It's an opportunity for students to expand their understanding on how the world works."
Ratica was joined by Ashley Hawkins, librarian at the Samuel J. Tilden Educational Campus in Brooklyn; Sara Smith, teacher librarian at Sanger Unified (Calif.) School District; Jillian Rudes, school librarian at Metropolitan Expeditionary Learning School in New York; and Julie Stivers, school librarian at Mount Vernon (N.C.) Middle School. The panel, held June 26 at the 2022 American Library Association Annual Conference and Exhibition in Washington, D.C., discussed manga in the context of collection development, organization, social and emotional learning, and programming and clubs in school libraries.
Hawkins said having manga available to students at school libraries is an equity issue. As a child, she often had to read manga in bookstores because she couldn't buy it; she recognized her kids may do the same, but they may not be safe outside of her library. "Our [bookstore] is in downtown Brooklyn—that's not the safest place for them to be hanging out. … I'd prefer them to have manga in my library. I know they're comfortable and not feeling pressured to spend money on manga."
Smith advised librarians to dedicate separate shelves for manga to make them more easily accessible and organized. "Shelve manga separately, give it its own call number, and sort it alphabetically by title," she said. It also helps to buy a few volumes of manga in physical copy and finish out the rest of the series digitally to save space.
Rudes noted she has used manga in the classroom to help with social and emotional learning. She used manga pages, removed the text from the speech bubbles so it was just the characters and their emotions, and prompted students to identify and analyze emotions based on just the visuals. "We just looked at the body language, facial expressions, the interaction between the characters … to see what was going on. [Manga] allows readers to be reflective of their own emotions," she said. 
Stivers has led several anime- and manga-centric clubs for middle school and high school students. She said incorporating this material into programming, rather than just letting it sit on the shelf, is vital for students to have a comfortable space. "Our libraries must be incubators of joy and belonging. How does a manga club do that?" she asked. "My students have said, 'When there is a common interest, we just click together.' 'I feel safer here than anywhere else.' 'There is just so much to talk about.'"