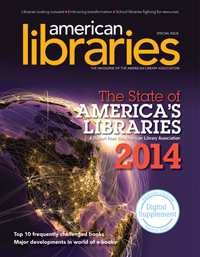 On April 13, the American Library Association released its report on the 2014 State of America's Libraries during National Library Week, April 13–19, detailing library trends of the past year. Its findings include:
More than 90% of the respondents in an independent national survey by the Pew Research Center's Internet and American Life Project said that libraries are important to the community.
School libraries continue to feel the combined pressures of recession-driven financial tightening and federal neglect, according to the survey, and school libraries in some districts and some states still face elimination or deprofessionalization of their programs.
96% of Americans agree that public libraries are important because they provide tech resources and access to materials, and the same number find libraries valuable because they promote literacy and a love of reading.
More than 90% of traditional public schools have a school library, but public schools continue to struggle with the impact of funding cuts and reductions in professional staffing.
The ALA is on the forefront of efforts to shore up support for school libraries.
"On one hand, budget and testing pressures have led to decisions to eliminate or deprofessionalize school libraries," said ALA President Barbara K. Stripling. "On the other hand, the increased emphasis on college and career readiness and the integration of technology have opened an unprecedented door to school librarian leadership."
Stripling and the ALA are undertaking an advocacy campaign for school libraries that sets goals in five critical areas: literacy, inquiry, social and emotional growth, creativity and imagination, and thoughtful use of technology. The task for school librarians, Stripling said, is to fulfill the dream that every school across the country will have an effective school library program.
On another front, Banned Books Week, sponsored by the ALA and other organizations, highlights the benefits of free access to information and the perils of censorship by spotlighting the actual or attempted banning of books.
A perennial highlight of Banned Books Week is the Top Ten List of Frequently Challenged Books, compiled annually by the ALA Office for Intellectual Freedom (OIF). The OIF collects reports on book challenges from librarians, teachers, concerned individuals, and press reports. A challenge is defined as a formal written complaint filed with a library or school requesting that a book or other material be restricted or removed because of its content or appropriateness. In 2013, the OIF received hundreds of reports on attempts to remove or restrict materials from school curricula and library bookshelves.
The most challenged books of the year were:
The Captain Underpants series, by Dav Pilkey
The Bluest Eye, by Toni Morrison
The Absolutely True Diary of a Part-Time Indian, by Sherman Alexie
Fifty Shades of Grey, by E. L. James
The Hunger Games, by Suzanne Collins
A Bad Boy Can Be Good for a Girl, by Tanya Lee Stone
Looking for Alaska, by John Green
The Perks of Being a Wallflower, by Stephen Chbosky
Bless Me Ultima, by Rudolfo Anaya
The Bone series, by Jeff Smith
The ALA is leading a broad effort to guide libraries and librarians through a process of transformation that deals not just with quantitative change—doing more, for instance—but with qualitative change.
"This means fundamental change in the very nature of what we do and how we do it," said ALA Executive Director Keith Michael Fiels, which includes fundamental changes in in community relationships. "As communities have changed, so has the relationship of the library to the community. "The traditional library was a passive provider, reacting to community needs. The library opened its doors, and people came in to use its materials and services. Today, the library must be proactive; it must engage its community. . . . Increasingly, libraries are serving as conveners, bringing community members together to articulate their aspirations and then innovating in order to become active partners and a driving force in community development and community change."
Libraries witnessed a number of developments in 2013 in the area of ebooks and copyright issues. Ebooks continue to make gains among reading Americans, according to another Pew Research Center survey, but few readers have completely replaced print with digital editions—and the advent of digital reading brings with it a continuing tangle of legal issues involving
publishers and libraries.
"Print remains the foundation of Americans' reading habits," the Pew researchers found. Most people who read ebooks also read print books, they reported, and only 4% of readers described themselves as "ebook only." After years of conflict between publishers and libraries, 2013 ended with all the major US publishers participating in the library ebook market, though important challenges, such as availability and prices, remain.
In November 2013, after eight years of litigation, a federal court upheld the fair use doctrine when it dismissed Authors Guild v. Google, et al., a case that questioned the legality of Google's searchable database of more than 20 million books. In his decision, the judge referenced an amicus brief coauthored by the ALA that enumerated the public benefits of Google Book Search. The Authors Guild has filed an appeal.
Other key trends detailed in the 2014 State of America's Libraries report:
More and more public libraries are turning to the use of web technologies, including websites, online account access, blogs, rich site summary (RSS) feeds, catalog search boxes, sharing interfaces, Facebook, and Twitter.
The economic downturn is continuing at most institutions of higher learning, and academic librarians are working to transform programs and services by repurposing space and redeploying staff in the digital resources environment.
President Obama signed a $1.1 trillion spending bill in January that will fund the federal government through September and partially restore funding to the Library Services and Technology Act (LSTA)—the primary source of annual funding for libraries in the federal budget—that were dramatically cut in the 2013 fiscal year under sequestration.
The full text of the 2014 State of America's Libraries report is available on the ALA website. It is also available as an American Libraries digital supplement.