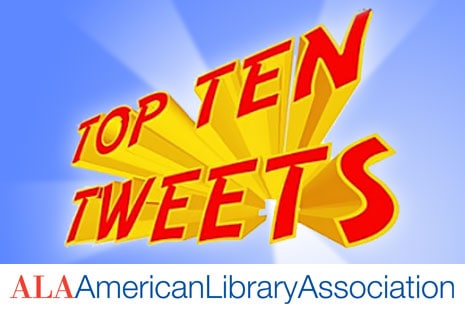 Twitter is abuzz with what to pack, the Librarian of Congress, and sightseeing in ALA's hometown of Chicago. Follow #alaac17 for all conference updates and #alaleftbehind for those staying at home.
First, you wake up with #alaac17 on your mind.
Dreamt I met @LibnOfCongress and fangirled so much that I couldn't manage a proper selfie. Must be time for #alaac17.

— Jill Breznican (@GirlFridayGen) June 22, 2017
Then you see this tweet, which will probably encourage more #alaac17 dreams for the next few days.
I'm heading to Chicago for @alaannual! Come visit the @librarycongress Pavillion. I'll be there Friday from 5:30-7pm. #alaac17

— Carla Hayden (@LibnOfCongress) June 22, 2017
Then it's time to make sure you're well packed for all those ARCs.
This is how it's done, right? Gonna need that extra bag coming home..,, #books #alaac17 pic.twitter.com/4EEZHuyEOu

— Sarah S (@SarahReads2Much) June 22, 2017
(Accurate gif of librarians packing.)
Everyone packing up for #ALAAC17 #Booth1834 pic.twitter.com/3YVNagDd7F

— OverDrive Libraries (@OverDriveLibs) June 22, 2017
Everyone knows one of the best parts of attending ALA Annual Conference is showing off your library clothing swag.
Essential Library Conference attire: literary themed bags other librarians will get. #alaac17 #ALA2017 pic.twitter.com/UmZlVRwWX5

— Leti P (@Tollula8) June 23, 2017
Once you land you have to see what this "Chicago deep dish" is about.
This was bound to happen. #alaac17 pic.twitter.com/3Yngr9LsKD

— Lucas Loughmiller (@KSLibraryGuy) June 23, 2017
You don't throw away your shot to see Hamilton.
Enjoying @HamiltonMusical while at #alaac17! These seats are a little scary. pic.twitter.com/bRnVyiFZZd

— Melissa Ray (@mrsray_library) June 23, 2017
…or to hangout with other Chicago legends.
Got to Chicago for #alaac17 and decided to visit Jake and Elwood #HOBChicago pic.twitter.com/bdsjE42HGX

— JD Moncada (@jdmoncada55) June 23, 2017
Finally, you realize the #alaac17 journey has just began!
Always crazy busy w lots to manage, but I sure love our @alaannual conference! ​https://t.co/PimyAORydv #alaac17 pic.twitter.com/nN9Va2JCIe

— MelanieNapoleonWelch (@mnapoleonwelch) June 22, 2017