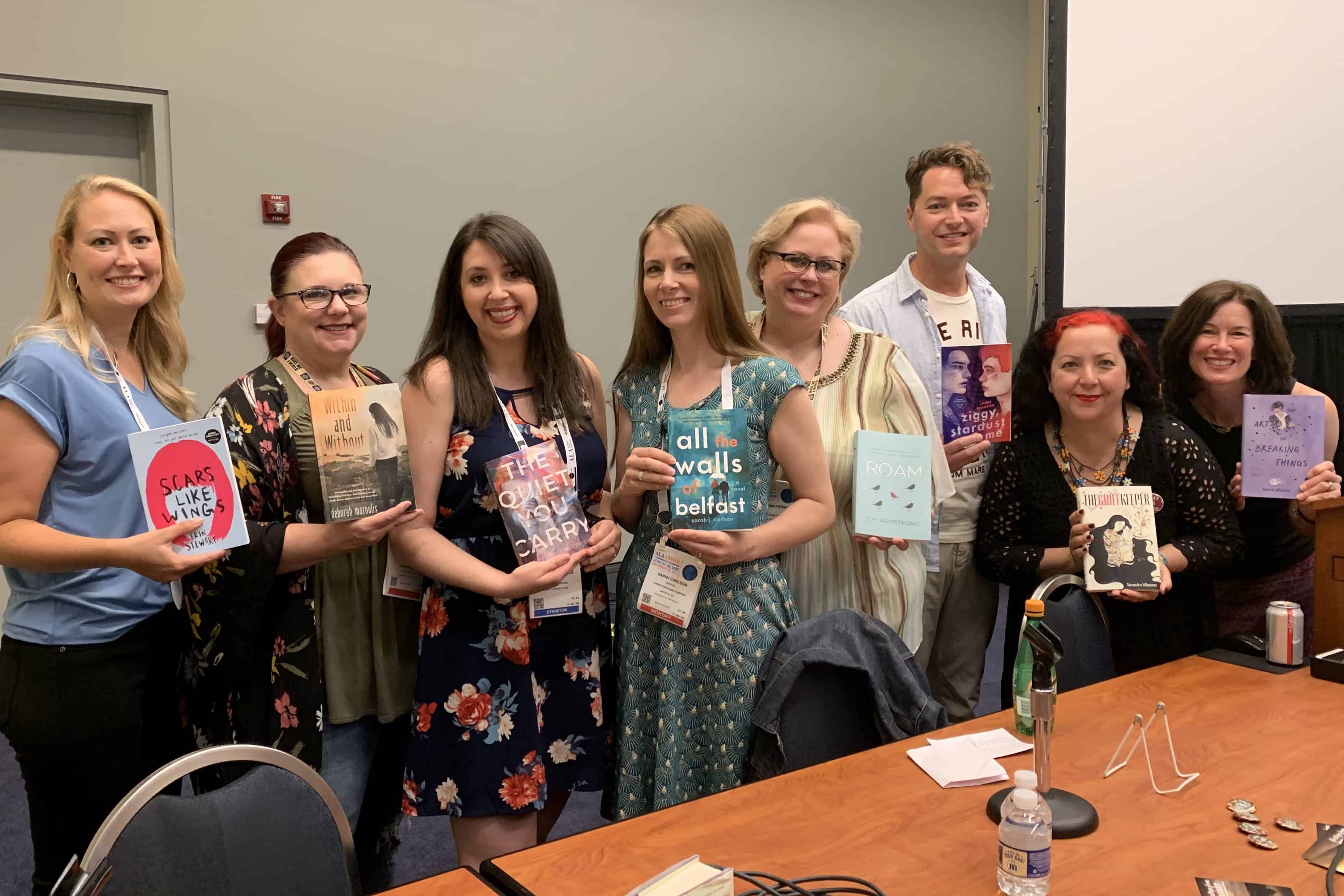 On Monday at the American Library Association's 2019 Annual Conference and Exhibition in Washington, D.C., a panel of eight debut authors came together to discuss their books, all dealing with "tough, dark" topics in teen literature. The topics ranged from homelessness, foster care, sexual abuse,  homosexuality, visible scars, to mental illness.
The program, titled "Tough topics in YA: How the 2019 debuts are tackling the dark—but real—issues teens care about," featured authors Erin Stewart, Deborah Maroulis, Nikki Barthelmess, Sarah J. Carlson, C. H. Armstrong, James Brandon, Alexandra Villasante, and Laura Sibson. Each author brought a different slant to the notion of what is considered a tough topic in teen literature.
By a show of hands, the standing-room-only attendees raised their hands if they were school librarians or public librarians. As a majority were public librarians, where purchasing is not as restricted, the moderator noted that it was of utmost importance for those working in schools to push for titles that fall in the tough topics category, to not fear the censors, and to trust that the readers are capable of handling the material in the books.
The panelists noted that every teen is recovering from something, and most likely from multiple somethings, and they crave these books to survive these situations. Going down the line of authors, various comments stood out regarding their works.
Laura Sibson, author of The Art of Breaking Things, said that she wrote her book as a way to "explore difficult topics in a safe space." Author James Brandon noted that the setting of St. Louis in 1973 was especially significant in his novel Ziggy, Stardust and Me in that during that time period, homosexuality was thought of as a mental illness, and in writing the novel, he wanted to explore what he had never been taught in history class.
Furthermore, they took time to respond to the Wall Street Journal article concerning dark literature, with the main takeaway being that if the title is right for the reader, then it should exist; teens need to find books that give them hope and that help survivors be seen.
The panelists went on to discuss where to draw the line on what is "too" tough. Nikki Barthelmess said that she puts a content warning at the top of her website. Others take into account the age of their main character. And they all agreed that while not every book is appropriate for every reader, that doesn't mean the book should not be written.
The final questions included challenges of writing and the research required to create the story. With regards to the challenges, the panelists agreed that the decision of how graphic to be in a particular scene while maintaining authenticity is of utmost importance. Meanwhile, the best research advice given was to immerse yourself in the community in which you are writing about, and involve sensitivity readers when necessary.