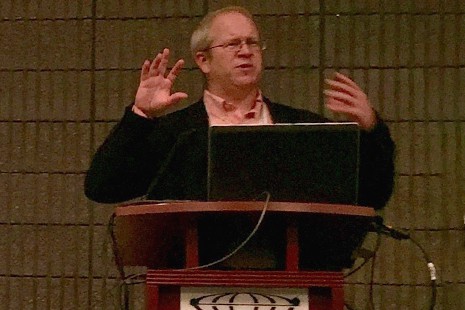 "As you can see, neither of us are librarians." That was the caveat Matthew Boyer, codirector of the Digital Media & Learning Labs at Clemson (S.C.) University, gave as he began the "Immersive and Interactive: Virtual Reality in a Contextually-Rich Learning Environment" session, part of the Symposium on the Future of Libraries, on Sunday afternoon.
Boyer started the session with the example of the New York Times recently giving its subscribers Google cardboard in order to allow them to view newly published content in a virtual reality format. "The question becomes for all of us, is virtual reality the next content delivery platform?" Boyer said. Technology companies are investing in it, but we must ask ourselves whether it is feasible for use in educational settings.
Boyer and copresenter Stephen Moysey, codirector of Clemson's Center for Geospatial Technologies, have been working on projects to test just that. They are interested in using virtual reality to support immersive, interactive game-based engagement within a contextually-rich learning environment. Virtual reality allows for place-based learning that moves beyond the traditional field trip.
Field trips can be costly and time consuming. If we don't have the resources to support in-person trips, but we understand the importance of place, can virtual reality stand in? For Boyer and Moysey, the answer is "yes." Virtual reality can give users agency in created environments and make learning game-based, giving users feedback while they are immersed in the environment.
One product that Boyer and Moysey have developed and tested takes undergraduate geology students to the Grand Canyon. "We know that field experiences are important," Boyer said, but virtual reality brings the field to the students. In the VR Grand Canyon, students engage in a narrative that advances them through the space and gives meaning and purpose to their visits. Activities that are tied to course content and learning goals allow students to scale their knowledge until they reach a final product.
They then discussed creating virtual reality content, which is possible with readily available tools. Photos from a 360° camera or Google Street View can then be used in a platform like Thinglink to create linked content. Thinglink allows the user to connect content on platforms like Vimeo, Twitter, or Etsy. Users can add information to their images by linking to websites, other images, or layering in audio annotations. They can combine these into a trail of 3D images with layered content, creating an immersive experience for students or others to follow. Moysey added that Google Forms could also be implemented within the virtual reality space to assess student learning and engagement throughout the experience.
Moysey also emphasized the importance of using virtual reality to tell a story, which can in turn be used to contextualize a space.
How can virtual reality augment current library services? Boyer said that that will depend on the role of an individual library's space. In his lab focuses on exposing students to new technologies and letting them experiment, rather than telling them how to use those tools. Another goal for their lab is instructional support, which could also be applied to most libraries.
Moysey went on to say, "The key to being successful is to go beyond the technology. How you engage people is the most critical part of it all."