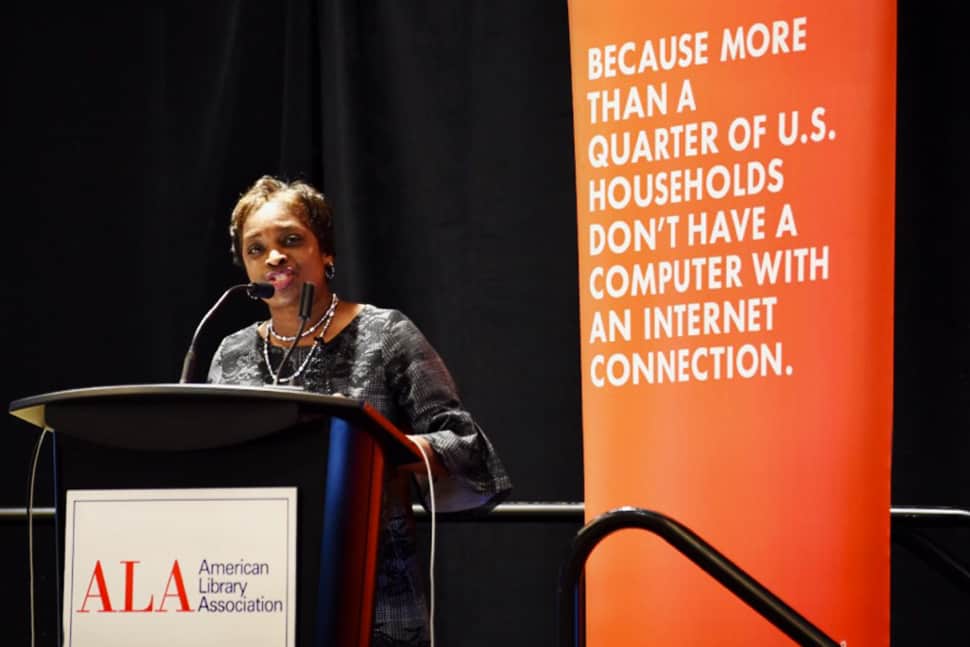 More than 90 librarians and library supporters were invited to Washington, D.C., for a two-day fly-in of strategic training and meetings with members of Congress on February 25–26. The event is part of the American Library Association's (ALA) new approach to year-round advocacy that is designed to engage lawmakers at different points throughout the appropriations process. Participants were invited based on their congressional districts.
The fly-in began with a full day of training and plenary sessions from advocacy and lobbying professionals. Though ALA's approach has changed this year, the techniques are familiar to librarians: research, personal stories, and community impact were at the forefront.
After Committee on Legislation (COL) Chair Mario Ascensio, ALA Executive Director Mary Ghikas, and ALA President Loida Garcia-Febo gave welcoming remarks, Brad Fitch, president and CEO of the Congressional Management Foundation (CMF), presented several tactics for building relationships with lawmakers. CMF's surveys of congressional staff show that postcards, petitions, and form messages are the least effective advocacy tools, while in-person issue visits from constituents were rated the most effective.
Some of CMF's tips for being an effective citizen advocate include:
Do a legislator profile. Research your member of Congress's personal background, committee assignments, professional background, and schools they attended, and create a spreadsheet to keep track of info.
Research potential connections. How might your member of Congress be connected to you? Check with your patrons, board members, and employees for links to lawmakers.
Tell good stories. Find someone who uses your programs—children and seniors work especially well—and bring specific examples of how that person would be affected by budget cuts or an expansion of services.
Emphasize local impact. Be prepared to discuss your library's total revenue, total wages paid, benefits to taxpayers, and services provided to the community.
Plan a visit. Invite your lawmaker to your library, maybe even to read at storytime. This will involve a few months of planning and working through the vetting process and congressional schedule.
Working with the media
Black Rock Group Partner Brian Jones and Vice President Charlotte McCoy offered advice on building library support through media interaction. They proposed several ways libraries could work with local media outlets to get their stories out.
Before approaching reporters, libraries should ask:
What is the message? Develop a narrative arc that is not just the main point you're trying to make but also includes the context, how it relates to the community, and the human element.
Who is the messenger? You'll need a strong spokesperson, but that might not be the library director. "People can look good on paper, but you have to make sure they can actually do it," Jones said.
Who is the intended audience? Are you trying to place a story to reach out to the community, or do you need an op-ed piece on a hot topic?
Attendees also brainstormed ideas for building relationships with the media, including subscribing to the local paper, reminding reporters that libraries have free Wi-Fi, asking library board members or Friends to write letters to the editor, and, in the case of academic libraries, keeping in touch with journalism school students throughout their careers.
Librarians are infrastructure
The day's keynote was given by Mignon L. Clyburn, former commissioner of the Federal Communications Commission (FCC) who now serves as a fellow at the Open Society Foundations, and livestreamed on Facebook.
"I will boldly say for the record that when it comes to your mission, purpose, and community standing, there are only a handful of entities that rival the American Library Association's role and your impact," Clyburn said. "When your 166,000 librarians and 370,000 employees open those doors, your learning centers unlock the key to endless possibilities. But because of your nature and culture, life-changing experiences happen rather quietly. So those of us on the outside can overlook your impact and too often take for granted the fact that libraries are places where miracles occur."
Clyburn, whose mother was a librarian, focused on the importance of equitable broadband access, which was a theme of her tenure on the FCC. She shared the story of meeting a formerly homeless woman who told her about the time when "the only address I had was an email address," and how that helped her get out of poverty. Technological advancements should be open to all, Clyburn said, and this can be achieved through our collective will and allocating resources.
She commented on the interconnections between communications and other sectors—like housing, health care, education, and employment—and how libraries fill those gaps for people. "What you recognize in your branches is that the lack of access hurts us all," she said. "There is no appreciable difference in 2019 between water, electricity, railroads, and broadband connectivity. It is all needed."
Clyburn told attendees that librarians are critical infrastructure as well. "You are the backbone of the education, prosperity, and other opportunities of the nation."
The "hidden economy" of libraries
Moderator Mark Vieth, senior vice president of Cavarocchi Ruscio Dennis Associates, spoke with panelists Paul Gazzolo, senior vice president and general manager of Gale Publishing; Skip Dye, vice president of library and academic sales at Penguin Random House; and Steve Potash, president and CEO of Rakuten OverDrive, about the "hidden economy" of libraries and how to discuss it for advocacy purposes.
Dye recommended bringing up what your library is doing to contribute to local economy, such as workforce development programs and entrepreneurship. Potash advised bringing the hidden economy down to the simplest terms—jobs: "If you fund libraries, you will win more businesses." He cited artificial intelligence as the next wave of job creation and noted that libraries doing coding programs should highlight that work.
Libraries' return on investment is another strong strategy, Gazzolo said. Point out studies that show every dollar spent on libraries has a return of four dollars.
Vieth asked panelists how the future of library funding would affect their businesses, and Dye expressed concern about the long-term literacy effects caused by the recent losses of many school librarians.
To help with the challenges of meeting with fiscally conservative members or members who won't sign appropriation letters, Potash suggested appealing to their egos. He finds out if that lawmaker has authored a book, brings up the cover on his phone, and explains how the lawmaker has a new audience through ebook checkouts.
Gazzolo had strong advice at the end. "Librarians are badasses," he said. "You just have to lean into that."
Top issues
Kathi Kromer, associate executive director of ALA's Public Policy and Advocacy Unit, and D'Arcy Philps, principal of Penn Hill Group, prepped attendees on current issues in a discussion moderated by COL's Robert Banks.
Kromer anticipates the president's budget—expected in mid-March—will cut federal funding for libraries again. The recent partial government shutdown has also contracted the budget cycle, so things will be moving quickly this year, Philps noted.
As part of the new year-round advocacy approach, Kromer suggested librarians follow their members of Congress on social media to see what they're working on—your library is doing something that will resonate with them, so reach out. She also advised inviting members and their staff to your libraries. Not everyone can make the trip to D.C. to advocate in person, Kromer said, so getting involved with staff at the district level is important, too. "You'll see them at the grocery store," she said. "Your kids will go to school together."
The 116th Congress has a pool of diverse, exciting new members that Kromer sees as potential new friends to make, but they also have their own priorities. "We're there to remind them of the importance of all libraries in our communities," Kromer said. Who knows their districts better than they do? "Probably the local librarian," she said.
Getting to "yes, and"
In the closing session, John Windmueller, director of the Washington Improv Theater, used games to train attendees on how the core tenets of improv can improve communication, collaboration, and creativity—and help in stressful situations like advocacy.
Listen to the end. In tense conversations, the fight-or-flight response kicks in, and we flee from listening, Windmueller said. "Listen down to the last word before you figure out what you're going to say," he said, and don't be afraid to pause before responding.
Use the principle of short turns. The better you get at improv, the less you're thinking ahead because you have to listen to the other person. He advised taking shorter turns when talking with someone and spending more time listening.
Embrace your physicality. Even when you aren't feeling confident, project confidence with your body language instead of slouching and speaking quietly.
"Yes, and." Saying "no" to ideas is comfortable and risk-averse, and saying "yes, but" is competitive and not collaboration. When you work with people, hunt for the places where you can get a "yes" and build from there. Whenever you can say yes, it's helpful to the other person as well.
Windmueller noted that librarians are professional improvisers, always working without a script. He advised attendees to be open to that uncertainty while advocating on the Hill. "Be joyful and have fun in the work you're about to do," he said.