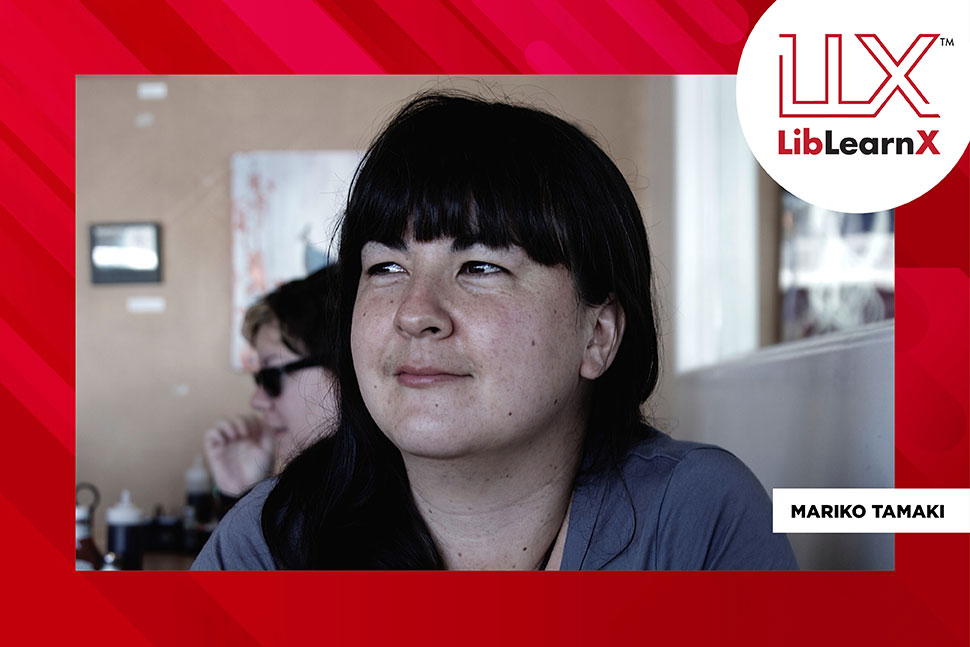 Queer relationships, teenage struggles, and superheroes—all topics that author Mariko Tamaki has tackled in her bestselling graphic novels and prose. Her work is acclaimed for depicting the complex inner lives, friendships, and coming-of-age stories of teens. But despite the joy she finds in the genre, Tamaki wanted to write something different—so she wrote a murder mystery.
Tamaki discussed her new novel, Cold (Roaring Brook Press, February), at the American Library Association's (ALA) LibLearnX virtual conference on January 24. She said that as she read and researched the genre, she discovered that the mystery format "plays really well into the things that I'm interested in writing about," she said in conversation with Roaring Brook Press editor Connie Hsu.
"A great murder mystery is the one that has really great characters," Tamaki said, citing Karin Slaughter and Tana French as writers she particularly admires. This exploration guided Cold, which follows the parallel narratives of two queer teens: one a ghost, the other a girl who's drawn to the mystery of his murder. It's more a story about teenagers working through a hard part of life, Tamaki said.
Her take on the teenage experience is often based partly on her own. She described her time in high school as "not idyllic." "It really felt kind of perilous to me a lot of the time," she said, and that tension resonates throughout the novel.
Compared with other young adult works, adults play a larger role in Tamaki's books by design. Teens, she said, are "anthropologists of adults" who are trying to puzzle out what grown-up life will look like. In her teenage years, Tamaki sought out adults for that very reason. Cultural shifts are also pushing adults and teens closer together. "Now the world of adults and teenagers is way more amorphous," than it was in the 1960s or 1970s, she said. "Most of the adults I know still dress like teenagers."
Friendship and community also play a key role in Tamaki's stories, especially when characters are going through difficult times. "By way of tempering the fact that they're going through these hard things, I try to always give my characters somebody that they can talk to" and bear witness, she said. "That is the thing that makes something bearable."
While Tamaki's works deal with the precariousness of being a queer teen, she acknowledges that another cultural shift has happened. For queer kids today, "there is more of an opportunity to have community, even if it's online. There's more opportunity to have a group of people who can reflect the things that you're going through and who can understand."