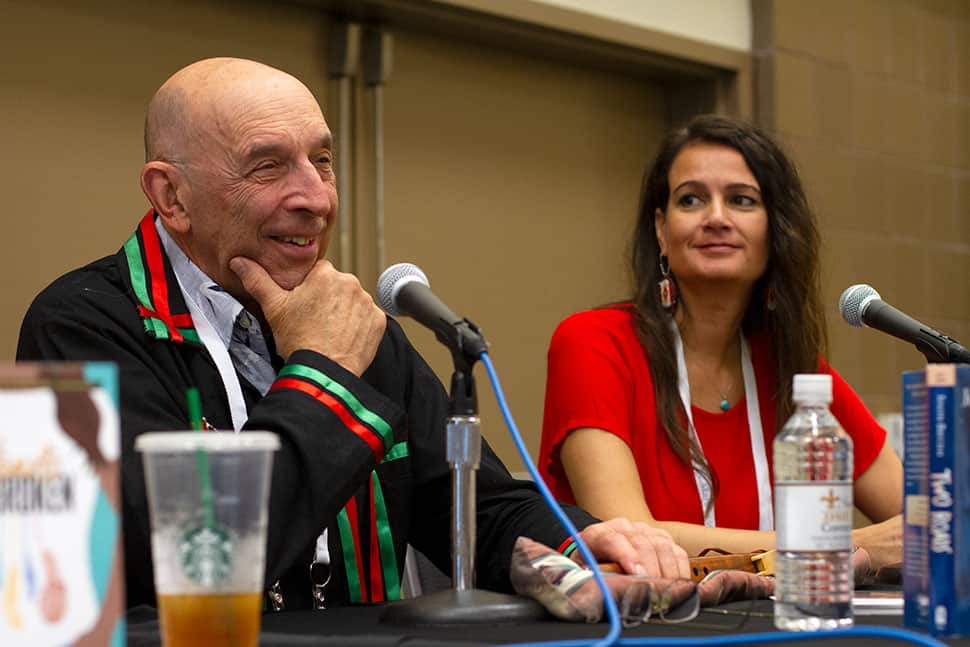 YA fans unite! This chronicle of a marathon teen session day will warm your heart, inspire your inner activist, and leave you laughing until your sides hurt.
My day began with "Native YA Today: Contemporary Indigenous Voices and Heroes for the 21st Century and Beyond." The panel was comprised of #ownvoices authors Cynthia Leitich Smith, Joseph Bruchac, and Dawn Quigley. Eric Gansworth's travel was delayed, so we were graced with the pinch hitter of all time, Debbie Reese—aka the Diversity Jedi herself. Some themes that resonated were that native teens are trying to make sense of themselves and of others. There is not one way to be a native teen, there is just a way to be yourself. Librarians are encouraged to listen to their communities. Cynthia Leitich Smith advised librarians to look at their collections; look at the books you share and uplift and ask yourself if all voices are represented.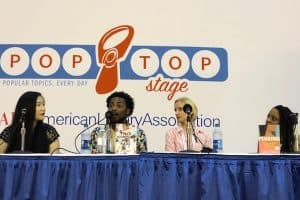 Next up was the "Fab Four of YA" panel, featuring Brandy Colbert, Monica Hesse, Emily X.R. Pan, and Jay Coles. The conversation quickly turned to the common thread among their books that addresses activism, resistance, and how history evolves with issues both new and old. Jay Coles began with the comments "No human is illegal in a country that is stolen" and "The greatest resistance is self-love." After losing a close cousin in a police shooting, Jay found writing Tyler Johnson was Here cathartic for him. Writing with the lens of overcoming circumstances (suicide, interment, teen pregnancy) was also present in responses from the remaining panelists.
The "Teen Voices Lead the Way" panel presented a tidal wave of emotions and information. Authors on hand included Angie Thomas, Justina Ireland, Tahereh Mafi, and Elana K. Arnold. The discussion began with characters being relatable and believable due to fears that all teens have, which can gradually turn into anger and rage. Elana K. Arnold stated that depression is rage turned inward. Justina Ireland said that Dread Nation is a book that enables teens to have different conversations about race and privilege without bringing it up on their own. Tahereh Mafi considers this adding another dimension to teen voices and added, "You have to teach people to love you by loving yourself first." Angie Thomas offered this advice to teens: "Every problem is not yours to solve. If people don't accept you, that is their problem, not yours. You are enough as you are."  (I'm not crying, YOU'RE crying.) After all of that heartfelt emotion, we all had a little fun trying to get Angie to rap for us. Listen to The Fresh Prince of Bel-Air cajoling and finally Angie's rap.
The rest of the #teenvoicesleadtheway panel convincing @angiecthomas to rap for us @TaherehMafi @justinaireland pic.twitter.com/Sd2zgNpjUO

— Lisa Krok (@readonthebeach) June 23, 2018
The moment we have all been waiting for: @angiecthomas rapping for us #teenvoicesleadtheway #alaac18 pic.twitter.com/vFwHuE0nBe

— Lisa Krok (@readonthebeach) June 23, 2018
After a full day of sessions, I was invited to the Random House Children's Books dinner highlighting Kekla Magoon and Marisha Pessl. The atmosphere at Galatoire's restaurant on Bourbon Street was festive yet elegant. We had time to mingle and enjoy cocktails upon arrival, before being seated according to place cards at large table. Luckily for me, I ended up next to Marisha Pessl for the salad course. Marisha recently shifted from focusing on writing adult books to her new YA novel, Neverworld Wake. She credits this to the fact that The Outsiders contributed to who she was as a teen.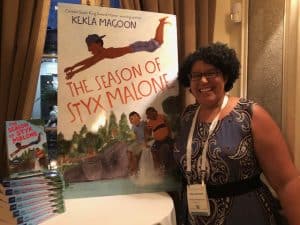 The authors then traded tables and I was so fortunate to be seated next to the delightful and hilarious Kekla Magoon, whose new middle grade book The Season of Styx Malone will be released this October. Kekla spoke about figuring out what's different about you and how you can be special in your own skin. After a delicious meal of filet béarnaise, the authors stayed to sign books and chat and enjoyed photo ops.
YA days are really the best days of all … even for grown fortysomething teenagers like me.