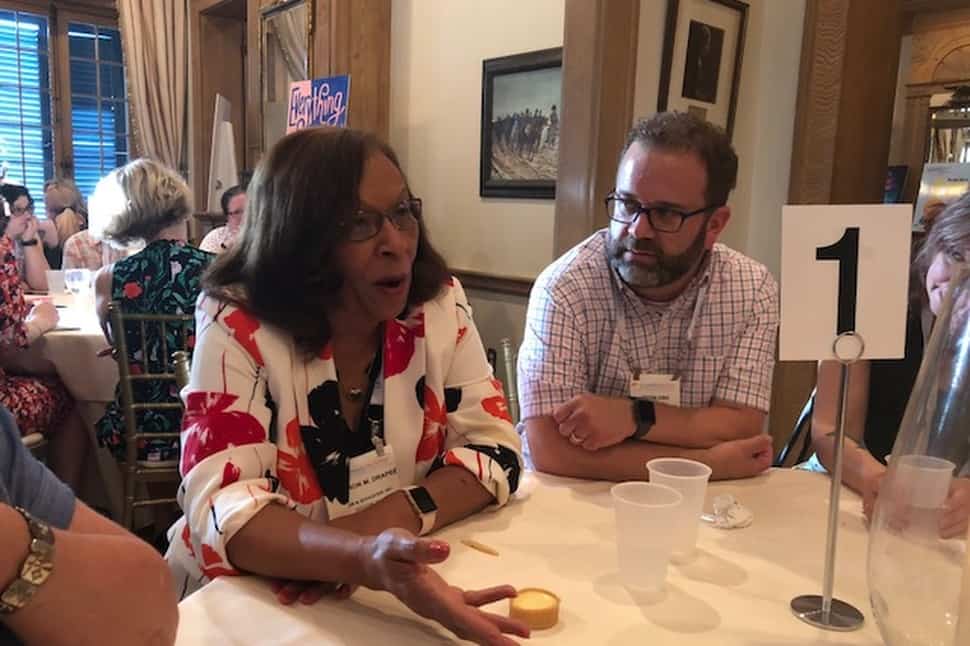 Working on ALA committees can be both time-consuming and very rewarding. A fun perk of this volunteer work is when publishers send invites for special nonpublic events, often with special author guests, unique venues, and food provided. Today was an exceptional day with three separate events.
The Bloomsbury Tea kicked things off. The beautiful venue of the Tomas Bistro provided a scenic environment in a large entertainment room that looked like it could accommodate weddings. Elegant finger sandwiches were served, along with a variety of teas.
Authors Carolyn Mackler, Sarah Crossan, Ally Condie, and Brendan Reichs mingled with the crowd first before each giving brief presentations and highlighting their latest respective books. Unfortunately, I was unable to stay until the end due to rushing to the inevitable long line for Michelle Obama's keynote.
After Obama's inspiring session, I was off to the Historic Napoleon House for the Simon & Schuster Night of Novels dinner event. Rumored to be haunted, the 200-year-old Napoleon House was offered to Napoleon after his exile, but was preempted by his news of his death. It now serves as a restaurant with an old-time atmosphere and traditional New Orleans fare. This was my personal favorite of the three publisher events today, due primarily to the format of the program and the authors in attendance. Dinner was a buffet of small plate items including pasta salad, cheese/fruit, and muffaletta sliders, followed by pastries.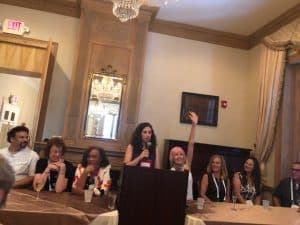 Middle-grade and YA authors including Andrew Smith, Sharon Draper, Neal and Jarrod Shusterman, Alison McGhee, Patti Kim, Deb Caletti, Samantha Clark, and Barbara Dee visited each numbered table in a speed-dating style format, rotating every five minutes to tell us about their latest projects and take questions. The common thread each author displayed was a tremendous passion for their varied projects. Guests received a bagful of pre-signed books from each author, as well as other swag such as water bottles and posters.
The final event of the day was the Macmillan Dessert Party, which took place in a Grand Ballroom in Sheraton New Orleans. This event lasted from 9 to 11 p.m., with sweet treats to keep everyone going—think mini tiramisu cups, mini cannolis, beignets, crème brûlée, and a hot crepe station, just to name a few.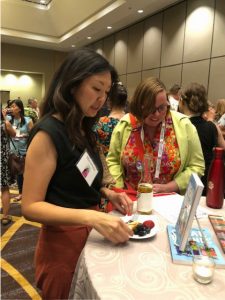 Guests were given a Bingo card upon arrival with unusual facts in each square and then directed to mingle with the authors to see which square fun fact belonged to them. Authors signed the squares, and guests with a Bingo received extra raffle tickets to win pieces of art designed by Caldecott illustrators, such as Matthew Cordell.
Some of the authors featured were Vera Brosgol, Jason Chin, Elisha Cooper, Deborah Heiligman, Mary E. Pearson, Charly Palmer, Maurene Goo, Ngozi Ukazu, and many more. A photo booth was set up with many props for visitors to enjoy and post to social media.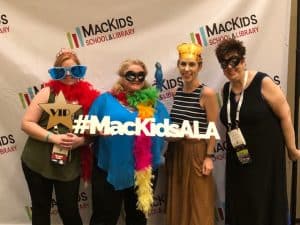 It was a whirlwind day of meeting incredible people and learning about all of the ways each author meets the needs of children and teens in today's landscape.