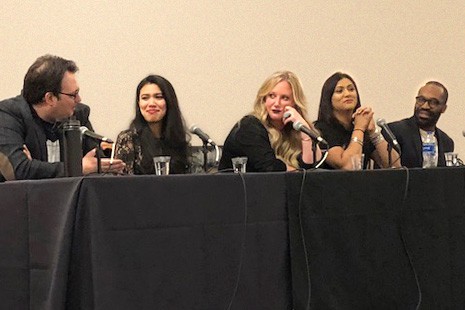 When the Young Adult Library Services Association's (YALSA) 2018 Young Adult Services Symposium opened November 2 in Salt Lake City, all eyes were on five fantasy and sci-fi authors who shared personal stories of reading, writing, interacting with fans, and responding to criticism.
Sabaa Tahir, author of the An Ember in the Ashes series, talked about the first time she saw herself in a book. It was in the 4th grade, she said, and there was a Muslim character in the story—the first one she had ever seen. She said she checked out the book 50 times in a row and asked the librarian if she could buy it.
"To see yourself in a book is validation of the greatest order," she said.
Brandon Sanderson, author of the Stormlight Archive series, said he was a reluctant reader until middle school. He shared how his life changed when he was given a fantasy book in 8th grade that allowed him to see the world in a different and imaginative way.
The authors on the panel also shared stories on the craft of writing, discussing word counts, editors, research, and sequels, after which moderator Izabel Gronski, young adult librarian at Oak Lawn (Ill.) Public Library, turned to the topic of writers' interactions with readers on social media.
Tochi Onyebuchi (Beasts Made of Night) said talking with teens online helps him remember his audience and allows him to represent them accurately in his books. He also uses these exchanges to encourage readers to explore ideas.
"I think there are very interesting discoveries that can be made when you read a book that's based on something that you are not at all familiar with and you decide to look into it," he said.
Leigh Bardugo, author of the Shadow and Bone trilogy, talked about the darker side of fan interaction. A Russian Jew and whose books include Russian characters, Bardugo said she is often criticized for not being Russian enough.
"There is a lack of nuance and understanding of diaspora when people start to talk about whether you are pure enough to have a right to tell a story," she said. "My family has been kicked out of five different countries, what am I actually allowed to write about? The idea that somehow the people who burned us out of villages and raped my relatives are the people who get to decide what I write—that their descendants get to choose what literary shtetl to put me in—is really unacceptable to me.
"What I have seen is that people will take things that start out really beautifully like a call for more representation or own voices," she added, "and they will learn to weaponize them against women of color and against women writers."
Author Roshani Chokshi (Aru Shah and the End of Time) has also experienced similar criticism for her work based on Hindu myths. Her response to critics? "It is myth; it belongs to all of us," she said. "There is no such thing as one version."
The writers' openness and willingness to discuss these issues resonated with those in attendance.
"We have a perception [that] these are authors, they have been writing books, they have this down," said first-time Symposium attendee Kim Christensen, teen librarian at Springville (Utah) Public Library, "but they showed a lot of vulnerability talking about their work."