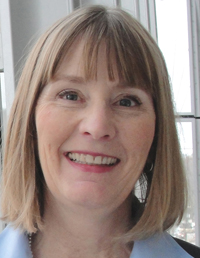 Each year, ALA Annual Conference hovers like a beautiful and tempting hot air balloon, ready to take us off on an amazing ride, filled with excitement, ideas, and a chance to see old friends and meet new ones. I observed ALA Council sessions this year, met with advertisers, and perused new products in the Exhibit Hall. I laughed with Steven D. Levitt, Ann Patchett, and Olivia Spencer. I've already started reading Ann's recommended list, and I swear she knows my taste in novels. My one tradeoff: missing the Friday Blackhawks victory parade.
And then, it was over all too soon, with so many follow-ups to make and actions to implement. It's a rough landing, isn't it? Here at American Libraries, we're still getting over the frenzy of blogging and phototaking, and spent our post-conference days putting together the July/August 2013 issue of the magazine.
If you want to review highlights of the ALA Annual Conference in Chicago, check out our wrap-up beginning on page 26. Marshall Breeding walked the Exhibit Hall aisles for us to share his perspective. Be sure to see his feature on pages 32–35.
At the conclusion of the conference, we watch one president wrap up his or her year as a new one takes the helm. It must be a bittersweet time, watching the finale of a year's efforts. There's a lot for Maureen Sullivan and others to be proud of accomplishing in this past year—one of transformation, reimagining ALA goals and direction—and a lot for Barbara Stripling to look forward to building on.
I know this feeling well, as I'm sorting and packing through my house of the last 13 years and downsizing to a city condo that's a third the size. Your life flashes before your eyes when you go through such a move. Two out of every three things must go. So many books to donate, and which to keep? We kept family heirlooms, some with hand-tooled leather covers, and the Cheerios-encrusted Curious George and Berenstain Bears titles for another generation to enjoy. Most went into the donation pile, as I know I can revisit old favorites at the library.
Joe Jane's column on page 23 about clicking "I agree" without thinking also resonates with my life in transition. We're signing a lot of documents many times without reading the fine print. It takes a huge leap of faith that everyone is doing the right thing. Hopefully, though, the value proposition balances for all of us, online and in real life.
Finally, be sure to check out the ALA Editions excerpt Making Sense of Business Reference by Celia Ross on page 36. The seasoned business reference workshop instructor answers some of the top stumper questions she's been asked by librarians and researchers.
And now, if you'll excuse me, I've got to get packing.