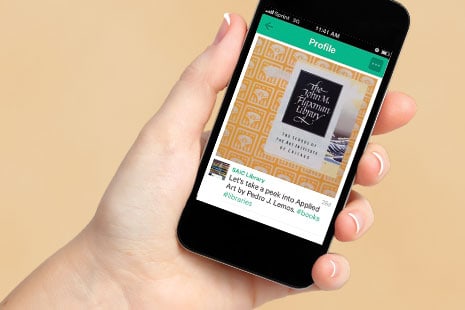 When Twitter unveiled Vine in January 2013, reviews were mixed about the free app that allows 6-second-long video loops to be created, viewed, and shared on mobile devices.
"We avoided it for awhile," says Gail Shackleton, director of library services at Appleby College, a 7–12 grade school in Ontario. She and library technician Stefania Mulyk administer the library's social media presence, which already includes Twitter, Tumblr, Pinterest, and YouTube. They waited to adopt Vine until four months after the app's introduction because of its newness. Like many librarians, they were weary of adding another tool to an already full social media campaign–especially an untested one that had yet to establish a direction and audience. That soon changed.
Celebrities, comedians, musicians, and artists flocked to Vine to produce and distribute everything from music videos and stop-motion animation to slice-of-life clips and narrative shorts. The general public—as well as commercial and nonprofit institutions—soon followed suit, transforming the site into a social media force that reported 40 million users in August. Vine's success has led organizations and companies—libraries included—to integrate it into existing social media strategies.
Libraries are using Vine to create clips that highlight new book and media acquisitions, advertise events, showcase makerspaces and 3D printers, and instruct patrons on library features. The moving images give these promotions a vibrancy that's not feasible in text-heavy social media sites like Facebook and Twitter.
"We're having fun with it now," says Shackleton. "It's a way of broadening our reach. Vine has a large community and we enjoy that. The connections that come out of one unique item like a [stop-motion] film of racks filling up with new magazines are interesting."
Sprucing up promotions with a creative slant was a strong draw for Jennifer Smith and Nick Ferreira, reference and instructional librarians at the School of the Art Institute's (SAIC) John M. Flaxman Library in Chicago. Both Ferreira and Smith are artists and saw Vine as a perfect way to use their talents to reach a specialized set of patrons and students.
"We're an art college. Our community responds to images over text," says Smith. SAIC's Vine page reflects that: clips of books and DVDs flashing by so fast that their covers become a blur of changing colors; a moving collection of old library rubber stamps; and highlights from the insides of books devoted to particular artists. SAIC also used Vine to introduce students and the public to new library renovations.
Vine's current popularity is a mixed blessing, however. "Vine fits into our wider social media goal of becoming content creators and makes us better able to spread our message," says Ferreira, "but it might not be popular in a year." Maryann James-Daley, web and social media librarian at the District of Columbia Public Library, had similar apprehensions when she started using Vine in March 2013. "It was an experiment," she says. "But I'm pleasantly surprised at the response." D.C. Public Library has been using Vine to promote events at its branches and has held a popular Vine how-to class at the new digital commons at the Martin Luther King Jr. Memorial Library. The class was one of the first offered at the commons, which opened in July.
"We're still playing around with it," says James-Daley—a remark echoed by Shackleton, Smith, and Ferreira. "But it's been great to have been a part of it and see it grow from a little seed to what it is today."