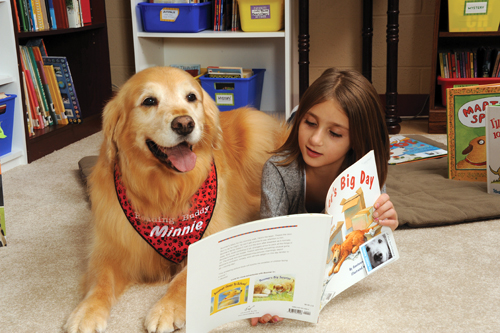 Turning to animals to help kids become more comfortable reading was not a new concept in 2011, when Ashley Weibling became librarian of Savannah Elementary School in Aubrey, Texas. But administrators were skeptical when she proposed bringing a therapy dog reading program to the school library. The concept is simple: Students read aloud to animals—usually dogs—instead of their peers, and the fear of making a mistake will subside, allowing them to achieve their reading potential.
"I started pitching it at the school, and my principal was absolutely against it," Weibling tells American Libraries.
The former 3rd-grade teacher, who was then working toward her master's degree in library science, was eager to find new ways to get students excited about reading and comprehension. "Reading therapy dog programs weren't common knowledge to [the school principal], but, of course, I just couldn't let it go," she says.
Over the course of two months Weibling put together a thorough proposal, turning to online resources and academic research—particularly from Yale Law Library—to build her case for the program's effectiveness. She not only had to consider how the program would work but also the potential liabilities associated with exposing children to animals.
"Once I decided to do it and make it work, I spent a lot of time making sure my I's were dotted and T's were crossed because when you bring an animal into a school, you want to make sure you're covered," Weibling says.
Weibling worked with Intermountain Therapy Animals' Reading Education Assistance Dogs (R.E.A.D.) program, which provides training for therapy dog handlers. She also developed a proposed pilot program with five at-risk 3rd-grade students to include pre- and post-program testing of developmental reading assessment (DRA) and scholastic reading inventory (SRI) to show improvements in fluency and comprehension, respectively.
"We did see significant gains in the students," she explains. Even more valuable was the increase in their interest in reading with Laney, a schnauzer provided by the school's physical education teacher.
"They couldn't wait to read with the dog, and it promoted reading with the other students," she says. "The eagerness was definitely there, and that's what you want to see with students."
The success of the pilot spawned a full-time therapy dog reading program at the library, and as it expanded Weibling said she became more aware of what works for students. When she was not paying direct attention during the reading sessions, Weibling noticed some students were less anxious. With one student in particular she learned that facing in the opposite direction during the 15-20 minute reading sessions lessened the student's anxiety.
Weibling has since moved on to become a library media specialist at Longfellow Middle School in Enid, Oklahoma. She said the school does not yet have a therapy dog program, but she hopes to establish one.
Dealing with government
Administrators are but one of the hurdles that can stand in the way of establishing a therapy dog program.
Carole Yuster launched her own therapy dog business, K9 Reading Buddies of the North Shore, in the Chicago area in January 2007. Her company first operated in the suburb of Deerfield, but Yuster faced a roadblock when she tried to expand to the nearby community of Highland Park.
"Our barrier at that time was a city ordinance that prohibited dogs on school property and in libraries," she says.
Yuster says therapy reading dogs were still a fairly new concept at the time, but she had the support of a newly hired assistant superintendent of student services who had seen the positive impact therapy dogs had with students in a different school.
Stepping into the role of local politico, Yuster wrote a draft ordinance that amended the city code to make an exception at schools and libraries for therapy dogs. She presented the ordinance to a Highland Park city councilwoman, who submitted it to city council, and about three months later the ban was lifted.
"That fall the dogs entered the District 112 school building and have been there ever since," Yuster says.
Yuster says she started the program in the district's preschool and has since expanded the reading portion of the program to as high up as middle school students. Some Highland Park students in the 5th grade this year have had access to therapy dog teams for their entire formal education.
She says the program also has expanded to high school students who are given time with the dogs during finals study sessions to help ease anxiety. The same strategy is used at Yale Law Library and other universities around the country.
Communication is key
Once librarians and educators have established a therapy dog program, a number of practical concerns should be taken into consideration.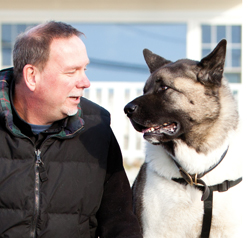 Yuster says librarians can make their programs run smoother from the outset by establishing a programming agreement that details what libraries can expect from the handlers and what handlers can expect from library staff.
She says it is good to establish up front that children who sign up for a program at a public library should already be learning to read. "Sometimes parents will bring kids who aren't readers and expect the team to read to the child or entertain the child while the parent goes off to another part of the library," she says.
Making it clear what grades or reading levels are necessary to be involved in the program can prevent confusion. "When we have kindergarteners who can't read and want to pet the dog, that isn't our goal," Yuster says.
She says K9 Reading Buddies includes students grades 1 through 5, but added that some libraries allow younger children. Some libraries also allow older patrons with learning disabilities to participate. Katie Buchholtz, children's department manager at the Madison branch of the Nashville (Tenn.) Public Library, says the library discourages children who cannot yet read from participating in its program but recalled one exception, allowing a young man with a learning disability to participate.
Buchholtz says communication with parents at the time they register their children is critical to ensuring they understand the intent of the program.
Yuster and other librarians also recommend making an announcement about the program once the therapy dog teams enter the library.
"There are some people who are afraid or allergic to dogs who might be disturbed by a dog coming out of nowhere; it's a nice thing to do for patrons [so] they're not caught off guard," Yuster says.
Buchholz says her library vacuums after therapy dog teams leave to accommodate patrons with allergies.
Keeping programs running smoothly
Several librarians who spoke with American Libraries said therapy dog programs are growing in popularity, but it is not uncommon for patrons who sign up for the 15- to 20-minute reading sessions to not show up the day of the reading.
Yuster says handlers sometimes arrive and find just a handful of participants or none at all. "Volunteers' time is precious and needs to be taken into consideration."
Conducting phone confirmations the day before the reading can help remind parents of their commitment to participate, she says. The calls can give staff and handlers a heads up on potential no-shows, and if enough patrons back out, library staff can cancel the session and avoid a wasted trip.
Having a special check-in station ready can also make the reading session go smoother. Yuster notes that youth services, which frequently handles the check-in of patrons for therapy dog programs, can be busy with other work, which can cause delays.
Having a good selection of books ready for students can also help prevent wasting valuable reading time. Buchholtz says the Madison branch encourages kids to bring books they are already reading, but handlers and librarians will also bring a selection of books for kids to read.
"The library would benefit from creating a book display with dog-themed books that are age-appropriate for kids registered with the program," according to Yuster. "Time can be lost looking for a book that is time meant for spending with the therapy dog team."
Practical considerations
The devil's in the details when setting up a therapy dog program, and giving forethought to some of the more practical considerations can prevent library staff from dealing with a big mess—literally.
Yuster recommends finding an appropriate place for animals to relieve themselves before they enter the library.
"It's obvious to not let the dog urinate right by the front door," she says, adding, "It's better to establish that expectation ahead of time rather than be surprised later."
It also makes sense to establish with handlers what should happen in the event of a fire.
"What fire exit does the dog use? If they're on the second floor and an older dog can't negotiate the steps to go down, what are they going to do?" she says. "That should be thought out ahead of time."
Promoting the program
Librarians say getting the word out about therapy dogs is an important detail in running a successful and vibrant program.
Renee Grassi, head of children's services at Glencoe (Ill.) Public Library, says having conversations with patrons at the desk about upcoming therapy dog readings is one of the best tools for raising awareness.
Yuster suggests holding the reading sessions in a semi-private but visible area of the library so kids can get the solitude they need to read comfortably, but so other patrons are made aware of the program.
"It's always good to have an area where passersby can see; it's good advertising," she said. "If the reading happens at a lower level in a separate area, the library loses an opportunity for promoting a valuable community program."
She says libraries can also promote the program by offering incentives for children who attend multiple sessions.
"It's smart to have giveaways of books and other materials," she says. "We have custom bookmarks and stickers that say: 'I read to Mickey or Minnie, my K9 reading buddy.'"
Evelyn Walkowicz, assistant branch manager at the Desert Broom branch of the Phoenix Public Library, also suggests providing incentives for handlers who in most cases are volunteering their time. "It's a nice bonus to give the handler a gift card to defray the cost of grooming."
She adds that reaching out to organizations that provide financial support for literacy programs can also help grow a new therapy dog program.
"This is something where you can combine literacy and dogs, and people are all over helping you fund that," she says.
Insurance comes first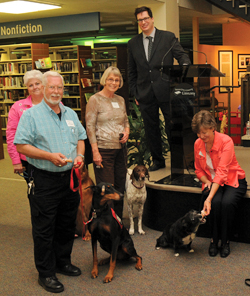 Dog therapy program administrators say protecting the library against liability is the premier issue to consider when setting one up. Billie Smith, executive director of Therapy Dogs, which represents 16,000 therapy dogs in the US, Canada, and Puerto Rico, says that liability claims against therapy dog teams are rare, but relying on uninsured teams could expose the library to lawsuits.
Organizations such as Therapy Dogs, Therapy Dogs International, and Pet Partners require dog handler teams to pass a series of tests to ensure their obedience in a variety of settings, such as libraries, hospitals, and schools.
Dog and handler teams registered through Therapy Dogs are covered by the organization's $5 million liability insurance policy. "If a dog snaps at or scratches a child, then the claim comes in to us," Smith explains. "We send it to our insurance company and they send adjusters out and review the claim just like any other insurance claim."
When choosing a company, however, library staff might want to discuss with their legal department what level of insurance coverage is needed to establish a therapy dog program.
Pet Partners, a therapy dog registration organization that represents 11,000 dog handler teams nationwide, provides $2 million in liability coverage. Mary Margaret Callahan, national director of program development, says librarians considering setting up a program should review their existing insurance policy and the policy of teams coming in. She said some libraries rely on the therapy dog handler's individual homeowner insurance policy, which covers the actions of their pets, to protect against liability.  Protection on a homeowner's policy could be limited, though, she says.
"It's smart to work with someone who has insurance, and be aware of the limitations of your own insurance policy as well," she says.
Librarians might also consider protecting themselves against liability by running criminal background checks on volunteers, experts say.
Suanne Wymer, deputy director of Tulsa (Okla.) City-County Library, says the library conducts criminal background checks on all its volunteers, including therapy dog handlers. She explains that the library took the step to include handlers in the checks because of their access to children. "If a parent asks, 'What is the credibility of the handler?' we can tell them they've had a background check," Wymer says. "We're making sure it's as safe an environment as possible."