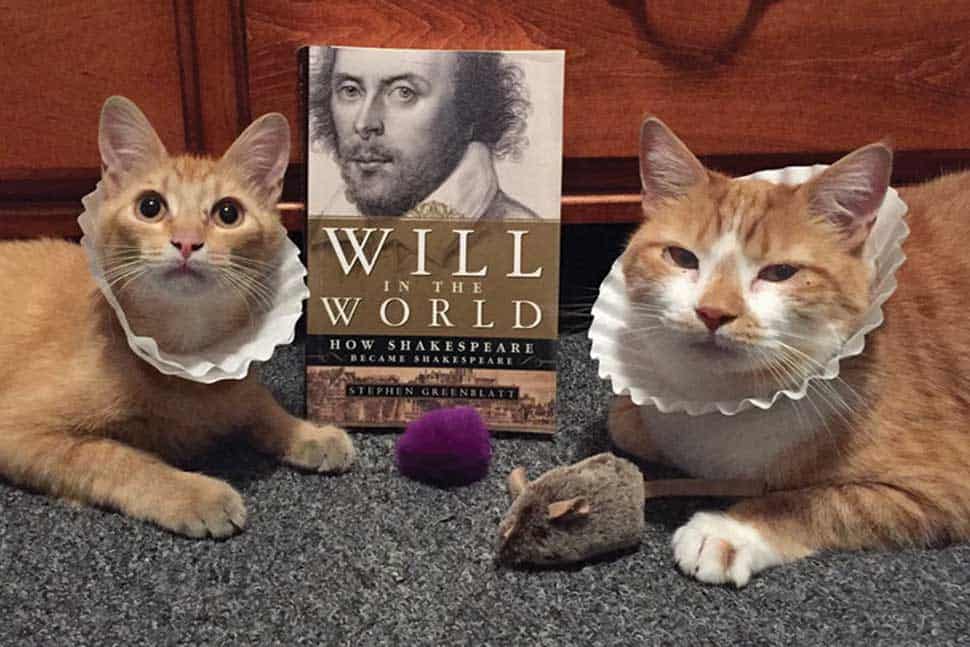 When Browser, the live-in cat of White Settlement (Tex.) Public Library, nearly got furloughed last year, public outcry was tremendous.
The city council voted to remove the popular kitty—who had lived in the library for nearly six years—after council members cited potential allergy issues. The story was picked up by ABC News, the Huffington Post, and the Associated Press; support poured in from as far away as Australia; and more than 5,000 people signed a petition to let Browser stay. In the end, the council turned tail, and Browser got to keep his job.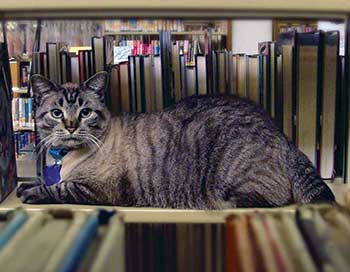 Though everything turned out all right for the lucky kitty, the incident illustrated just how contentious having a cat in a library can be, even when the cat is popular with patrons. Perhaps that's why the number of library cats in the United States has declined drastically in recent decades.
About 20 years ago, filmmaker Gary Roma researched library cats all over the world for his documentary Puss in Books: Adventures of the Library Cat. At that time, he counted 201 cats living in American libraries. In autumn 2016, inquiries made through the heads of each ALA state chapter yielded a count of 39 library cats across the country.
One of those cats is Pages, a black-and-white female who began her tenure at the Valley Center (Kans.) Public Library six years ago after being found as a kitten under a bush outside. Pages has access to the entire library but prefers to hang out in the foyer; when she gets tired of being petted by her fans, she retreats to a book cart for some downtime.
"The board has been supportive, and for the most part, people have been very agreeable," says Library Director Janice Sharp. "She's created excellent goodwill. Patrons obviously like her."
In an attempt to minimize the allergens present on library materials, staff members swipe each book with a Clorox wipe. Still, Sharp knows patron allergies are an ever-present concern.
"From time to time we do hear complaints," she says. "We tell them that we're sorry they're affected, and if people cannot come in the library [because of the cat], we offer to select books for them and take them out to their car."
Allergies have not been much of a problem at Litchfield (Ill.) Public Library, home of Stacks the cat, says Library Director Sara Zumwalt. Stacks is thought to be the only library cat in the state allowed access to patron areas. "She goes wherever she wants and sits wherever she wants," Zumwalt says. "She likes to greet people when they come in, and she likes to ride the elevators."
Before adopting Stacks in 2009, Zumwalt consulted local veterinarians about allergies. "They said that as long as we kept the hair vacuumed, we really shouldn't have any problems," she says. "We have a good janitor, and our building has hot-water heating and cooling, so we don't have any air that recirculates and blows the hair around. We really haven't had a lot of allergy complaints. I have more people who say, 'I'm allergic to the cat—but I love her, and I have to hold her.' "
Like most library cats, Stacks generates tremendous press for her surroundings. She's appeared in Cat Fancy and the Chicago Tribune, and more than once, Zumwalt has introduced herself at a library conference, only to hear: "Oh, you're the library with the cat!"
"I think everybody thinks of her as their cat," Zumwalt says. "I think people enjoy having that connection." That said, "we've been very lucky that we haven't had anyone who's said, 'You can't have her here.' "
The Colon Township (Mich.) Library wasn't so fortunate with its former resident cat, Jasper. "Everybody loved Jasper," says Library Director Julie Censke. "He was always on a lap or busy getting petted. But we had a family who caused a big fuss because a family member was allergic. I wrote them a letter and offered to bring them their books, and we got a high-powered air filtration system, but they didn't want to entertain those ideas. Eventually they contacted the Michigan Department of Civil Rights. The board didn't have the money to handle lawyer fees, so they sent Jasper away. He's been at my house ever since."
Some libraries compromise by having resident cats who are allowed in staff areas only. At LaGrange County (Ind.) Public Library, for example, Emma the calico enjoys free rein of the staff offices. "That gives her plenty of room. We don't put her out in the public area; there are lots of people with allergies," says Library Director Richard Kuster. "Giving her the run of the library was not anything that anybody was going to permit, given the potential public backlash." This way the staff, at least, can enjoy the calming effects of Emma's presence (when she's not walking across one of their computer keyboards).
Other cat-loving libraries are skirting the allergy issue by finding alternate ways to include kitties in their PR efforts. The Centre County (Pa.) Library and Historical Museum doesn't have a cat on its premises at all; instead, librarian Lisa Shaffer includes photos of her five cats in the library's Saturday Twitter and Facebook posts. Each "Saturday Caturday" post features one or more of her cats posing with a book and often wearing an accompanying costume. One post celebrating Shakespeare's birthday, for example, saw orange tabbies Marmie and Horatio flanking a copy of Will in the World: How Shakespeare Became Shakespeare while sporting fetching Elizabethan ruffs fashioned from coffee filters.
Frannie Shue, Centre County library director, is a big fan of "Saturday Caturday," saying, "It's a nice alternative for libraries that do not have cats—but love cats as much as books."