The 17th American Association of School Librarians (AASL) National Conference and Exhibition opened on Thursday in Columbus, Ohio, with about 2,000 attendees eager to share professional development ideas and tips.
Before the opening general session even began, hundreds of school librarians met at IdeaLab, a sort of digitally enhanced poster session, with tabletop video displays on topics from STEM and STEAM, national standards, Common Core, and more.
Karen Nourse Reed and Jennifer "Megan" Carlton, of the James E. Walker Library at Middle Tennessee State University in Mufreesboro, took an old-school bookmobile idea and brought it up to date as a STEAM mobile learning lab.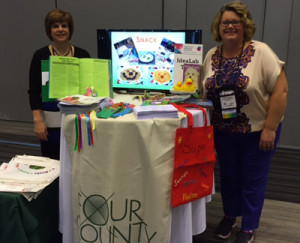 Legos projects grab the attention of kids in Elyse DeQuoy's elementary school in Berryville, Virginia. She presented a series of projects, from researching animals and building a zoo exhibits to a monthly "Legos in the Library" afterschool club on various themes. The projects promote creativity, teamwork, problem-solving, and communication skills. "It's super easy," DeQuoy says. The only sad part for kids is the tear-down right after each project.
Middle school students raise funds and learn about social action in Jean Hellwege's Lincoln, Nebraska, library. She encouraged students to choose a social action research project, write a paper on their research, and participate in an annual "Make a Difference" fundraiser each year. It's "authentic, relevant," and develops critical thinking, she says. In 2015, students raised more than $12,000.
More than 20 librarians presented table-top ideas in the two-hour session.
At the opening general session, Keith Michael Fiels, ALA executive director, drew applause when he told the audience that he'd recently been in Washington, D.C., and heard the school system is hiring 40 new school librarians. He encouraged librarians to contact their legislators to support the reauthorization of Elementary and Secondary Education Act (ESEA) and the requirement for effective school libraries as part of that. "You'd be surprised how few people it takes to tilt the pendulum (to include the school libraries)," he said.
Disturbing librarians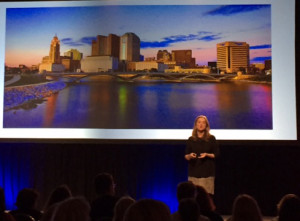 Keynote speaker Heidi Hayes Jacobs challenged librarians to throw away old roles and quit making decisions based on habit.
"Our goal for this conference is to leave deeply disturbed," she said, eliciting laughter. She elaborated in her speech how educators must not rely on old methods and complacency but should be different and emphasize risk-taking, courage, grit, persistence, honesty, humor, and compassion to be leaders and learners.
Jacobs talked about redesigning structures of libraries and classrooms, not just emphasizing the tools. She showed a number of unusual spaces where children could collaborate, interact, and create, and none of the photos showed a traditional classroom. "We need to keep the best of the classical approach and cultivate 'right now,' get rid of the boring," she said. "I don't know a 7th grader on the planet who wants to learn about nutrition." So they called the section "Food Fight!"
Jacobs also suggested that school librarians think of a new title for themselves, offering such diverse names as director of research and development, curriculum co-designer, media producer, innovation lab leader, film curator, or global forum facilitator.
High Strung, a musical group of students from three high schools in the Columbus suburb of Hilliard, entertained attendees waiting for the exhibit hall to open.
The evening closed with a storytelling festival that ran until 10 p.m. and networking until midnight in a Hack the Association session.