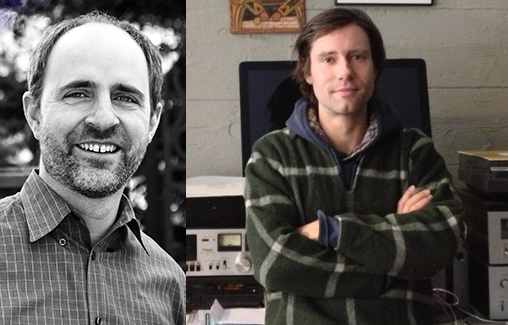 Folk-music collector, ethnographer, and archivist Alan Lomax, who died in 2002, was born 100 years ago in 1915. From 1937 to 1942, he was assistant in charge of the Archive of Folk Culture at the Library of Congress—which became part of the American Folklife Center (AFC) in 1978—and recorded musical sessions and interviews with many folk and jazz musicians, including Woody Guthrie, Lead Belly, and Big Bill Broonzy. To celebrate the anniversary of Lomax's birth, Chicago's Old Town School of Folk Music invited two Lomax experts to speak at the Chicago Humanities Festival on November 4. Michael J. Kramer teaches history, American studies, and digital humanities at Northwestern University, and is at work on a book on the folk music revival of the 1950s and 1960s. Nathan Salsburg is curator of the online Alan Lomax Archive as well as a musician. They spoke to American Libraries about Lomax and his relevance to contemporary music.
Michael, you are currently at work on a book, This Machine Kills Fascists: Technology and Culture in the US Folk Music Revival, about the American folk music revival of the 1950s and 1960s. What part did Alan Lomax play in that revival?
MICHAEL J. KRAMER: Alan Lomax's part in the US folk music revival is so big that it could fill many books (and already has). As the son of John A. Lomax, Texas cowboy song collector and more, Alan grew up within a family that expanded what folk music could be beyond the hunt for supposedly original Elizabethan ballads lurking in the remote corners of America. His brother John Jr. and his sister Beth were also active folk revival participants. Alan went on to work for the Library of Congress (LC) and then on his own as a folklorist, collector, scholar, writer, concert and record and radio producer, documentarian, and media activist seeking out new ways of catching, representing, and re-presenting musical expression from both the US and around the world. He was most of all what we might call (borrowing from Benjamin Filene's wonderful 2000 book Romancing the Folk) a "cultural mediator" who attempted to give shape and form to a massive, diverse, and rich tradition of musical expression among everyday, ordinary (and often quite extraordinary) people. This was not without its problems and controversies, both in terms of Lomax's own ideological investments in folk music and his mediation between makers of folksong and the culture industries of America and the world. Lomax, for all his complexities, certainly must be reckoned with in any historical understanding of the folk music revival.
Most of Alan Lomax's recordings were made in the American South or Appalachia. How representative was this music for American folksong as a whole?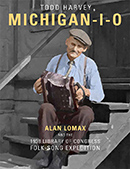 KRAMER: Actually, Lomax recorded everywhere. He found some of the touchstones of his work in his recordings of Southern Americans, but he also recorded in the Midwest (see the 2013 multimedia release, Michigan I-O, put together by the amazing Todd Harvey, archivist at the AFC, and put out jointly by LC and the label Dust-to-Digital) as well as extensively in Europe, Haiti, and elsewhere.
Lomax was always intrigued by the interplay between folk music's universality and particularity, how on the one hand an African-American work gang singing in Angola Prison in Louisiana was after the same spirit, tragedy, sorrow, and beauty as anything in Homer or Shakespeare. On the other hand, he had to consider the particular historic and ethnographic context of their immediate situation and how it manifested in the music they created. Poetry and functionality: Lomax was attuned to both in his work on the American South and elsewhere.
Nathan, tell us about the Alan Lomax Archive.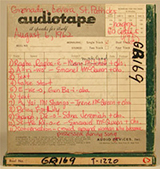 NATHAN SALSBURG: The Alan Lomax Archive is a collection of recorded music, dance, and the spoken word formerly belonging to Alan Lomax and now maintained by the Association of Cultural Equity (ACE), a charitable organization he founded in 1983. It is housed at New York City's Hunter College. Our mission is to promote cultural equity through preservation, publication, and repatriation of our materials. We freely distribute thousands of recordings, photos, and videos through our website and various social networking outlets, as well as in partnership with educational and nonprofit organizations.
How is this different from the Lomax Collection in Washington, D.C.?
SALSBURG: The Lomax Collection at AFC in Washington brings together both the recordings made by Alan Lomax and his father John A. Lomax under LC auspices between 1933 and 1942 as well as the collection amassed by Alan after leaving the library. This latter material—tapes, photos, film, video, and paper documentation generated between 1946 and 1991—makes up ACE's collection, which we've called the Alan Lomax Archive for the past 20 years or so. It was transferred to digital format between 1997 and 2003, and was acquired by the AFC in 2004.
The AFC just put the Lomax family manuscripts online on October 15. Will you be adding metadata and links in the archive to relevant portions of this collection?
SALSBURG: Our collaboration with the AFC has increasingly focused on the pre-1946 collections there—digitization, repatriation, and online presentations—as we've had the later collections in digital format for more than 10 years now. We expect that as time goes on we'll find more ways to unify our online catalogs, making it possible to add cross-references throughout all the Lomax collections. The first priority, however, is getting our online archive up to contemporary speed. We were early adopters of the technology, well ahead of the curve when our site launched in 2005, but we've had a hard time finding funding to maintain it as well as we'd like. That's looking to change in 2016.
Is music from the archive available for use in an educational setting?
SALSBURG: Absolutely. We work with an educational consultant, Patricia Campbell, chair of the Ethnomusicology Department at the University of Washington, to compile lesson plans based on Lomax's recordings, and we strive to make our collections accessible and applicable to teachers, professors, academics, and researchers. A long-term goal is to devise a more direct means of giving educators personalized access to and management of the digital collections for use in the classroom. We also provide material to students and researchers for use in scholarly papers, conference presentations, and theses.
Do you have plans to make materials available elsewhere in order to reach a wider audience?
SALSBURG: When we digitized the 400 hours of video that Lomax shot (on three-quarter-inch U-matic tape) between 1978 and 1984 that aired on his American Patchwork PBS series in 1991, we initially planned to build a video catalog that would accompany our online photo and audio collections. This was, however, before the launch of YouTube. Once we started the cataloging in earnest we realized that YouTube not only offered a free platform for the material, it made it available to such a vastly greater audience than we could have ever hoped to reach independently. We started the Alan Lomax Archive channel in 2007 and currently have more than 9 million views and 23,000 subscribers. It's without a doubt the largest audience Lomax's collections have ever received. It's also made possible one-on-one contact with family members of performers and with folks in their communities. We've had impromptu family reunions take place in comment threads. We've also been able to correct metadata—performer names, locations, song titles—with the help of viewers. It's an incredible resource for us, and Lomax would have rejoiced in it.
What is your day like as curator of the archive? How do you spend most of your time?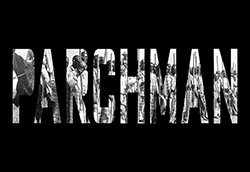 SALSBURG: I answer a lot of research queries from users of our online catalogs and field requests from potential licensees of the material. We do a lot of audio, photo, and video licensing to filmmakers, musicians, producers, writers, and students. I compile and annotate releases of Lomax's recordings for a variety of labels. Our most recent production was a collaborative effort with Atlanta's Dust-to-Digital on a photo book and 2-CD set of Alan's photos and recordings from the Mississippi State Penitentiary, colloquially known as Parchman Farm. We have a 6-LP set due out on a boutique label called Mississippi Records by the end of 2015. It's a commemorative box for Lomax's centennial year. The concept is "100 songs, 100 years," and it was great fun to put together. More than half of the performances are previously unreleased, so even long-time listeners will discover gems they've never heard before. I've also been spending more time working on digital dissemination and repatriation projects.
Did Lomax's recordings inspire artists in other genres, such as blues and rock musicians?
KRAMER: Absolutely and in quite varied ways. One thing he would do would be to play back his field recording for the person he had just recorded, which often inspired them to play more and better and pursue new opportunities—sometimes professionally, sometimes just as amateurs, since they had never been able to hear themselves before. His books, recordings, and documentary work circulated widely, so that by the 1940s and onward, everyone from his friend Pete Seeger, to the skiffle-loving British Invasion musicians such as the Beatles and Eric Clapton, to electronic music experimenters such as Moby were soaking up and borrowing from Lomax's recordings.
How do you define folk music?
KRAMER: "All music is folk music; I ain't never heard no horse sing a song." That's usually attributed to Big Bill Broonzy, though Louis Armstrong was known to say it too.
Bob Dylan said in an interview in the February 1966 issue of Playboy: "Folk music is a word I can't use. Folk music is a bunch of fat people. I have to think of all this as traditional music. Traditional music is based on hexagrams. It comes about from legends, Bibles, plagues, and it revolves around vegetables and death. There's nobody that's going to kill traditional music."
In all seriousness, I go for a broad definition of folk music. I think the one thing that has to happen is that at some level, whether in its production, in its circulation and reception, or in its historical use, it reaches the noncommercial spaces of social life. A song from the most processed guts of the commercial recording industry machine is, in some sense, folk music when it is being made. It becomes folk music again the moment someone picks up a guitar to play their own version or toggles a few switches in GarageBand to remix it or parodies its lyrics in a summer camp skit. When music moves into spaces of engagement that are located in real lives, and when that music gets repurposed or reused or resituated or reimagined, even ever so slightly, we might consider that it has folk elements.
Of course, there is a folk music tradition, slightly more guarded and defined, that has to do with trying to remember cultures and ways of life that we experience as (and often really are) vanishing into the past. That is folk music too.
How does folk music treat technology? Is it unilaterally dangerous, as in John Henry?
KRAMER: I think that the folk revival has often been understood as a Luddite movement, an antimodernist movement that seeks to escape from the contemporary world's technological structures into a romanticized past. But there are ample examples in the revival's history of something quite different: a deep engagement with new kinds of technologies and how we might turn them toward more humane ways of living. This was certainly the case with John and Alan Lomax's notion of using audio recording equipment to capture the sounds of everyday Americans through their field recording trips. It's the case with folklorist Zora Neale Hurston's use of film to pursue ethnography in Florida. It's again on display in musicologist (and Pete and Mike's father) Charles Seeger's interest in the Melograph, an electronic device he thought could be used to develop a non-Western mode of written musical notation. It's present with Alan Lomax's interest in the late 1950s and early 1960s to use computers to analyze song styles from around the world, a system of study he developed out of the field linguistics called Cantometrics that eventually became his Global Jukebox project. It's there in the documentary work of John Cohen, a New Lost City Rambler member, photographer, and artist. And I think it's there every time someone makes or tunes into a YouTube how-to-play-guitar video now.
Nathan, describe your Kentucky repatriation efforts.
SALSBURG: It's been a long-time dream of mine to do a serious project with Lomax's Eastern Kentucky recordings. Some of that is personal, as I grew up and currently live in Louisville, but Alan recorded many hours of material in the state, and very little of it has ever been made available. The recent launch of the Lomax Kentucky Recordings site, which offers free access to all 70 hours of audio recorded by Alan, his wife, his father, and Columbia University folklorist Mary Barnicle for LC between 1933 and 1942, was four years in the making, and involved the AFC, the University of Kentucky (UK), and Berea College. LC digitized the nearly 500 acetate discs, the National Endowment for the Arts gave us support for the speed-correction and editing of the audio into discrete tracks, and Berea and UK engaged me to build the catalog. Built into the site is a "contribute" button that allows users to not only offer corrections to the data, but also submit stories, photos, and ephemera related to the recordings. There is so much more to the artists and their communities that the Lomaxes couldn't capture (and no accompanying still photography is extant). The next step is to go on a tour through a number of the sites in Eastern Kentucky where the recordings were made, playing music, screening the 14 minutes of film shot by Alan in 1937, and soliciting stories and recollections from people in those communities.
Michael, you are a cofounder of Northwestern University's Digital Humanities Laboratory. How important has that been to your research?
KRAMER: My work in digital history and digital humanities is centered around creating an interactive digital website for the Berkeley Folk Music Festival, which ran on the campus of the University of California from 1958 to 1970 and whose archive now resides at Northwestern. The goal of this project is to see if an archive can become a kind of festival space, an online gathering point from which to carry on some of the spirit of the original event, which, like the Newport Folk Festival (in fact preceding it, and even inspiring it by some accounts), mixed performances, workshops, casual picking sessions, debates, and discussions in an inclusive and powerful way. I've been struck that the digital medium lends itself well to some of the qualities valued in the folk revival itself: interactivity; a balance between listening and sending out one's own voice; a use of past materials, preserved, to create new understandings, interpretations, scholarship, and artworks; and an awareness of the past mediated through the present and looking to the future. I've found that going digital with the folk revival has, for me, itself revived (sharpened, brought back into sharp relief, made more clear) questions I've always been curious about in my historical work on the folk revival and its relationship to technology.
Do music repositories fall into the digital humanities category?
KRAMER: Absolutely. The stunning Alan Lomax Archive is a good example of all the possibilities and challenges of exploring music through digital means. Lomax was already (in the late 1950s) thinking about how one might use computers to study and experience traditional music. He's still at it, even from the grave, with the latest releases of his materials by ACE, LC, Berea College, and other partners involved in sharing in digital form his vast set of recordings and related materials.
Nathan, you are also a musician of some note. What are some of your recent album releases?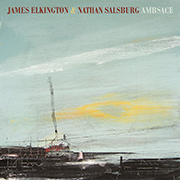 SALSBURG: I've made a few acoustic guitar records over the past few years—two solo and two in duets with a close friend in Chicago named James Elkington. We're currently on tour supporting the most recent of those, titled Ambsace. I also play with a singer and songwriter from Louisville named Joan Shelley, who's also a very dear friend. An album we made together, called Over and Even, was released in September. I hesitate to call what I do "folk," as it's neither been orally transmitted nor am I playing traditional material. My approach and my interest is synthetic. Composing is a means of making creative sense of the varied strains of traditional music that I'm interested in—Old World and Appalachian balladry, down-home guitar blues, sacred hymnody—and reconciling it into something that feels, so to speak, mine.
Is there another folk music revival going on today?
KRAMER: There is certainly a circuit of roots musicians. I think of talented artists such as Gillian Welch and David Rawlings, who are not new on the scene, but have practiced a mode of songwriting much like Bob Dylan has, through which they take old lines, melodies, and harmonic patterns from traditional music, ballads, work songs, and then recontextualize them into new songs for contemporary times. And there is a vibrant festival scene today that sustains a kind of ongoing revival. Since it is constructed as that—a revival, a need to bring something back to life (borrowed from the religious notion of revival)—I think the folk music scene is always ongoing. We've always got the resuscitators out, ready to reoxygenate the spirit of a singing folk movement.
What can the music of the 1960s teach other generations about politics and society?
KRAMER: The music of the 1960s, from folk to soul to rock to pop, is a reminder that music matters to people's lives, that you can't have a good politics without a rich cultural space to experience life through more than just speeches and polls and blogs. The music of the 1960s has all kinds of ideological (and perhaps also aesthetic) flaws. But it did focus on festivity, celebration, joy, and deep feeling as part of any effort to forge a successful politics—and a better society. And that is worth preserving, remembering, and studying along with all the failures, traumas, and shortcomings of music and its political uses (and misuses) in the 1960s.