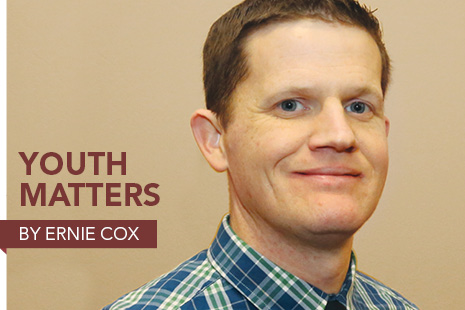 A mother and her tween daughter are browsing titles in a locally owned independent bookstore. The young girl is perusing the extraordinary Newbery Honor–winning memoir-in-verse Brown Girl Dreaming by Jacqueline Woodson. The cover, the dust jacket description, the verse form have all coalesced to capture the young reader's interest. "I need this book, Mom!"
This scene was one that would make any librarian feel warm and fuzzy. However, with a few swipes and punches of a smartphone, the verdict was in: "not for your grade level." Mom was doing what schools, and often what libraries as proxies, have trained her to do—think about books in terms of levels.
Reading programs place emphasis on the results of an algorithm that calculates word frequency and sentence length. Is this a good way to select a book? What families need from libraries are other ways to appraise and pick books, especially as kids reach the tween and teen years. What this mom and her daughter needed was the read-aloud.
Extending storytime
Do tweens and parents need read-alouds? Don't children outgrow storytime? The reasons we read aloud to kids remain compelling and meaningful as they age. Educator and author Jim Trelease highlights a few of the major benefits of reading aloud in The Read-Aloud Handbook:
vocabulary building
reading as a pleasurable experience shared with others
creating background knowledge
providing a reading role model
Most books for tween read-alouds will involve an investment of time beyond the traditional storytime. The best thing a librarian can do is to promote the act of reading aloud and recommend books to make it happen.
Supporting the read-aloud
Informing parents and guardians of the benefits examined by Trelease can get their attention. Hosting a parent session on reading aloud can help adults develop read-aloud skills and allow them to create a more enjoyable experience for their kids. It may have been a while since they have read aloud fluently from a text, and librarians can model the differences between dry reading and reading to engage and enthrall.
Rob Reid provides numerous titles for reading aloud in Reid's Read-Alouds 2. Reid selects an excerpt from each title to demonstrate its value as a read-aloud choice. Other great read-alouds can be found among the annual E. B. White Read Aloud Award winners and nominees, and Bank Street College of Education produces lists of read-alouds for tweens.
The reasons we read aloud to kids remain compelling and meaningful as they age.
Here are some tips for holding a quick adult education session that will begin to grow the read-aloud as a family experience:
build a display of books from the upper elementary–middle school section with pages marked for reading aloud
distribute bookmarks with the hallmarks of a good read-aloud (reading with expression and inflection, pacing, etc.)
demonstrate a read-aloud of an interesting excerpt
invite parents to read a portion of their selections to one another or the whole group
constructively critique each other's "performances"
invite tweens to join adults to select a take-home read-aloud
interact with families and aid in the selection process
One small program can kick off a read-aloud tradition in your community. In my school we have senior volunteers who read aloud to our tween students. Sometimes students like to read aloud to our therapy dogs. Kids read to each other during the day. Our teachers prize the read-aloud as a fundamental part of their classroom.
When the written word becomes spoken, it is hard to contain. Imagine what that bookstore conversation could have been if the mother and daughter had read a few pages of Woodson's verse aloud. Libraries can transform the conversation around books in the home and throughout the community.